Sun, 06 May 2012, 10:32 AM



Snyder's Standout Day Caps Winner's List At Memorable ADRL Northeast Drags II At Maple



Courtesy of ADRL Communications


Photo copyright 2012 Roger Richards





MOHNTON, Pa. --
Grove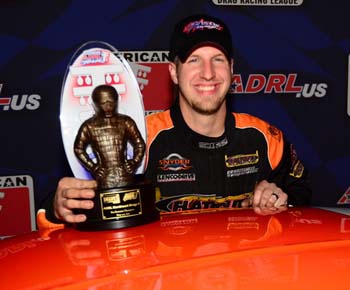 Mick Snyder celebrates win.
Mick Snyder could do no wrong on Saturday at Maple Grove Raceway and he left with his second American Drag Racing League (ADRL) win.
Snyder, a Pro Extreme standout, had a Saturday he will always remember as part of the ADRLs Northeast Drags II presented by Penske. Snyder claimed the No. 1 qualifying spot during the final session with a 3.64 and then finished off a terrific day at the historic track, running a 3.648 at 207.46 miles per hour to beat Tommy D'Aprile under the lights.
To qualify No. 1 and then win at an event like this and at a place like this, it's just great. My dad (Larry) had this car tuned up like a bracket car today and it was just outstanding, Snyder said. There's not a bad car out here in Pro Extreme and this has just been awesome.
Joining Snyder in the winner's circle at was Robert Patrick Jr. (Pro Nitrous), Billy Glidden (Mickey Thompson Extreme 10.5), Eric McKinney (Pro Extreme Motorcycle), Dean Goforth (Extreme Pro Stock), Mike Castellana (Aeromotive Fuel Systems Pro Modified), Chip Forman (Summit Racing Equipment Top Sportsman) and Chris Holbrook (SuperCar Showdown).
Snyder's win capped off a spectacular day at Maple Grove Raceway, where terrific runs, car counts and fan turnout summed up the ADRLs second event at Maple Grove and third race in 2012.
Snyder and his Powersource Transportation car went as quick as 3.636 the quickest run in Pro Extreme in 2012 during eliminations en route to the win against D'Aprile, who made his second straight finals appearance.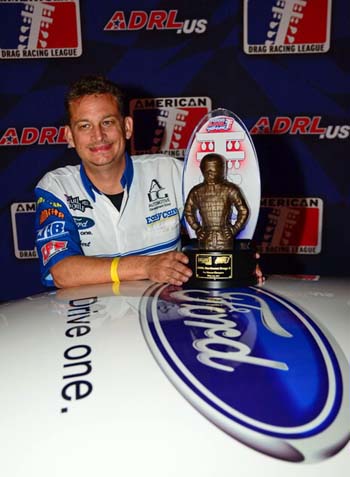 Robert Patrick Jr. celebrates win.
This car is just something else. It truly is an amazing car. Im just so happy that Jason (Scruggs) let me drive it, Snyder said.
Robert Patrick's foray into Pro Nitrous is off to a fine start after a fantastic all-around performance on Saturday. He beat Burton Auxier with a 4.25 in the finals, but the rest of his day in his 2012 Jerry Bickel Race Cars Mustang was filled with runs in the 3.80s, including a great 3.811 in an outstanding semifinal duel with Jim Laurita.
I had a lot of faith in my crew. They've been working their butt off and I couldn't be any happier with this Jerry Bickel Race Car, Patrick said. I'm just so happy to be racing in the ADRL and to be part of this. This is my roots and this where I love racing.
Billy Glidden delivered what was arguably the best run of his career in the Mickey Thompson Extreme 10.5 finals, beating Chuck Ulsch on a holeshot in an unbelievable side-by-side race.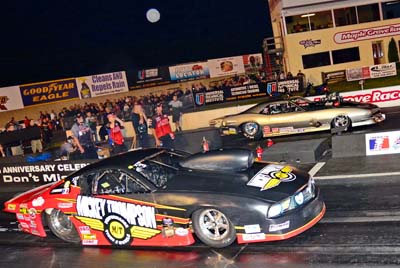 Glidden vs. Ulsch in the final.
Ulsch went 3.855 at 202.82, but Gliddens .028 and massive career-best 3.862 was enough for his 13th career ADRL win.
That was awesome. When I got this thing into third gear and the front tire finally sat down, I figured it was on a good run, Glidden said. Going against
Chuck, I knew I had to run well, and I had to do everything right.
This was very satisfying and a very gratifying win for us.
Mike Castellana remained perfect in Aeromotive Fuel Systems Pro Modified, going 3.847 at 195.42 mph to chase down Mike Janis in an excellent final for his third win in three events.
Castellana's 2012 RJ Race Cars Camaro was remarkably consistent, as the Al-Anabi Racing driver backed up his record pass of 3.845 earlier on Saturday, going 3.854 to reach the finals.
It just goes to show what a great job the crew does and how they make it work, Castellana said. We had a good handle on the car and track and it just all clicked.
We've already surpassed our expectations for this year. There's not much more you could expect.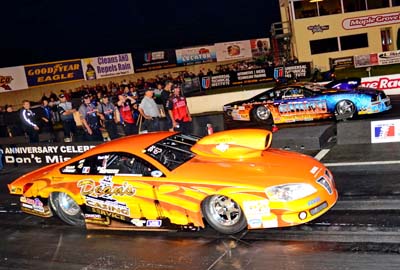 D. Goforth vs. Gahm in the final.
Dean Goforth was dynamite throughout eliminations on the starting line in Extreme Pro Stock, capping it off with an .011 reaction time in the finals to hold off Brian Gahm with a 4.083 at 177.20 mph.
Honestly, me winning is good for everyone because it shows it doesn't make any difference how old you are, Goforth said. This means a lot to me. I'm just happy to be part of the ADRL and I love the people in this class.
Goforth's third career XPS win will surely be one he will treasure after battling back from a near-fatal illness this past winter. To win on Saturday, Goforth won by holeshots in his Jerry Haas Race Cars GXP against No. 1 qualifier John DeFlorian in the semifinals and then Gahm in a memorable finals.
(The holeshots) are probably cooler than winning the race, Goforth said. This was just a huge blessing tonight.
Eric McKinney went nearly three years without a win in Pro Extreme Motorcycle, but the wait was worth it after going 4.099 at 173.96 mph to beat Ronald Procopio in the finals.
I'm just on cloud nine right now. This is awesome and I'm just having a blast, McKinney said. I'm tickled to death to do this. It's just some incredible racing in this class.
McKinney was involved in a wild semifinal race against Scott Gray, who went 4.091 and appeared to win on a holeshot against McKinneys 4.089. But Grays bike hit the center cone to disqualify him, sending McKinney to the finals.
I knew he had beat me but then I heard on the radio that I had won, McKinney said. That round win was all luck, but I'll take it.
Chip Forman was the latest first-time winner in Summit Racing Equipment in Top Sportsman, running a 4.155 at 174.05 mph to beat Ray Bamond.
Both were making their first appearance in a final round, and Forman was beyond thrilled after tracking down Bamond just before the finish line.
This is my first national event win anywhere, so this is just amazing, Forman said. In Bristol, we broke a crankshaft in qualifying, so we went from an extreme low to an extreme high. The car was dead on, I was good on the tree and everything came together.
In the SuperCar Showdown finals, Chris Holbrook won for the first time, going 5.881 at 119 mph.
In Pro Junior Dragster, Morgan Benfield knocked off Jackson Core with a 7.94 at 77.21 mph. Benfield had a terrific .006 reaction time to win by a mere six inches.
The fourth stop on the 2012 ADRL Tour takes place on June 1-2 as the ADRL returns to St. Louis for the Gateway Drags IV presented by CarSafe at Gateway Motorsports Park.