Fri, 04 May 2012, 21:15 PM



Schumacher, Hight, Line and Arana Lead Qualifying



Courtesy of NHRA Communications


Photo copyright 2012 Auto Imagery, Inc.





COMMERCE, Ga. --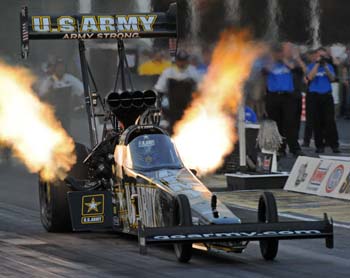 Tony Schumacher
Tony Schumacher raced to the Top Fuel qualifying lead Friday at the Summit Racing Equipment NHRA Southern Nationals at Atlanta Dragway.
Robert Hight (Funny Car), Jason Line (Pro Stock) and Hector Arana (Pro Stock Motorcycle) also were qualifying leaders at the NHRA Full Throttle Drag Racing Series event.
Schumacher, who earned his last victory 29 races ago in Oct. 2010, powered his U.S. Army dragster to a track record time of 3.815 seconds at 322.58 mph, putting him in position to earn his first No. 1 qualifying position of the season and 68th of his career if the run holds through Saturday's final two qualifying sessions (11:30 a.m. and 2 p.m.).
"We were fortunate to run in the back of the pack," Schumacher said. "We were one of the few cars, if not the only car, that got it moving really hard early. Our car is pretty old. It's got 200 runs on it. We're going to be bringing out a new one, testing it on Monday. This thing's still got a lot left over in it. That was perfect. It left the starting line, had the wheels nice and high in the air, and then set it down. This groove here - Atlanta has always been this way - you've got to keep it in the center of the groove, and the groove actually moves a little toward the center out here. I think it was just the right call at the right time. Mike [Green, crew chief] probably could have got after it down there because we were so aggressive early and it stuck."
None of Schumacher's 67 career victories have come at Atlanta Dragway, the only track on the circuit where the seven-time Top Fuel world champ has yet to win.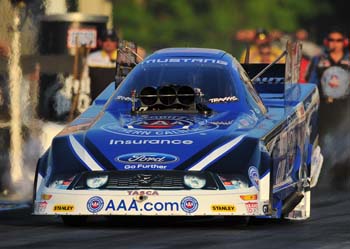 Robert Hight
"I've always had confidence here," Schumacher said. "We've been in the final several times. Antron [Brown, teammate] has beat me a few of them, the last couple of years. We have a great car. It's been dynamite racing, thousandths of a second, what the fans pay for. I've just been on the losing end of those things, and it's about time we turn that around. I would like to get this done. I think it would be really cool to have gone so many races and then go to the one track where we haven't won and close the deal, finish it off. We've won every track, several of them many times, and this one has just eluded us."
Steve Torrence was second with a 3.827 at 320.74 in his Capco Contractors dragster, while Shawn Langdon was third in his Al-Anabi Racing dragster with a 3.830 at 313.88. Series leader Brown was fifth in his Matco Tools dragster with a 3.842 at 323.12.
Series points leader Hight set the pace in Funny Car with a 4.104 at 308.35 in his Auto Club Ford Mustang.
"Jimmy Prock [crew chief] really was trying to run a 4.0, but the left lane is a little on the tricky side," Hight said. "This probably is the best racetrack in the country. Surface area, everything, it is by far the best racetrack. It is awesome, but it does have a few bumps there that can upset the car, so he wanted to make sure that we got over those. We picked up really early, and it was just a little on the weak side on the other end, for whatever reason, and that's why it ran a .10, a little slower than what he thought. Luckily for us, it held for No. 1, but we believed that other guys would run better than that."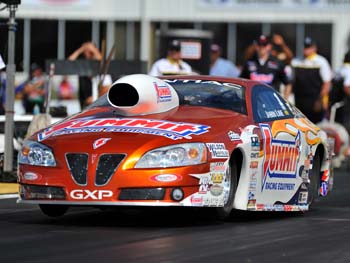 Jason Line
Houston runner-up Ron Capps was second with a 4.114 at 309.27 in his NAPA Dodge Charger and Bob Tasca III was third in his Motorcraft/Quick Lane Shelby Mustang with a 4.121 at 302.35.
Defending world champ Line led the Pro Stock field with a performance of 6.612 at 208.68 in his Summit Racing Equipment Pontiac GXP.
"We had problems, breaking an engine, in the first qualifying session, and we didn't have time to start the new engine after making the change, so we were pleased with how things worked out," Line said. "Hats off to the engine guys for being to plug in a new engine and capture the pole. That's very reassuring, for sure. Our car has run very good 60-foot times in the heat. We might have been off just a little bit, but that's in the tune-up. The car is working fine. I thought that A.J. [Allen Johnson],[Mike] Edwards, or Greg [Anderson] could have run better than we did, but none of us make so-called 'perfect runs', so maybe mine was maybe the 'least worst' I guess."
Johnson was second in his Team Mopar Dodge Avenger with a 6.613 at 209.23 and series leader Anderson was third with a 6.625 at 208.62 in his Summit Racing Equipment GXP.
In Pro Stock Motorcycle, Arana was quickest on his Lucas Oil Buell with a time of 6.894 at a track record speed of 193.82.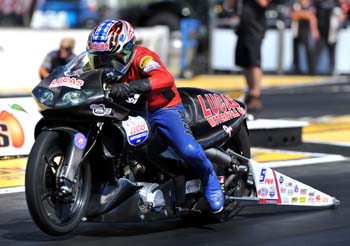 Hector Arana
"[Qualifying well on Friday] gives us an easier time and less pressure going into tomorrow [Saturday's] qualifying," Arana said. "So now I can take my time and play it safe. We can pay more attention to the weather so that we can stay consistent and keep repeating the same e.t. I [improved on the second run] by just grabbing a handful of throttle and ran full throttle all the way down the quarter-mile."
Eddie Krawiec was second with a 6.895 at 195.42 on his Screamin' Eagle Vance & Hines Harley-Davidson and Arana's son, Hector Arana Jr., was third on his Lucas Oil Buell with a 6.950 at 192.85. Points leader and Houston winner Andrew Hines was fifth with a 6.987 at 191.84 on his Screamin' Eagle Harley-Davidson.




NHRA: 10 Most Recent Entries [ top ]

Apr 19- HOUSTON - Friday Schedule
Apr 19- Tige Boats Named Presenting Sponsor of E3 Spark Plugs NHRA Pro Mod Drag Racing Series Portion of NHRA SpringNationals
Apr 19- HOUSTON - Previous Success, Early Win has Funny Car's Courtney Force Excited
Apr 18- Haney Headed for NHRA Pro Mod with Summit Racing on His Side
Apr 18- HOUSTON - Richie Crampton Enjoying Early-Season Success Heading to 31st Annual NHRA SpringNationals
Apr 18- 2018 Mustang Cobra Jet Celebrates 50th Anniversary of Racing Legend with Quickest
Apr 18- New Ford Mustang Funny Car Scheduled to Debut In 2019 NHRA Mello Yello Season Opener
Apr 16- HOUSTON - Fact Sheet
Apr 16- HOUSTON - After Early-Season Mishap Funny Car's Jonnie Lindberg Looks to Get On Track