Fri, 27 Apr 2012, 10:19 AM



Roy Hill to Appear at Maple Grove's Fun Ford Weekend



Courtesy of Evan Jones



MOHNTON, Pa. -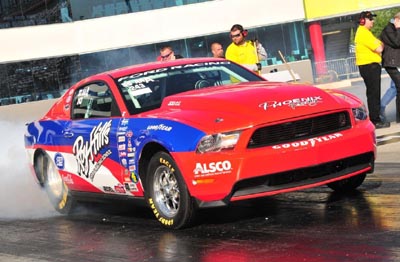 Roy Hill's 2012 Cobra Jet.
Roy Hill has been a loyal Ford driver since 1982.
That's been a quality of the North Carolina native and drag racer since he started his competition career as a teenager; companies that have helped him over the years like Goodyear and Coca-Cola have a friend in Hill who drives a 2012 Cobra Jet Mustang in the NHRA Super Stock class.
So it shouldn't be a surprise that Hill, who worked with such racing giants as Richard Petty, Ronnie Sox and Buddy Martin, was asked to be a celebrity car show judge and match race at the Fun Ford Weekend that comes to Maple Grove Raceway on Aug. 18-19.
"Being involved in Ford, we were fortunate to have the first Cobra Jet in 2010 to purchase and put in my school," said Hill, who has trained numerous racers over the years.
"Ford is a couple of years ahead of where the Dodge Drag Pak cars and the Camaros will be," Hill added. "Ford has the advantage right now. We know that Dodge and GM can catch up. I'm feeling good about the engine program, but we're not going to stop. We're developing a modular 5.4 engine in there and the difference in the 2013 car will be 250 pounds lighter. They will still be fast."
Hill will bring a couple of those Mustangs to The Grove for some match racing during Fun Ford. Also, Hill will go to the car show and pick his 25 favorite cars.
On Saturday, Aug. 18, "Hill's Picks" will be honored at Fun Ford. Out of that group, 12 cars will be selected to participate in 50 Cars for 50 Years at the Auto-Plus NHRA Nationals. The winners will have admission covered to the Oct. 7 car show at the Nationals for himself and one crewmember.
For those potential car show participants who want to catch Hill's eyes, here are some hints: Make your car stand out. Both the car and driver need to have some personality.
"The first thing is which car will get my attention," Hill said.. "Appearance means everything. The man that's showing the car also means a lot. Then you start nitpicking. If it's nice I don't mind telling a person. It means a lot."
As for the racing aspect of Hill's season, he's participated in NHRA Nationals at Gainesville and Charlotte.
"We've run good, run fast," Hill said. "We made it to semifinals at Gainesville. We went into Charlotte, won class and set new record, 8.26 at 166 mph, but in the first round I was too early."
Hill said he has no plans to slow down, even in the up-and-down world of racing.
"To be in this sport as long as I have I know what it will be like," Hill said. "It won't get me down. I work real hard and take good and bad and take bad with good. I'm excited still. Even though we haven't won, we're running good. I'm excited at 66 to do shows and match racing."




Drag News: 10 Most Recent Entries [ top ]

Apr 21- K&N Spring Fling Million Friday Results
Apr 20- K&N Spring Fling Million– Thursday Results
Apr 19- K&N Spring Fling Million- Wednesday Results
Apr 18- Buckeye S/SS @ National Trail April 28th
Apr 18- Don "the Snake" Prudhomme Returns To Baja Competition After 50 Years
Apr 18- K&N Spring Fling Million Tuesday Results
Apr 17- K&N Spring Fling Million Pre-Race
Apr 12- Summit Racing Equipment is Newest Sponsor of Midwest Junior Super Series
Apr 12- Summit Racing Named Official MWPMS Sponsor and Event Title Rights Holder
Apr 11- NMCA All-Star Nationals Chevrolet Performance Challenge Series Final Results