Tue, 24 Apr 2012, 23:59 PM



JR Todd's Return to Top Fuel is Just One Part of a Big Weekend for Bob Vandergriff Racing



Courtesy of Ryan Haas



BAYTOWN, Texas --
in Houston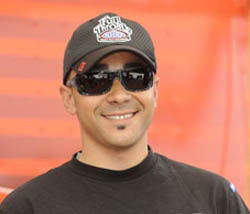 JR Todd
The Lone Star state has been very good to Bob Vandergriff Racing during the past several years. Team owner, Bob Vandergriff Jr., found his primary sponsor, C&J Energy Services, headquartered in the state, won his first Wally in Ennis, Texas last fall, and will now officially add a second car to his team, with JR Todd driving the Total Equipment sponsored Top Fuel Dragster for several races beginning in Houston.
The veteran team is feeling young again and ready to contend for Top Fuel honors at the upcoming NHRA O'Reilly Spring Nationals in Houston, April 27?29. Following the recent NHRA 4?Wide Nationals, JR Todd, and new crew chief of the Total Equipment Top Fuel Dragster, Kurt Elliot, tested in Charlotte and got the driver re?licensed to compete at the upcoming race in Houston. Vandergriff said that JR hadn't driven a Top Fuel car in several years, but looked as natural as ever. "JR made a strong 3.90 second full pass right out of the box. He's a great driver paired up with a strong team led by Kurt Eliott. It doesn't surprise me that the car ran good with the combination of those two guys added to largely the same crew that we had on the Yas Marina Circuit car last season which ran a best of 3.78 seconds @ 325 mph last fall."

Bob Vandergriff's primary sponsor, C&J Energy Services, and their 300 hospitality guests attending the NHRA race in Houston have a lot to look forward to since their last outing at the 2011 NHRA AAA Texas Falls Nationals when they helped cheer the team to its first ever Top Fuel event title. This time though, the guests in attendance will have twice as much to cheer for, as teammate JR Todd is driving a second dragster sponsored by Total Equipment, a subsidiary of C&J Energy Services.
President of Total Equipment, Barry Beadle, is very excited about the upcoming race weekend. "This is going to be fun" said Beadle. "We'll have a huge turnout with employees and customers of Total Equipment and C&J Energy Services attending the race in Houston. It's such an exciting atmosphere and we have two strong drivers to root for in the Top Fuel dragster class so we can't wait until Friday qualifying starts to see where our guys rank and follow them throughout the weekend."
To follow Bob Vandergriff Racing, visit www.bobvandergriff.com




NHRA: 10 Most Recent Entries [ top ]

Mar 20- GAINESVILLE - Lucas Oil Drag Racing Series Wrap Up
Mar 19- GAINESVILLE - Sunday Video
Mar 18- GAINESVILLE - Pro Mod Sunday Wrap Up
Mar 18- GAINESVILLE - Sunday Wrap Up
Mar 18- GAINESVILLE - Pro Mod Championship Points
Mar 18- GAINESVILLE - Bonus Points
Mar 18- GAINESVILLE - Championship Points
Mar 18- GAINESVILLE - Mickey Thompson Top Fuel Harley Series Championship Points
Mar 18- GAINESVILLE - Bonus Points
Mar 18- GAINESVILLE - Summary of Eliminations in Top Fuel