Mon, 23 Apr 2012, 12:42 PM



One Bad Apple



By Bob Frey


Photo copyright 2012 Auto Imagery, Inc.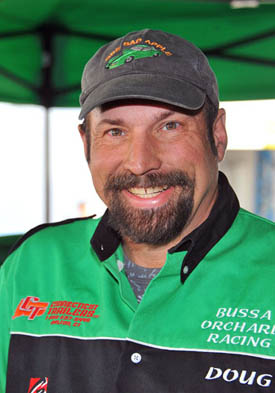 Doug Bussa
The sport of drag racing is filled with people from all walks of life. Obviously, a great majority of the owners, drivers and mechanics who are involved in the sport have some connection with the automotive industry. By that I mean that they earn their living working on cars, painting cars, building engines, transmissions or other parts that go on race cars. Of course there are exceptions, like Jeremy Torstveit, who used to race in Top Alcohol Dragster. Jeremy was a world-renowned heart surgeon who raced as a hobby. Then there is Bob Yonke who currently raced in Pro Stock. Bob sold medical equipment, really big medical equipment for a living, and apparently he was very good at it because he fielded a very good Pro Stock car last year. Larry Rose, a Division 4 racer, was the orthodontist for Muhammad Ali, Bob Benza builds bridges and Connie Kalitta flies airplanes. Lots of airplanes! Doug Bussa competed at his first-ever national event at the 4-Wide race in Charlotte, and even though he races a really fast Chevrolet Camaro, Doug has nothing to do with cars when he's away from the track. In fact, his job is about as far-removed from the automotive world as possible. "I own an orchard," Doug said. "We grow apples, peaches, pears and plums." And if you take one look at his car, it looks like Doug grows a lot of apples, peaches, pears and plums. "The car is called one bad apple and I have to pick a lot of good apples to pay for this one bad one," he said.
Doug Bussa
Doug Bussa is forty-five years old and he races a Chevrolet Camaro in the Top Sportsman class. "The car is a 2002 Camaro with a 665 cubic-inch Reher & Morrison engine. Mark Markow of MRC built the car, H & H did the transmission and Rob Cochran did the body work and painted it. The car was built in 2006 and when I first got it we ran it in the Top Sportsman class before it even became part of the national events." And in keeping with his chosen profession, the car is painted Candy Apple Green. Like growing apples, drag racing doesn't always go the way you planned. "It's funny," Doug said after his first qualifying run at the recent 4-Wide Nationals in North Carolina, "but both things I do and love can be affected by the weather. Rain and cold aren't good for either one of them." He went on to say that he wasn't sure if it was the weather but his car wouldn't start before his first run in Charlotte. "We were all ready to go and getting ready to head to the lanes but it wouldn't start." Not exactly the way that Doug wanted to start his first NHRA national event. "Fortunately we were able to find the problem and the folks at Moroso got us a new set of wires to fix the problem and we made the run." That run netted him a time of 6.741 at 205.07 miles per hour, and for Doug that was his quickest and fastest run ever. "It's a lot quicker than running a Super Street or Super Gas car like I did before, and after making a pass like that I don't know if I can go back to the slower car. All I can say is that after all this time it was good to finally get that run under our belts," he said. "Now we can concentrate on making it go a little faster and getting the driver used to everything that surrounds a national event."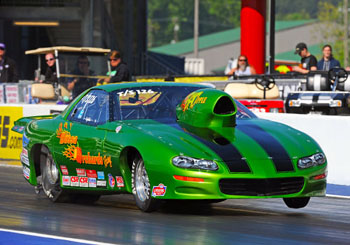 Even though this is his first national race it isn't his first race. "Oh, I've raced for a long time. Our home track is Lebanon Valley and we've raced Super Street and Super Gas there for years." But, like so many racers, Doug always had the desire to go faster. "I wanted to get something that didn't have a throttle stop on it and I thought about running a Comp car, but in the end we decided on this and I'm glad we did." And even though this was his first national event, it wasn't planned that way. "We were actually entered last year and were going to run then but we had troubles with the car. A friend of mine, Tony Arcuni, told me that I should bring the car down anyway and that he'd help me fix it when we got to the track." But between working in the orchard and not feeling very confident about the car, Doug elected to stay home, and as it turned out Tony ended up winning the race. "Yeah, he called me and said maybe it was a good thing I didn't come because I may have bumped him. He was nice to say that but he runs well and deserved the win," Doug said.
Growing up in Connecticut Doug said that one of the racers he admired most was Shirley Muldowney. "I loved watching her race but I never thought that I would race someday, at least not at this level." When he purchased a 1967 Camaro, the "black car" as he refers to it, Doug said a few of his friends encouraged him to take it to the track. "I wasn't crazy about the idea of racing it, but after one pass down the track I was hooked." A Chevy guy through and through, Doug said that when he got the 2002 car he had a first generation and a last generation Camaro. "I did at the time, but now they have the new cars. Still, I love the ones I have, and who knows, maybe I'll get one of the new ones in the future."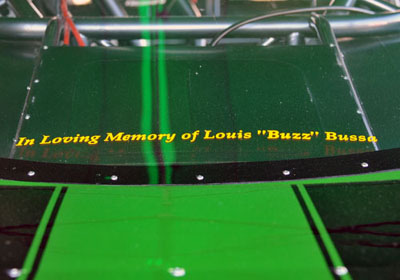 While racing and farming are big parts of his life nothing is bigger to him than his family. "I'm a fourth generation farmer and my dad was always busy, but I was able to get him and my mother to the races one time. My dad loved it, and when the scoreboard showed our speed my mother asked me if I was really going 180 miles per hour. When I told her I was she just shook her head." Doug was glad that his dad made it to that race because he passed away shortly after that. "He didn't understand drag racing but he supported me all the way, and we really pushed to get this car done so he could see me race. I have a decal on the back of my car as a tribute to him. Like every father and son we didn't always see eye to eye but he taught me a lot and I couldn't do what I'm doing if it weren't for him"
Besides farming, drag racing and family there is another thing that is near and dear to Doug's heart. "I've been involved with the Make-A-Wish Foundation in Connecticut for about seven years now. This car has been my life's wish and it's nice to be able to give something back so that others can enjoy their wish, too. I'm on the board for one of their fundraisers and any money I win with the car I donate back to the organization." Speaking of wishes, even though he didn't win Doug said that his wishes came true in Charlotte. "I got to talk to John Force and Warren Johnson and race on the same track they did. What more could a drag racer ask for?"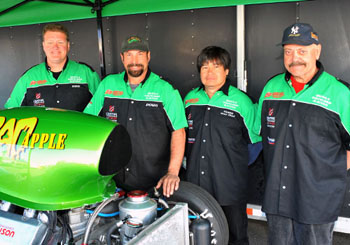 Doug came to the race with his crew chief, Thanh Nguyen, and his friends Steve Brown, of Steve Brown Race Cars, who takes care of the chassis and suspension and Mark Juliano, who does the parachutes and the cooking. Steve's son, Cameron, is normally on the crew, but he missed the Charlotte race. "He couldn't be with us because he's captain of the baseball team and he had to stay home, but he was with us in spirit. It really is a team sport and I appreciate all the help I get from these guys." Well, those guys helped Doug make it to Sunday in his national event debut, a debut that ended at the hands of Gerard Milette in round two. Still, all in all, Doug has to be pleased with the weekend, and if he gets time between planting, pruning and picking, this is one good apple that should be in the winner's circle in the very near future.




NHRA: 10 Most Recent Entries [ top ]

Apr 23- HOUSTON - Sunday Video
Apr 22- HOUSTON - Sunday Pro Mod Wrap Up