Wed, 18 Apr 2012, 21:13 PM



Dan Wilkerson to Make 2012 Debut in Atlanta



Courtesy of Bob Wilber


Photo copyright 2012 Auto Imagery, Inc.





SPRINGFIELD, Ill. --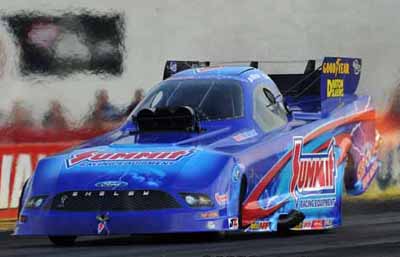 Daniel Wilkerson at Indy last year.
Daniel Wilkerson, son of popular Funny Car owner/driver Tim Wilkerson and a rising star in his own right, will make his 2012 debut at the Summit Racing Equipment Southern Nationals at Atlanta Dragway (May 4-6). With backing coming, once again, from Summit Racing Equipment, Wilkerson is also set to join the Funny Car field at Norwalk (July 6-8).
"D Wilk" has raced sporadically over the course of the past three NHRA seasons, while he concentrated on earning his bachelor's degree from the University of Illinois. With his diploma now in hand, the young driver is eager to get back on the track with an eye toward a much larger involvement in 2013.
"Getting my degree was the number one priority, so that came first the last few years," Wilkerson said. "We've been able to get out there a few times, thanks to the great people at Summit Racing Equipment, and I can tell you for a fact that I have withdrawal from it when I can't be racing, so I'm really excited to get back in the car.
"My dad is always working on finding new avenues for us, to get me out there on a more steady basis, so hopefully some of these opportunities can come together in the near future. Nothing would be cooler than to do this full-time, but in the meantime I feel really lucky to have a great company like Summit Racing behind me for a couple of races this year. It means a lot that they believe in me enough to do this."
A sponsor's belief can sometimes be founded on speculation about a driver's potential, while it can also be based upon a solid record on the track. In the case of D Wilk, it's a combination of both. He has clearly shown a knack for handling an 8,000 hp Funny Car with both natural and learned skills, and in his brief pro career he is 6-for-6 in terms of qualifying for the events in which he is entered. A his most recent race, the 2011 Mac Tools U.S. Nationals, he stunned the class by qualifying sixth and then defeated Johnny Gray in round one. Not bad for an extremely part-time driver with a volunteer crew.
"Once we go racing full-time, we'll have a professional crew just like the other big-budget teams, but if we're only going to be racing a couple times a year it pretty much has to be my buddies, a lot of whom actually have a lot of experience. They may be volunteers, but they've all worked on this car or my Top Alcohol car, and we have Fred Mandoline around to oversee everything, not to mention my dad helping out with the tune-up.
"To be able to qualify at all six races we've been to is kind of surprising on one hand, but also not surprising on the other. I give most of the credit to the guys and my dad, and my job is to make sure the driver does okay. We've won two rounds now, so I'm pretty proud of everyone involved with this deal. I can't wait to get to Atlanta and we'll see how we can do there."
One thing is for certain. When Dan Wilkerson is entered in a race, the rest of the Funny Car class knows this part-time racer will put on a full-time effort.




NHRA: 10 Most Recent Entries [ top ]

Apr 24- CHARLOTTE 1 - Steve Torrence Enjoying Four-Wide Success Heading to NGK Spark Plugs NHRA Four-Wide Nationals
Apr 24- CHARLOTTE 1 - Fact Sheet
Apr 24- Kalitta Motorsports Welcomes NASCAR Stars to the SealMaster Track Walk in Charlotte
Apr 24- zMAX Dragway Celebrates 10th Anniversary
Apr 24- CHARLOTTE 1 - NGK Spark Plugs NHRA Four-Wide Nationals Brings 40,000 Horsepower Thrill Show to zMAX Dragway
Apr 23- HOUSTON - Lucas Oil Drag Racing Series Wrap Up The NHRA Lucas Oil Drag Racing Series Wrap Up
Apr 23- CHARLOTTE 1 - J.R. Todd Aiming for Two Four-Wide Racing Wins in 2018
Apr 23- Mid America Dragway Joins NHRA Member Track Network
Apr 23- HOUSTON - Special Awards
Apr 23- HOUSTON - Sunday Video