Wed, 18 Apr 2012, 13:47 PM



It Was 4-Wacky In Charlotte



By Bob Frey


Photo copyright 2012 Auto Imagery, Inc.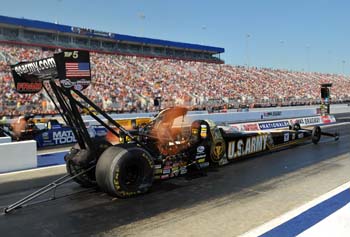 Schumacher was the first break
the 330 mph barrier at 1000-foot.
Apparently the answer is no? What is the question you ask? Well, the headline of my story two weeks ago was "Can Anybody Stop Him?" That was a reference to how well Robert Hight was running, and after seeing what he did to the Funny Car field in Charlotte, the answer is obviously no. At least for now they can't. But before we get to Robert and his Auto Club Ford, let me tell you that the 4-Wide Nationals was tremendously exciting, had a lot of wacky moments, had a runner-up thinking she was a winner and was turned into a 3-Wide at one point. In the end, I think the fans saw a great race and the winners, for the most part, embraced the concept and everyone went home happy. Ok, so not everyone, because I'm sure that Dave Connolly and Greg Stanfield are still miffed (to put it politely) about being "timed out" in the first round of Pro Stock, Erica Enders is probably trying to get her emotions under control after a little glitch made her team think that she had won the race, when in fact she was the runner-up. Then there was that little thing about the problem with the track during qualifying that made it a three-lane track for a little while. And did I mention the Top Fuel cars going over 330 miles per hour, not just once but several times? Yes indeed, it was wild, it was wacky, it was the 4-Wide Nationals and I loved it!!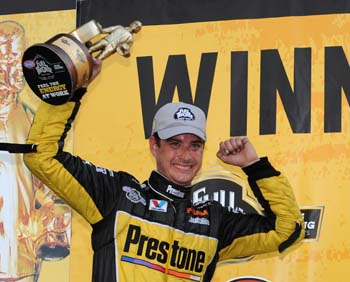 Massey celebrates third win of the season,
Spencer Massey is hot. Ok, so he's not Robert Hight hot, but then who is. Still, the driver of the Prestone Top Fuel car won the race and set a national speed mark in the process and he looks like a legitimate title contender again. Spencer beat his Team Schumacher teammates, Tony Schumacher (runner-up) and Antron Brown along with Doug Kalitta to take the win, the ninth of his relatively short Top Fuel career. Did you know that ties Spencer with Jeb Allen on the Top Fuel win list? Jeb won his nine races in 78 events while Spencer has won his in 53 races, and something tells me that he's not done yet..In winning the race Spencer showed that his team has the total package and that they can win in several ways. He had a good car, but not the best car, in every round, and he drove well and that's a tough combination to beat. Only once during his three rounds did Spencer not have the best reaction time and that was when Morgan Lucas posted a .026 reaction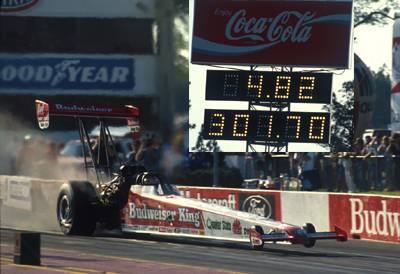 Bernstein at Gainesville when
he broke the 300-mph barrier.
Photo copyright 2012 NHRA
time in the first round "pod" with Spencer. Still, Spencer's .049 was the second-best in that group and he had the best reaction time in each of his next two rounds which included a .037 in the final round. While other drivers struggled with the format and the starting line Spencer seemed to acclimate himself very well to the new surroundings and the end result was a very deserving win..While Spencer's win received the bulk of the attention, and rightfully so, the 330 mph runs also raised a lot of eyebrows. When you consider the fact that the previous fastest run at the 1,000 foot distance was Spencer's 328.62 at
Pomona
this year, the new record of 332.18 is a quantum leap in the speed department. While that jump of 3.56 miles per hour looks like a lot, and it is,
did you know
that it's not even close to the biggest jump in the Top Fuel speed record? That distinction would go to
Kenny Bernstein
who set the record with that 301.70 blast at
Gainesville
in 1992. The previous record was 295.27 which was set by
Pat Austin
in Houston that year which means that the "King of Speed" bumped the record by a staggering 6.43 miles per hour and that's the biggest jump ever in the Top Fuel class..The "Big Three" from
Don Schumacher's
team, Spencer, Tony and Antron, have all been driving very fast cars for years. To illustrate my point,
did you know
that in the last seven years there has only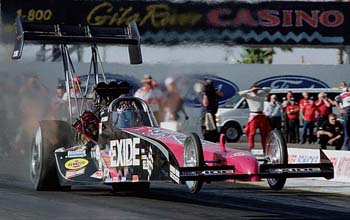 Schumacher broke the 330-mph barrier
at Phoenix on February 28, 1999
in round one of eliminations.
been one other driver besides those three who has held the speed record? That person would be
Larry Dixon
who set the record at Pomona at the end of the 2009 season, and he's the only driver other than the ones from Don's team to hold the speed record since the start of the 2005 campaign..The "Sarge," Tony Schumacher, became the first driver to run over 330 miles per hour at any distance when he did it at Phoenix in 1999. He then became the first to go over 330 at the 1,000 foot distance when he did it this weekend, and do you know what both of those races have in common? Tony didn't win either one of them. He lost to
Joe Amato
in the final at
Phoenix
and this year he came in second to Spencer. Tony has a very good car, but for some strange reason he just can't seem to be able to close the deal. He has now gone to ten straight final rounds without picking up a win and that puts him in very select company.
Did you know
that of all the drivers who have gone to a final round in Top Fuel, and that includes 146 of them, Tony is just the second driver to go winless in ten consecutive final round appearances? The other, of course, is
Bob Vandergriff
who went to thirteen in a row before picking up his first win in
Dallas
last year..
Steve Torrence
became the 105
th
driver to qualify number one in Top Fuel when he paced the field in
Charlotte
.
Did you know
that of that group forty-four did it just one time, and among that group are
Tom Raley
,
Danny Ongais
and
Art Malone
to name just a few.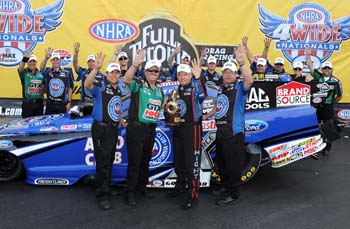 Hight celebrates his fourth win
in a row with his team.
The way he is running right now it looks like the only way to stop Robert Hight is to have a week off. That means that he won't be able to add to his impressive total this week, but fear not, he will get another chance when the tour gets to Houston next week. Robert's win, his fourth in a row, put him in a very select group. Did you know that of all the Funny Car drivers who have ever raced Robert is just the fifth to win four races in a row? The record is seven in a row and that was set by Don Prudhomme when he won two at the end of the 1975 season and then won the first five in 1976. Did you know that after winning those seven races Don was the runner-up at the next event and then won the next three races? That's a very good streak and it gives Robert and his team something to shoot for, doesn't it?...When you look at the history of the class you will find that this was only the eighth time that a Funny Car driver has won four consecutive races, and that includes Kenny Bernstein who won three in a row at the end of the 1986 season and then won the first race in 1987....Not only did Robert win the race but he did it from the number one spot and that's the second consecutive race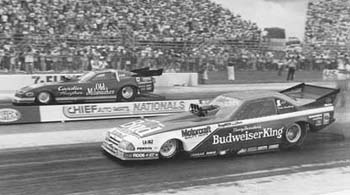 Bernstein won Dallas at the
second to last event of 1986.
Photo copyright 2012 NHRA
that he has done that.
Did you know
that this is the first time in his career that Robert has won two straight races after qualifying at the top of the pack? Robert's win gave him 520 points and that's more than any of the other leaders in the
Full Throttle
classes...In addition to qualifying number one and winning the race Robert also set low elapsed time and top speed.
Did you know
that this was the fourth time in his career that Robert has swept an event and it's the first time that he has done it since the
Topeka
race in 2010? It was also the sixth time that Robert and
Greg Anderson
have won the same race and it's the first time that happened since Dallas in 2009, one of the other events that Robert swept..John Force didn't win the race but he did win a round.
Did you know
that this was the first round win for John since he won the Winternationals? John also won in round two which moved him into the final round at the 4-Wide Nationals for the second time in three years.
Did you know
that
Ron Capps
, who was also in the final round, is the only other Funny Car driver to be in two Funny Car finals at the 4-Wide event?....Ron, with his new crew chief, rebounded nicely from that DNQ in Las Vegas, and for a while he looked like he had the car to beat. Even with the third place finish Ron and his
NAPA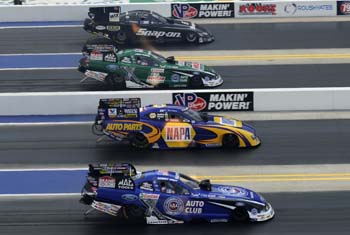 Hight, Capps, Force and C. Pedregon in the final.
team have to be pleased with their outing in North Carolina...
Matt Hagan
, on the other hand, continues to struggle and he may just decide to skip the 4-Wide race next year. The zMax Dragway has either been all or nothing for Matt over the past two seasons. He has that record setting run there last year but he also has a couple of nasty explosions that destroyed his Dodge Funny Car body.
Did you know
that this was his first DNQ since the
Memphis
race in 2008, the fourth race of his career? Matt had made the starting field at 73 consecutive races before failing to qualify this week. I have a lot of confidence in
Tommy DeLago
, Matt's crew chief (and I'm sure they're glad to hear that), and they'll get this thing headed in the right direction before too long, and when they do they'll make that climb back into the top ten and contend for the championship..Not every champion has a great follow-up year.
Did you know
that
Mark Oswald
won the Funny Car crown in 1984 and then didn't win a race, make a final round or finish in the top ten in 1985?
While Robert's 520 points are impressive Greg Anderson's 475 aren't too shabby, either. Greg won the 4-Wide race for the second time, and after the event he said "I guess I have to embrace this format since I've won it twice, but it's still very confusing for a driver." That confusion was evident in the first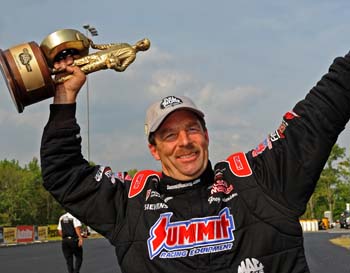 Anderson celebrates his second
Four-Wide Nationals win
and his second this season.
round when two drivers got timed-out, and it was even more confusing in the final round when Greg's win light never came on. "All I knew was that Jason was out in front of me and I didn't know that he had fouled, so I almost clicked my car off," Greg said. "I'm glad I didn't.".Erica Enders had a great reaction time (.016) in the final and almost held on for the win, and when her light came on the scoreboard her team went wild. But for some wacky reason Greg's light never came on even though he got to the finish line first, and for a while even his team didn't know that he had won..
Jason Line
was out in front because he fouled out and that took him out of the race before he went by the tree.
Did you know
that the last time Jason fouled in the final round was at this same track in the fall of last year? Jason's final round appearance was the 58
th
of his career and that ties him with
Jim Yates
for sixth place on the all-time Pro Stock list..While Spencer's booming speeds were getting a lot of the attention Jason did manage to get out of town with the national speed record in Pro Stock. Jason ran 213.91 miles per hour and backed that up with a 213.43 mph run and that gave him the record.
Did you know
that the last time Jason set the speed record was in 2007 when he did it at
Gainesville
, and that record lasted for two years?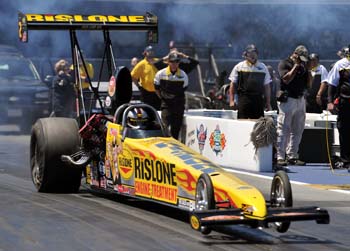 Bill Reichert
The Lucas Oil classes also had their share of wacky moments in Charlotte. Let's face it, any time Frank Manzo goes out in round one it's wacky, or at least unexpected. Did you know that Frank had been an amazing 202-29 in round one matches before he lost to Mark Rogers in Charlotte? That's an unbelievable number and it's why I say that it's unusual when he loses that early in eliminations, especially after qualifying number one. Did you know that Frank has qualified number one ninety times and this was only the eighth time he has lost in round one from the top spot?... Bill Reichert did the unexpected when he banged out a 5.148 in qualifying with his Rislone-sponsored A/FD. Bill then went on to win the race which was the twenty-fifth win of his career. Bill's win stopped a streak of six consecutive races that had been won by the supercharged cars in the class, and I'm sure that by the time he made the turn at the end of the track the word had already spread to the West Coast about that 5.14 pass.Bill's win came after he qualified number one for the thirty-fourth time in his career. Did you know that of all those times this was only the seventh time Bill won the race from the pole position? I guess it was a good day for him and Robert, wasn't it?...Four drivers, including TA/FC winner Andy Bohl, picked up their first NHRA national event win, and among them were Michael Volkman, Joe Lisa and Tim Molnar. Congratulations to all of them on breaking through at the big show..As always the Pro Mod cars put on a great show, but in keeping with the "wacky" format in Charlotte, only one car was able to make it to the line for final round. Mike Castellana picked up the win when Leah Pruett couldn't answer the bell. I guess after everything else that went on it shouldn't be a surprise that we had one single in the final round, should it?


NHRA: 10 Most Recent Entries
[ top ]
Apr 19
-
HOUSTON - Friday Schedule
Apr 19
-
Tige Boats Named Presenting Sponsor of E3 Spark Plugs NHRA Pro Mod Drag Racing Series Portion of NHRA SpringNationals
Apr 19
-
HOUSTON - Previous Success, Early Win has Funny Car's Courtney Force Excited
Apr 18
-
Haney Headed for NHRA Pro Mod with Summit Racing on His Side
Apr 18
-
HOUSTON - Richie Crampton Enjoying Early-Season Success Heading to 31st Annual NHRA SpringNationals
Apr 18
-
2018 Mustang Cobra Jet Celebrates 50th Anniversary of Racing Legend with Quickest
Apr 18
-
New Ford Mustang Funny Car Scheduled to Debut In 2019 NHRA Mello Yello Season Opener
Apr 16
-
HOUSTON - Fact Sheet
Apr 16
-
HOUSTON - After Early-Season Mishap Funny Car's Jonnie Lindberg Looks to Get On Track