Mon, 09 Apr 2012, 13:51 PM



Tasca Plans to Build on Momentum as He Heads 'Home' to aMax Dragway



Courtesy of NHRA Communications


Photo copyright 2012 NHRA





CHARLOTTE, N.C. -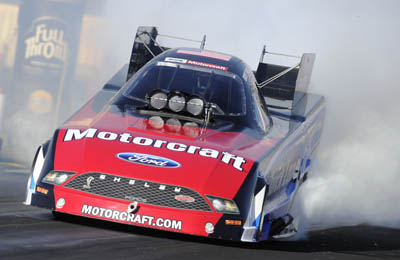 Bob Tasca
Funny Car veteran Bob Tasca is riding the momentum from his first final round appearance of the season as the NHRA Full Throttle Drag Racing Series heads to zMAX Dragway, just outside of Charlotte, N.C., near the race shop of his Motorcraft/Quick Lane Ford Shelby Mustang team. The New England native is hoping to keep the positive energy going and earn his first victory of the season at one of his "home races" on tour, the NHRA Four-Wide Nationals, April 13-15.
"It's in our backyard and the Wood Brothers, our sponsor teammate on the NASCAR side, are right down the street too," Tasca said. "I come here as much as I can so it's become a third home for me. The guys like racing here because they can go home to their own beds at night. The people at zMAX Dragway and Bruton Smith have been great partners of the NHRA and are very supportive of our team and the sport, so it's a good home race to have."
After a few early season struggles, Tasca added veteran crew chief Dickie Venables to the Motorcraft/Quick Lane team, to work alongside the tuning duo of Chris Cunningham and Marc Denner. Just one race underneath the tuning trio's belt and the addition has already started to pay dividends on the race track.
"Adding Dickie was like completing the third point of a triangle," Tasca said. "He balances out the personalities of Chris Cunningham and Marc Denner and really brings that new dimension to the team. It's been great to watch them all work together and talk about the new ideas Dickie has. We're all excited now about seeing what our Motorcraft/Quick Lane team can do."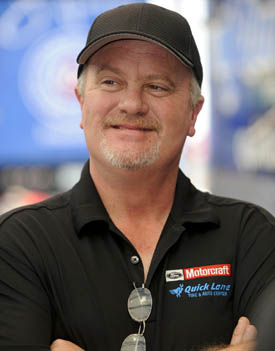 Dickie Venables
In Las Vegas two weeks ago, Tasca lost a tough final round to fellow Ford Racing driver Robert Hight, who is currently on a three-race win streak heading into the NHRA Four-Wide Nationals at zMAX Dragway. The experience whetted Tasca's appetite for more success and he and the team are ready for four-wide racing.
"I can't tell you how quickly momentum can shift in NHRA Full Throttle Series Drag Racing," Tasca said. "We'd been stalled since the beginning of the year. Then we started going rounds and it was a dog fight right down to the final. The only thing more disappointing than not getting out of the first round is probably getting to the finals with a car that can win it all and not getting the Wally, but when you look over and see another Ford in the final you can say it was a good day. We're riding high going into the Four-Wide Nationals."
Last year at the NHRA Four-Wide Nationals, Tasca posted a runner-up finish to eventual winner Jack Beckman. He says racing against three cars instead of one is extremely different, but the key to success in the format is strictly focusing on your own lane of the dragstrip.
"I try to treat it like any other race," Tasca said. "It's not, of course. You have four cars lining up instead of two and the horsepower is just incredible. The noise is different; the lights are different. For the fans, it's a totally different experience. But at the end of the day, I try to race my race and not focus on what the other drivers are doing."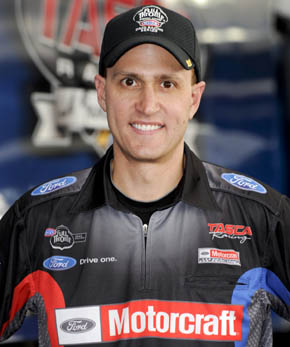 Bob Tasca
Hight leads the Funny Car points battle just ahead of his John Force Racing teammate Mike Neff. Don Schumacher Racing drivers Jack Beckman and Johnny Gray are right behind Neff followed by John Force, Tasca, Courtney Force, Ron Capps, Cruz Pedregon and Bob Bode who round out the top 10.
In Top Fuel, Antron Brown leads the championship points with Morgan Lucas just four points behind him. Spencer Massey, who has earned two wins so far this season, sits in third followed by Tony Schumacher, Shawn Langdon, Doug Kalitta, Steve Torrence, Clay Millican, Bob Vandergriff and Brandon Bernstein.
North Carolina residents Greg Anderson and Jason Line, who have each won one event this season, sit one and two in the Pro Stock points. Mike Edwards is third, while Allen Johnson, winner of the most recent race in Las Vegas, is fourth. Vincent Nobile, Greg Stanfield, Erica Enders, Rodger Brogdon, Ronnie Humphrey and Larry Morgan round out the top 10 in the factory hot rod class heading into zMAX Dragway.
* SCHEDULE: Full Throttle Drag Racing Series qualifying sessions are scheduled for 1:30 p.m. and 4:30 p.m. on Friday, April 13, and 11:30 a.m. and 2:30 p.m. on Saturday, April 14. Final eliminations will begin at noon on Sunday, April 15.
* TICKETS: Tickets are available for the NHRA Four-Wide Nationals. For tickets, please call zMAX Dragway at (800) 455-FANS (3267) or visit www.zMAXDragway.com
* ON TV: ESPN2 and ESPN2HD will televise two hours of qualifying coverage at 5 p.m. (ET) on Saturday, April 14. ESPN2 and ESPN2HD will televise three-hours of eliminations coverage at 7 p.m. (ET), also on Sunday, April 15.
* LUCAS OIL SERIES: The NHRA Four-Wide Nationals also will feature competition in seven categories in the NHRA Lucas Oil Series, where the future stars of the NHRA Full Throttle Series are born. Lucas Oil Series qualifying begins at 8:30 a.m. on April 13. Lucas Oil Series eliminations begin at 8:30 a.m. on April 14 and continue through April 15.




NHRA: 10 Most Recent Entries [ top ]

Apr 24- CHARLOTTE 1 - Steve Torrence Enjoying Four-Wide Success Heading to NGK Spark Plugs NHRA Four-Wide Nationals
Apr 24- CHARLOTTE 1 - Fact Sheet
Apr 24- Kalitta Motorsports Welcomes NASCAR Stars to the SealMaster Track Walk in Charlotte
Apr 24- zMAX Dragway Celebrates 10th Anniversary
Apr 24- CHARLOTTE 1 - NGK Spark Plugs NHRA Four-Wide Nationals Brings 40,000 Horsepower Thrill Show to zMAX Dragway
Apr 23- HOUSTON - Lucas Oil Drag Racing Series Wrap Up The NHRA Lucas Oil Drag Racing Series Wrap Up
Apr 23- CHARLOTTE 1 - J.R. Todd Aiming for Two Four-Wide Racing Wins in 2018
Apr 23- Mid America Dragway Joins NHRA Member Track Network
Apr 23- HOUSTON - Special Awards
Apr 23- HOUSTON - Sunday Video