Wed, 04 Apr 2012, 08:20 AM



Zane and McHugh to Form Pro Stock Team



Courtesy of Kelly Wade



PERRY HALL, Md. --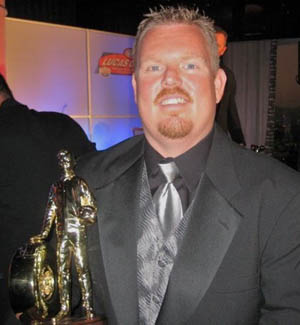 Lee Zane
Two-time Lucas Oil Drag Racing Series world champion Lee Zane and returning Super Stock driver Kevin McHugh, a Northeast-based family man and Managing Director for Navigant Consulting, have formed a team to race together in the sportsman ranks in 2012 and then take it to the next level when they debut a Pro Stock team for a large portion of the 2013 season of NHRA Full Throttle drag racing.
Longtime sportsman competitor Zane, of Perry Hall, Md., will compete in Stock Eliminator this year while coaching McHugh in his return to Super Stock after a 35-year respite. In 2013, McHugh will turn in his driving gloves once more to focus on seeing the Pro Stock team to success with Zane behind the wheel of a Pontiac GXP purchased from legendary Pro Stock champion Warren Johnson. The GXP was formerly piloted by Johnson's son, Kurt, a 40-time national event winner and the first driver to run in the six-second zone in the category.
Zane, the 2004 and 2008 Lucas Oil series Stock Eliminator champion, possesses extensive experience competing in multiple categories; over the course of his career, he has claimed nine national event wins (8 in Stock and 1 in Competition Eliminator) and 21 division titles. He also spent time as the chief licensing instructor at Doug Foley's Drag Racing School. Zane first licensed in Pro Stock in 2008 and made his professional debut at the NHRA SuperNationals in Englishtown in a Pontiac GTO owned by fellow Maryland-based drag racer John Gaydosh.
"My wife, Mary, and I sold our Super Stock car many years ago to start a family and so that I could focus on a career, but we always spoke about getting back into racing," said McHugh. "Last September we decided it was time, so we bought a Super Stock car from Arnie Martel Jr., and around that same time we reached out to Lee. I knew his reputation and experience, and I felt that I needed someone to coach me. I thought that he would be the perfect person."
The group meshed together well as Zane began assisting McHugh in preparation for his return to racing, and McHugh is now ready to rejoin the sportsman ranks after recently obtaining his NHRA competition license at the Frank Hawley School of Drag Racing in Gainesville, Fla. The effective collaboration between McHugh Racing and Lee Zane Motorsports ignited new ideas, and the structure for a Pro Stock team operating under the banner of Lee Zane Motorsports (LeeZaneMotorsports.com) was built.
"As Mary and I got to know Lee, we realized that he mirrors our thinking in terms of family values, hard work and professionalism," said McHugh. "We want to be a part of drag racing, and this is a great way for us to do that. The bonus is that we get to help Lee fulfill his dreams. The underlying foundation of NHRA drag racing is its sportsman series racers, and it is great to see many of today's professional drivers have had their start in the sportsman ranks. We fully support Lee as he enters the professional series from what is a truly amazing and successful sportsman racer background."
The team, receiving assistance from Coppermine Applicators, is in progress of leasing a notable engine and R&D program and will test the Pro Stock car later this year. The team intends to make their professional debut at the NHRA Gatornationals in Gainesville early next year and compete in 10-12 events - more, if they are able to acquire further financial backing.
"I'm already enjoying working with Kevin as he gets back into Super Stock this year and as we prepare for what comes next. Pro Stock has always been a goal for me - once I had a taste of it, I wanted more, and I think I proved to myself and to others that it could be done," said Zane, who will be tuned in the GXP by his former Comp Eliminator crew chief and brother-in-law, Brian Van Poppel. "I know we can do this, and I'm so grateful to Kevin and Mary for the opportunity."




NHRA: 10 Most Recent Entries [ top ]

Apr 19- HOUSTON - Friday Schedule
Apr 19- Tige Boats Named Presenting Sponsor of E3 Spark Plugs NHRA Pro Mod Drag Racing Series Portion of NHRA SpringNationals
Apr 19- HOUSTON - Previous Success, Early Win has Funny Car's Courtney Force Excited
Apr 18- Haney Headed for NHRA Pro Mod with Summit Racing on His Side
Apr 18- HOUSTON - Richie Crampton Enjoying Early-Season Success Heading to 31st Annual NHRA SpringNationals
Apr 18- 2018 Mustang Cobra Jet Celebrates 50th Anniversary of Racing Legend with Quickest
Apr 18- New Ford Mustang Funny Car Scheduled to Debut In 2019 NHRA Mello Yello Season Opener
Apr 16- HOUSTON - Fact Sheet
Apr 16- HOUSTON - After Early-Season Mishap Funny Car's Jonnie Lindberg Looks to Get On Track