Sat, 25 Feb 2012, 11:06 AM



Lamb, Etter, Glasbrenner, Mostowich, Torres and Reust, Win Event One



Courtesy of NHRA Marketing


Photo copyright 2012 Bob Johnson Photography





Also in the Winner's Circle are Thompson, Wagner and Bradford,



CHANDELR, Ariz.. -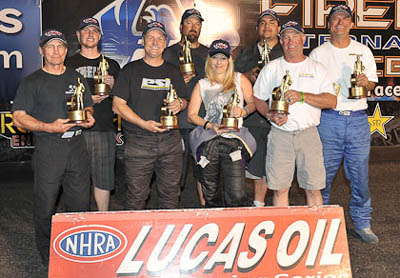 Gary Reust, Justin Lamb, Jon Bradford, Ken Etter, Lynsi Torres,
Leo Glasbrenner, Brad Wagner and Ken Mostowich.
The NHRA Pacific division Lucas Oil Drag Racing Series crowned its first winners of the 2012 season and the opening event for this weekend's Doubleheader event at Firebird International Raceway just outside of Phoenix. The doubleheader event is one and two of six events in the division that will take place throughout the year.
Justin Lamb, defending event champion, defeated Ross Wilson in the Competition Eliminator final for his fourth Divisional win. Ken Etter coming off his runner-up showing at the National event here last week defeated Gregg Luneack when he was a no show for the Super Stock final. Leo Glasbrenner continues on his hot streak in the desert following up his National win last week in Stock with a Divisional win. He defeated Toby Lang for his fourth Divisional win in Stock and his first since the 2009 Bakersfield event.
Other winners included Ken Mostowich who won his second Divisional Super Comp event and the other win was here at Firebird in 2007. Lynsi Torres won her first Divisional race when she defeated Aaron Kinard in Super Gas. Gary Reust won his second Division Super Street event when he defeated Kyle Lawrence in the final. Hometown rider Jay Thompson won his first Divisional race defeating Tom Medlin in the Motorcycle final. Brad Wagner woon his fourth Top Sportsman Divisional event defeating Mera Silvia in the final. Jon Bradford won his second Top Dragster Divisional race defeating Joe Roubicek for the trophy.
The second event kicks off on with qualifying and time trails at 8 a.m. Top Dragster, Comp and Top Sportsman make a single qualifying run at 10:30 a.m. followed by two rounds of qualifying for Top Alcohol Dragster and Funny Car at noon and 4 p.m. which will set the fields for Sunday's eliminations. Defending division Top Alcohol Funny Car champion John Lombardo is expected to compete as he looks to defend his Pacific division title.
Tickets are $30 for adults, children 12 and under are free with a paid adult. Firebird International Raceway is located at 20000 S. Maricopa Road. Take I-10 to Maricopa Road exit. For more information call the track, (602) 268-0200 or visit www.FirebirdRaceway.com.

The following are final results from race number one of the NHRA Lucas Oil Drag Racing Series Doubleheader event at Firebird Raceway: The following are Friday's final results from the NHRA Lucas Oil Drag Racing Series, Pacific Division event at Firebird International Raceway:

COMPETITION ELIMINATOR
Justin Lamb, Henderson, Nev., '08 Cobalt, F/SMA, 8.833, 121.56 def. Ross Wilson, Rancho Cucamonga, Calif., '05 Sunfire, B/SM, foul.

SUPER STOCK
Ken Etter, Riverside, Calif., '93 Shadow, GT/GA, broke def. Gregg Luneack, Vista, Calif., '65 Nova, SS/KA, broke.

STOCK ELIMINATOR
Leo Glasbrenner, Chino, Calif., '68 Firebird, C/SA, 10.545, 116.77 def. Toby Lang, Auburn, Wash., '69 Chevelle, H/SA, 11.728, 110.77.

SUPER COMP
Ken Mostowich, Calgary, Alb., '05 Cavalier, 8.908, 174.37 def. Greg Krause, Escondido, Calif., dragster, 8.878, 165.38.

SUPER GAS
Lynsi Torres, Glendora, Calif., '84 Camaro, 9.897, 168.03 def. Aaron Kinard, San Marcos, Calif., '63 Corvette, 9.895, 168.30.

SUPER STREET
Gary Reust, Pahrump, Nev., '55 Bel Air, 10.910, 133.61 def. Kyle Lawrence, Manhattan, Kan., '79 Cutlass Wgn, 10.919, 133.88.

SPORTSMAN MOTORCYCLE
Jay Thompson, Phoenix, Ariz., '73 Kawasaki, 9.943, 126.27 def. Tom Medlin, La Mirada, Calif., '93 Suzuki, 8.392, 157.47.

TOP SPORTSMAN
Brad Wagner, Henderson, Nev., '97 Cutlass, 7.127, 195.53 def. Mera Silvia, Upland, Calif., '04 Cavalier, 7.431, 187.70.

TOP DRAGSTER
Jon Bradford, Tucson, Ariz., dragster, 7.267, 184.98 def. Joe Roubicek, Westlake Village, Calif., dragster, 6.735, 196.64.




LODRS: 10 Most Recent Entries [ top ]

Apr 23- LODRS 1-1 - Event Wrap Up
Apr 22- LODRS 1-1 - MXI/Magnaflux Top Dragster presented by Select Performance Final, Round 5 Eliminations
Apr 22- LODRS 1-1 - MXI/Magnaflux Top Sportsman presented by Select Performance Final, Round 5 Eliminations
Apr 22- LODRS 1-1 - Stock Eliminator presented by ATI Final, Round 7 Eliminations
Apr 22- LODRS 1-1 - Super Stock presented by ATI Final, Round 7 Eliminations
Apr 22- LODRS 1-1 - Super Street Final, Round 5 Eliminations
Apr 22- LODRS 1-1 - Competition Eliminator Final, Round 5 Eliminations
Apr 22- LODRS 1-1 - Super Comp Final, Round 6 Eliminations Results of final, round 6 eliminations in Super Comp at the NHRA Lucas Oil
Apr 22- LODRS 1-1 - Super Gas Final, Round 6 Eliminations
Apr 22- LODRS 1-1 - Super Comp Final, Round 6 Eliminations