Wed, 22 Feb 2012, 20:50 PM



New Breed, New Rules



By Kelly Wade


Photo copyright 2012 Auto Imagery, Inc.





Michael Wesolowski, SSA/A Mustang
With the completion of the new NHRA rulebook for 2012 came the addition of several new classes developed for Stock Eliminator and Super Stock drivers and their muscly racecars in order to level - and expand - the playing field a bit. The development of a new group of classes allows for the advancement of technology and interesting combinations that would otherwise be homeless in the categories.
Cars are classified by dividing the manufacturer's shipping weight by the NHRA rated horsepower, and in 2011 the quickest classes in Stock were AA (7.50 to 7.99 pounder per horsepower), A (8.00 to 8.49) and B (8.50 to 8.99). The new classes include AAA (6.00 to 6.49), AA (6.50 to 6.99) and BB (7.00 to 7.49), in addition to the existing classes of CC/formerly AA (7.50 to 7.99), and A (8.00 to 8.49). The new class for Super Stock includes SSA/A.
The high level of performance of the new generation of race-ready hot rods like the Dodge Challenger Drag Paks and the Cobra Jet Mustangs created a dilemma that required resolution. Head-to-head matchups were tilted when the new cars ran against the classic cars that shared the class. Another problem is that when the new cars were run to their fullest potential, NHRA would be required to add horsepower, and as the factor changed the car would be moved up to a quicker class.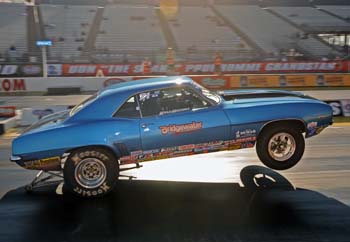 Kyle Rizzoli
At the end of the season, certain cars - like the 2008 Cobra Jet - were factored so much that they were no longer legal to be run in Stock Eliminator. The inclusion of the new classes means that these cars can return to Stock. Here is what a few drivers in the old and new categories had to say about the changes following the first race of the 2012 season, the O'Reilly Auto Parts NHRA Winternationals:
Kyle Rizzoli
CC/SA '69 Camaro
I used to run AA/SA, and that used to be the fastest class. [The addition of the new classes] addresses the fact that we had these '69 Camaros with 427 engines, and we were in the same classification as these brand new cars - it was 1969 technology compared to 2011 technology. The guys with the classic cars were saying, hey, we have no problem racing with these guys, but does it really make sense to have us racing against each other from the standpoint of fairness? Another issue was how much weight they had to put on those new production cars to slow them down. They would have to have a ton of weight hanging on them, and they wouldn't be able to run in our class because they would become too heavy. They would have to run in Super Stock, and those guys got those cars to run be in our class.
The only downfall is for the purists in the class, because these new cars are going so fast. Back a few years ago, the Stock cars all ran in the 10s, and if your car ran in the 9-second range, it was unbelievable. It was a huge deal when the first Stock run in the 9s happened, it was crazy, and now with these new classes there is a very good chance we could see an 8-second run this year. Andy Durham has a new V-12 Stocker and he was running 9.30s at 145 mph in Pomona, so it's going to happen.
Overall, I believe that we Stockers as a whole think it's great to have these new production cars; we just hated racing them, especially in heads-up races [laughs]. But I do think it's really cool that we have the support of the manufacturers again.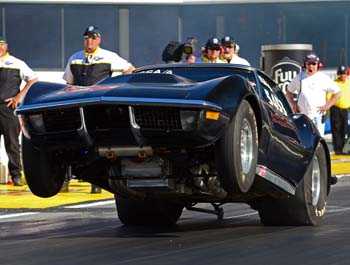 Bob Sherwood
Bob Sherwood
SSA/A '69 Corvette
I normally run SS/AA, and I'm still in the old class - they just changed the designation. At this point, it's hard to say what effect this will have on the traditional cars in the old classes because we don't know what class they'll choose to run those newer cars in yet. They have the option of moving, but that doesn't mean that they will take it. Once you get to the east coast and there are more of the newer-style Challengers or Mustangs, then we'll see how things go. Things may stay the same. I don't have too many options - I can't get my car light enough to go to the newer classes, and my combination horsepower probably won't change, so this isn't really make much of a difference in my world. For me it was just a matter of moving a letter and a slash.
Andy Durham
BB/SA '11 Challenger
This will allow us to more or less run these cars out, because it gives them a place to go when they get hit with horsepower. I think it's a good thing because these new cars are vital to the sport. They're bringing in a different fan base, and I think it's exciting to see these cars actually run to their full potential.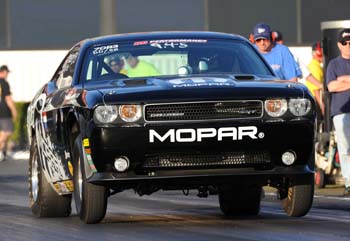 Andy Durham
The majority of the people with these cars know what they can do, and I think there is a race to 8-seconds. Kind of like how Bobby DeArmond was the first in the nines; that was a historic run, and he's famous for it. The first car to go in the 8s will be the same way, and I do believe we will see an 8-second run this year. It could happen in Gainesville. It's got really good air, and it's always really fast. Nobody really knows what the Cobra Jets can do yet, because they're blown - they have the super chargers. It'll be interesting to see what they do if they really let them go.
Last year there was a lot of drama between the old cars and the new cars because they were within the same classes. The new cars were a little bit under-factored, but every car when it started its life was under-factored, and it was just a matter of time before they get it right. Now that these cars have a place to go, it makes it fair. I think the drama is no longer there and I really think it's going to eliminate any bitterness and bring the happiness back.




LODRS: 10 Most Recent Entries [ top ]

Mar 12- LODRS 2-2 _ Event Wrap Up
Mar 11- LODRS 2-2 - Top Sportsman Final, Round 5 Eliminations
Mar 11- LODRS 2-2 - Competition Eliminator Final, Round 4 Eliminations
Mar 11- LODRS 2-2 - Super Stock Final, Round 7 Eliminations
Mar 11- LODRS 2-2 - Stock Eliminator Final, Round 7 Eliminations
Mar 11- LODRS 2-2 - Top Dragster Final, Round 5 Eliminations
Mar 11- LODRS 2-2 - Super Comp Final, Round 7 Eliminations
Mar 11- LODRS 2-2 - Super Gas Final, Round 7 Eliminations
Mar 11- LODRS 2-2 - Super Street Final, Round 6 Eliminations
Mar 11- LODRS 2-2 - Junior Dragster 6-9 Final, Round 4 Eliminations