Wed, 22 Feb 2012, 15:47 PM



Demke A 10 Year Veteran in Top Alcohol Dragster



By Todd Veney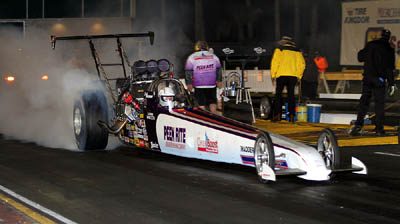 Chris Demke
Top Alcohol Dragster points leader Chris Demke once was well on his way to tying Tony Schumacher and John Force for the all-time record for final-round futility.
By the time he finally claimed a long overdue first national event victory, Demke had already lost eight straight - one short of the mark established by Schumacher and Force and later eclipsed by Bob Vandergriff. And everybody knows how Force and Schumacher turned out: Schumacher has more wins and more championships than anyone in Top Fuel history, and Force has more than twice as many wins and series titles as anyone in Funny Car.
Now Demke has won six national event finals in a row, including this year's Winternationals, where he defeated first-time finalist Larry Miersch with the only run in the 5.20s all weekend, a 5.28. "You just have to believe," says Demke, one of the favorites at this weekend's Lucas Oil Series regional event at Firebird International Raceway in Phoenix. "I did fine divisionally. I just couldn't get it done at national events. I was in four finals in 2009 alone. We even got to the Jegs Allstars final and a couple of divisional finals that year and lost them all. There was a lot of pent-up frustration. It gets in your head after a while - I had a thing about it. The worst was in Topeka in 2008 against Mark Niver. We had him covered, and I got complacent on the tune-up and on the lights, and guess what happened? He beat me on a holeshot. Ever since that day, I don't care how much I think I can beat the other guy, I'm not giving anything away."
That's putting it mildly. When Demke broke through against feared Joey Severence in the 2010 Winternationals final, he had a .009 reaction time. "You have to know that your team's capable of doing it," says Demke, a 48-year-old computer engineer from Sunland, Calif. "But you can't think you're going to win every time. You know how people say they'd never go to a race if they didn't think they were going to win? I would. I never go expecting to win. I expect to have a good time, and I do. Everybody has fun when they win. Well, I want to have a good time every weekend - no matter how we do. Sometimes, you're going to have a DNQ. I know: I just did it last year at the Las Vegas divisional race the weekend after we'd just won the national event there."
Win or lose, nobody has more fun racing than Demke, who wears a perpetual grin, and his Peen Rite teammates, led by owner and crew chief Jerry Maddern, who has been successful with a long list of drivers: 1998 U.S. Nationals champ Darren Nicholson, future Funny Car racer Frank Pedregon, future Top Fuel driver Spike Gorr, and future top five TAD driver Mike Austin.
"I'm just grateful to have a great ride with a great team," Demke says. "Jerry's a pleasure to race with. We're all just a bunch of lemmings following him around, and we call ourselves 'Jerry's kids.' I mean, what's there not to have a positive attitude about? A million people would love to drive Jerry's car."
Demke was one of them for years before he ever got the seat. "Jerry was racing in the Top Eliminator West series in 1991 and '92 and decided to go Top Alcohol racing in '93," Demke says. "I was going to be the driver until my mom [Jerry's wife, Dixie] said that no one in the family was going to drive. I was crushed."
Demke then put in 10 hard years working on the car before taking over the wheel in 2002. "It ended up being hugely valuable," he says. "Even if you haven't been in the car, you know a lot more about what's it's going to be like and how things are supposed to go just by standing on the starting line for all those years. Being outside the car almost gives you a sixth sense."
This weekend's regional event in Phoenix marks exactly 10 years since Demke made his driving debut, and it's been a good ride. "If you'd asked me a few years ago what I thought of it all, I'd have said that we'd done OK on the divisional level," says Demke, who finished second in the final Top Alcohol Dragster standings in 2010 and fifth last year. "But the attention I'm getting now.I mean, I'm overwhelmed. It's way, way more than I ever expected, and I'm having a blast with it. I didn't know a person could have this much fun."




LODRS: 10 Most Recent Entries [ top ]

Mar 12- LODRS 2-2 _ Event Wrap Up
Mar 11- LODRS 2-2 - Top Sportsman Final, Round 5 Eliminations
Mar 11- LODRS 2-2 - Competition Eliminator Final, Round 4 Eliminations
Mar 11- LODRS 2-2 - Super Stock Final, Round 7 Eliminations
Mar 11- LODRS 2-2 - Stock Eliminator Final, Round 7 Eliminations
Mar 11- LODRS 2-2 - Top Dragster Final, Round 5 Eliminations
Mar 11- LODRS 2-2 - Super Comp Final, Round 7 Eliminations
Mar 11- LODRS 2-2 - Super Gas Final, Round 7 Eliminations
Mar 11- LODRS 2-2 - Super Street Final, Round 6 Eliminations
Mar 11- LODRS 2-2 - Junior Dragster 6-9 Final, Round 4 Eliminations