Tue, 21 Feb 2012, 17:30 PM



Reigning Nitro Jam AMSOIL Prostalgia Funny Car Champ Peter Gallen Gearing Up for Another



Courtesy of IHRA Communications



NORWALK, Ohio --
Big Year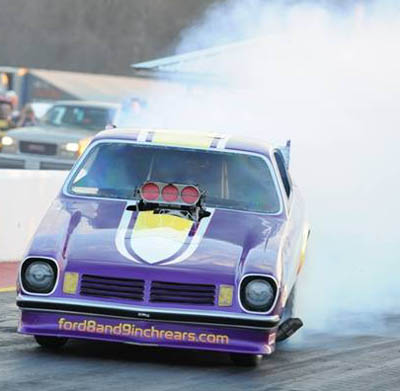 Gallen won eight times in 2011
and proved the victor in 85 percent of his rounds.
No one - and we mean no one - was better on the quarter-mile in 2011 than Broomall, Pennsylvania's Peter Gallen.
Winning an unheard of 85 percent of his rounds with eight total victories in 11 final rounds, Gallen easily ran away with the 2011 AMSOIL ProstalgiaT Nitro Funny Car class behind the wheel of his 1974 Vega "Poverty Stricken" Funny Car - finishing some 207 points ahead of Mike McIntire and the "McAttack" team. Now, after an enjoyable offseason spent showing off his new championship trophy and getting involved in a few side projects, Gallen returns to the strip in 2012 armed with a desire to keep that momentum going even as the class continues to grow and add even more heavy hitters to the lineup.
"The offseason has just flown by for us. We had a great season in 2011 with several wins and records set culminating with the championship we picked up in Martin," Gallen said. "In 2012 we hope to continue that success even as the field continues to get tougher. Once again we will be making the trip west to test ourselves against some of the better drivers on the other coast and hopefully we can continue to show just what this team is all about."
Gallen will once again run a majority of the Nitro Jam events in 2012, beginning with back-to-back events to start the season at Southwestern International Raceway in Arizona March 23-24 followed by a trip to San Antonio Raceway in Texas March 30-31. Both events will feature an impressive lineup of Funny Cars made up of former champions, event winners and record holders from both the United States and Canada and Gallen looks forward to the competition as he prepares to unveil his slightly tweaked car for the 2012 season.
Gallen wrapped up the 2011 Nitro Jam championship
at U.S. 131 Motorsports Park in August.
"At the end of last season we decided the car needed to go on a diet," Gallen said. "We delivered the chassis to Murphy McKinney for fresh pipe. After that it made its way back to Funny Farm Fabrication where Bob Rosetty had the new '76 Monza body completed and waiting to be mounted. The car is shaping up nicely and we can't wait to get on the track with it."
While the car has undergone a few changes in the offseason, one thing that won't change in 2012 is the all-volunteer crew that has helped power the very fast purple and gold machine over the past two seasons. That crew has helped propel Gallen to 15 victories and six runner-up finishes in Nitro Jam competition in addition to a few records, including Gallen's now famous "lap heard round the world" last season - a very quick 5.557 pass at U.S. 131 Motorsports Park in August of last year.
"We are very excited to be returning with the same volunteer army as last season," Gallen said. "The energy created by this volunteer army is a key to our success and to the fun we enjoy while racing the IHRA Nitro Jam series."
But racing hasn't been the only thing on Gallen's mind this offseason. Gallen recently took up helping out the Designing 4 Hope organization over the past year. Based near his home in Pennsylvania, the Designing 4 Hope group has become a major part of Gallen's life as he dedicates both time and support to helping the children of the area, including heavily promoting the foundation through his racing endeavors.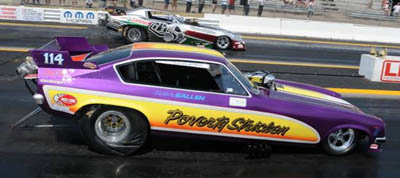 The defending champion will open
the season at Tucson and San Antonio in late March.
"The offseason has given us the ability to contribute more to Designing 4 Hope, a non-profit organization that provides bedroom makeovers for critically ill children to rest, recover and heal," Gallen said. "With the significant increase in requests for these makeovers, the desire to accommodate each child's wish surpasses the funds currently available.
"To help provide funding, we have committed to hosting several fundraising events throughout the season. We look forward to continuing to help this organization throughout the season both on and off the track."
First up on Gallen's title defense tour is a trip to Southwestern International Raceway in Tucson where Gallen took one of two races last year, followed by a trip to San Antonio Raceway where Gallen also split the weekend. This year, the two races will feature some of the toughest competition in Nitro Jam history and Gallen more than looks forward to the challenge.
"We were really happy to go out west as a measuring stick last year. Just to run in that different air and against the competition they have out there was really something we needed," Gallen said. "To run the Boychuks of the world and some of those guys out there was important to show us where we are compared with the rest of the world. We fared well and got some great experience. Now we are going back to prove ourselves once again."




IHRA: 10 Most Recent Entries [ top ]

Mar 21- 2018 IHRA Summit Sportsman Spectacular Series on April 20-22
Feb 26- Weather-Related Construction Delays Postpone IHRA Xtreme Raceway Park Opener
Feb 16- IHRA Summit Sportsman Spectacular Schedule Announced
Feb 15- New York Track Finds Value for Racers with IHRA Agreement
Feb 15- IHRA Summit Sportsman Spectacular Debut Only One Month Away Now is the Time to Pre-Enter
Feb 15- Summit Texas Location is a Racers' Paradise
Feb 15- Canadian Track Makes Large Commitment to IHRA Drag Racing
Jan 27- Mid-Michigan Destination Joins IHRA Family
Jan 27- Mississippi Track Reaches Sanctioning Agreement
Jan 16- Michigan Track to Host IHRA Summit Sportsman Spectacular