Tue, 21 Feb 2012, 10:06 AM



Hool Wins Gainesville Regional



By Todd Veney, Pro Sportsman Association


Photo by David Smith





TA/D Final Postponed



GAINESVILLE, Fla. --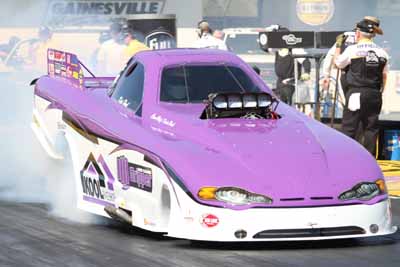 Kris Hool
Wyoming's Kris Hool collected the first regional win of 2012, stopping perennial championship contender Mickey Ferro in the Top Alcohol Funny Car final at the rain-plagued Eastern Regional event in Gainesville, Fla. Top Alcohol Dragster remains undecided; rain and high winds kept Rich McPhillips and Mark Taliaferro from meeting in the final, which will be contested next month in Gainesville during qualifying for the Gatornationals.
Hool drove his and brother Kevin's Gripper Hand Cleaner Monte Carlo to a 5.71 at 253 mph to stop Ferro, the reigning Gatornationals champion, whose Ryco-sponsored entry trailed with a close 5.78 at 251 mph. "It was a great race between two of the top 10 cars in the country last year," said Hool, who scored for third time in his career, including his national event victory last season in Brainerd and a divisional win in Bradenton, Fla.
With a telepathic .002 reaction time, Hool had the lead from start to finish. "I didn't mean to cut it that close," he said. "It was totally dark when we ran the final, and everybody sees the Tree better at night. I study drivers, and Mickey's definitely one of the best leavers out there. He's usually in the .030s or .040s, so I knew I had to be on it. We both probably should have run a lot better. Last year, the track here was slippery and no one was getting down it, but this year the track was excellent. Kevin said that we definitely could have run in the .60s, but a .71 was enough to get the job done."
In Top Alcohol Dragster, Taliaferro and McPhillips were just two of numerous drivers to run in the 5.30s. Semifinalist Sidnei Frigo never ran slower than 5.36 all weekend and barely lost to Taliaferro, the No. 1 qualifier, in the semifinals, 5.32 to 5.34. McPhillips topped former Division 1 champion Dan Mercier in the other semifinal match, 5.35 to 5.38, and killed the Tree all weekend with a .003 reaction time in the opening round and a .019 against Mercier.
Defending national champ Duane Shields is off to a frustrating start in defense of his title. After smoking the tires right off the line at the season-opening Winternationals, he did the same here opposite Frigo.
Next up on the regional schedule is this weekend's event at Firebird International Raceway in Phoenix, which is expected to draw top teams from across the western United States.




LODRS: 10 Most Recent Entries [ top ]

Mar 22- LODRS 4-2 - Event Preview
Mar 12- LODRS 2-2 _ Event Wrap Up
Mar 11- LODRS 2-2 - Top Sportsman Final, Round 5 Eliminations
Mar 11- LODRS 2-2 - Competition Eliminator Final, Round 4 Eliminations
Mar 11- LODRS 2-2 - Super Stock Final, Round 7 Eliminations
Mar 11- LODRS 2-2 - Stock Eliminator Final, Round 7 Eliminations
Mar 11- LODRS 2-2 - Top Dragster Final, Round 5 Eliminations
Mar 11- LODRS 2-2 - Super Comp Final, Round 7 Eliminations
Mar 11- LODRS 2-2 - Super Gas Final, Round 7 Eliminations
Mar 11- LODRS 2-2 - Super Street Final, Round 6 Eliminations