Sat, 18 Feb 2012, 11:33 AM



Allen Ready to Start Season with a Home Game



By Todd Veney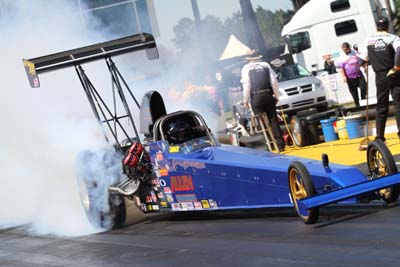 Artie Allen
For former Division 2 Top Alcohol Dragster champ Artie Allen, this weekend's Lucas Oil Drag Racing Series event at Gainesville Raceway, his home track, is just the start.
The Jacksonville, Fla., driver, who edged Bill Evans for the 2008 Division 2 title, is about to embark on his most aggressive campaign in years. "I've never really chased points, and I ran only a few times last year, but this year, we're really going after it," says Allen, 46, an underground-utility contractor from Jacksonville, Fla. "I'll do maybe six national events, and I'm going to hit more regional events, too. Florida isn't the best place to be from with this new regional format, so we're going to run either the Division 1 tracks [East Region], or Division 3 [North Central Region], probably the Division 3 stuff."
It all starts this weekend in Gainesville, where Allen broke though for his first major win at the 2005 race, beating the eventual division champ that year, Guy Kelly, in the final. Allen backed up that victory with one later that year in Bradenton, Fla., also over Kelly.
"There were some big names running Division 2 back then - Ashley Force and Morgan Lucas," says Allen, whose best showing in national competition was a semifinal finish at the 2009 Gatornationals. Force and Lucas went on to be stars on the Full Throttle circuit, but they aren't the only "name" drivers Allen has had to contend with over the years.
The win that clinched the 2008 Division 2 championship came at the expense of current Top Fuel points leader Spencer Massey, who then was driving Gene Snow's A/Fueler. "I'll never forget it," Allen says. "It all came down to the semi's - one run for the championship - we both went up in smoke, and I had to pedal that thing probably eight times. If Spencer had taken me out, Bill Evans would have won the division. I got out of the car, and [former Division 2 Director] Bill Holt was sitting down there, and he told me, 'That's it. You got it.' "
Allen's lone event title in that championship season came at South Georgia Motorsports Park in Valdosta, Ga., over current nostalgia Funny Car great Peter Gallen. Allen has two career titles in a blown-alcohol car and two, including his 2006 triumph at Valdosta, in an A/Fuel car. He made the often difficult switch from a blown-alcohol combination to an injected-nitro setup five years ago. "I had to," Allen says. "I had a brand new Brad Hadman car and the best of everything, but 5.40s don't cut it when the guy in the other lane is running 5.20s with an A/Fuel car. But I've always liked the blown cars, and they're running a lot closer to the A/Fuel cars than they were a few years ago, so who knows?"
No matter what fuel is in the tank - alcohol or nitromethane - Allen loves to race. "There's nothing like drag racing. I've raced offshore boats, raced tunnel boats, raced on rivers, but nothing compares to the thrill I get out of drag racing," says Allen, who first drove a Top Alcohol Dragster in 1998. "I ran Super Comp before that, but I didn't like the transbrake and I didn't like the delay box. It was a steep learning curve at first, so we brought in Ora Vasquez in 1999 and 2000, and that was probably the best thing we ever did. I wish I could have moved him next door."
Allen and brother Chuck have gone on to make 12 final-round appearances, most recently at last year's Division 2 opener in Bradenton, where he fell to Al Moeser, who picked up his first career win that day. "It's been a lot of fun over the years, and I really think this year is going to be our best one yet. We're going to try harder than we ever have, and all our stuff's ready to go. We have new Stage 8 heads, a totally new combination, and we've really been picking away at it. Our goal is to get our first national event win and to finish in the top five in our region - whichever region that is."




LODRS: 10 Most Recent Entries [ top ]

Apr 21- LODRS 1-1 - Top Alcohol Funny Car Final, Round 3 Eliminations
Apr 21- LODRS 1-1 - Top Alcohol Dragster Final, Round 3 Eliminations
Apr 21- LODRS 1-1 - Direct Cabinet Sales presents Junior Dragster 10 - 12 Final, Round 3 Eliminations
Apr 21- LODRS 1-1 - Direct Cabinet Sales presents Junior Dragster 6 - 9 Final, Round 2 Eliminations
Apr 21- LODRS 1-1 - Direct Cabinet Sales presents Junior Dragster 13 - 17 Final, Round 4 Eliminations
Apr 21- LODRS 1-1 - Top Alcohol Funny Car Round 2 Eliminations
Apr 21- LODRS 1-1 - Top Alcohol Dragster Round 2 Eliminations
Apr 21- LODRS 1-1 - Direct Cabinet Sales presents Junior Dragster 13 - 17 Round 3 Eliminations
Apr 21- LODRS 1-1 - Stock Eliminator presented by ATI Round 2 Eliminations
Apr 21- LODRS 1-1 - Ultimax Pro Stock Snowmobile Final, Round 2 Eliminations