Sat, 11 Feb 2012, 12:02 PM



Whiteley Ready for Championship Run



By Todd Veney


Photo copyright 2012 Auto Imagery, Inc.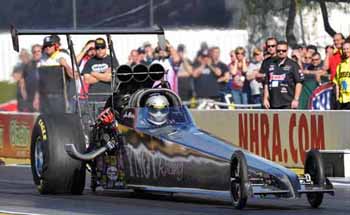 Jim Whiteley
If not for a few up-in-smoke runs at the most inopportune times, Jim Whiteley might be a two-time Top Alcohol Dragster world champion by now. Whiteley, who has finished in the top five in the NHRA national standings for four straight years, has been not just quick but consistently quick since the day tuning mastermind Norm Grimes, the hands-down best blown-alcohol crew chief of the past 15 years, joined his YNot Racing team.
Whiteley is the only driver in either alcohol category other than Bill Reichert, who won five consecutive Top Alcohol Dragster championships before finally being dethroned last year, and Frank Manzo, who has won the last five titles in Top Alcohol Funny Car, to finish in the top five in the national standings in each of the past four years. He was fourth in 2007, second to Reichert in 2008 and 2009, and third last year.
"We're never stellar, but we're consistent," Whiteley says, and he's half-right. He's the most recent winner on the NHRA tour, having wrapped up the 2011 season with a victory at the Automobile Club of Southern California NHRA Finals, where he qualified No. 2 with a 5.30 and ran between 5.29 and 5.31 in all four rounds.
Whiteley joins defending event and series champ Duane Shields, 2010 Winternationals winner Chris Demke, and known leaver Joey Severence - all top five drivers in 2011 - as an odds-on favorite to win this weekend's O'Reilly Auto Parts Winternationals. With four victories in his last seven appearances at Pomona Raceway, including three in a row, and a crew chief who has five career titles at the Winternationals alone, maybe Whiteley is the favorite.
But it's not just Pomona. Whiteley reached at least the semifinals in 15 of 17 starts last year, racking up a 41-12 record with three national event victories (Houston, Brainerd, and the Finals) and three in divisional competition (Denver, Earlville, and Las Vegas). He was beaten in the first round just once, at the Brainerd divisional, where he was upset by Jared Dreher after qualifying No. 2.
"When you run that good in qualifying, you kind of think you'll do a little better than first-round loser," Whiteley says. "I knew at the time that it was going to come back to bite us, and it did - there and Tulsa, where we got beat in the semi's. We chased this car all year and finally started getting a better handle on it at the end of the season.
"I look back on each of those years that we were second and think, 'We should have won it all. We were just a round or two away,' " Whiteley says. "I'm sure that every driver who gets close to a championship but doesn't quite win it feels the same way. It was just one or two little mistakes every time, but that's all it takes. Everybody shakes or smokes the tires sometimes, but how many did we throw away? Very seldom do we get outrun. When we lose, it's usually from smoking the tires."
It sure isn't from crumbling under the pressure. Whiteley has appeared in 15 national event finals since 2007 event and has won 13 of them, falling only to upstart Jeff Isbell four years ago in Las Vegas and to Reichert last year in Chicago. "Norm is as good as they come at reading a race track," says Whiteley, 49. "He's a nervous wreck in the first round, but in the late rounds, it all just seems to come together for him. I think I'm better on the lights in the late rounds. I go through my little spells like everyone does, but I'm pretty good at controlling the pressure and not letting it get to me. I don't even think about being in the final, really. I just know that when it's time, I'm going to be there."
For Whiteley, there's just one thing left: a championship. Will he, like Reichert in 2006 and Shields last year, finally break through after beating on the door for years? "I sure hope so," says Whiteley, who will be joined on tour this year by wife Annie, who impressed in her Top Alcohol Funny Car debut last November at the Vegas divisional. "I've got to win at least one before I'm done with this sport. That's the way I've always looked at things, in my business and in everything in life. I won't say that this all will have been a waste if it never happens, but I know that my career definitely will be incomplete if it doesn't."




LODRS: 10 Most Recent Entries [ top ]

Apr 18- LODRS 1-1 - Event Preview
Apr 18- D1TV is Here
Apr 18- Junior Dragsters to Compete at all 7 Division One Lucas Oil Drag Racing Series Events
Apr 18- Direct Cabinet Sales presents Summit Racing Series Jr Drag Racing League at D-1 Events
Apr 16- Collier Crowned Moser Sportsman Shootout Champion
Apr 16- LODRS 7-2 Event Wrap Up
Apr 16- LODRS 2-3 - Event Wrap Up
Apr 16- LODRS 4-4 - Event Wrap Up
Apr 15- LODRS 4-4 - Competition Eliminator Final, Round 5 Eliminations
Apr 15- LODRS 4-4 - Super Stock Final, Round 6 Eliminations