Thu, 09 Feb 2012, 09:43 AM



New Dynamics, Fresh Page



By Kelly Wade


Photo copyright 2012 Bob Johnson Photography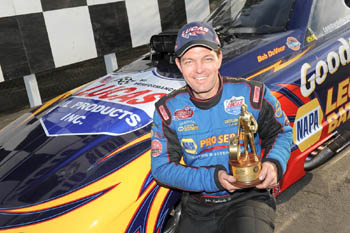 John Lombardo Jr.
The Full Throttle Series season-opener at Auto Club Raceway Pomona isn't the only action open to NHRA drag racers during the second weekend in February; the Lucas Oil Drag Racing Series will launch on the opposite coast at Orlando Speedworld Dragway Feb. 10-12, and the remaining 42 events on the schedule will likely fly by as drivers compete once more for national, divisional, and now also regional trophies for the Top Alcohol Dragster and Top Alcohol Funny Car competitors.
The initial goal of creating a regional competition for the Top Alcohol classes was tri-fold: reduce the number of races, increase success within the events, and establish consistency in the program. The determined structure included 23 regional events held in four designated areas across the United States: East, North Central, Central and West, with regional championships based on five of seven events and national championships awarded according to the best seven of 10 nationals coupled with the best three of five regionals.
John Lombardo Jr. driver of the Napa Auto Parts Lucas Oil Top Alcohol Funny Car, weighed in on what the new format would mean for his team.
"We'll probably change the approach a little bit by going to run regionals in the early part of the year because we're shooting for a national championship or the top 10 in the national points," said Lombardo. "And how you do early might change the way you approach the regionals later in the year.
"Thankfully, NHRA asked us to sit in on one of the original meetings where they did some brainstorming, and I think it's good to reduce the number that Lucas Oil and NHRA were hosting because there were a tremendous number of races. The fields will be more full, and there are definitely opportunities at divisional and regional events for sponsors to get on racetracks that don't host national events. We really needed to shed 10 or 15 total races, so I think this was a good decision. Division 7 got a little bit tougher now as part of the Western region - we'll have more cars at the races and have to travel a little bit further - but in the total scheme of things, it's probably more fair."
Jerry Darien, owner, instructor and crew chief on the Truck-Lite Top Alcohol Dragster driven by Megan McKernan, has a different perspective on the new format.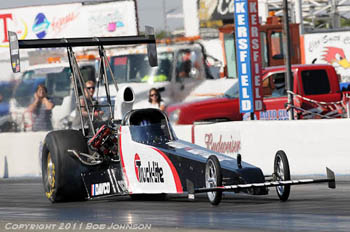 Megan McKernan
"Well, we're going to go to less races than we would like to," said Darien. "You don't have to be a geography genius to realize that Mission, [B.C.,] is quite a ways further north than Bakersfield when you start out in Azusa, Calif. We are on a budget, and we're not going to get stupid. The bottom line is economics, and people can't afford to do things that they could do five years ago.
"I've always liked divisional races like Bakersfield, Phoenix, Sonoma, and Sacramento, but we [the alcohol classes] don't go there now. We're going to do 11 races, but I remember when Ashley [Force Hood] drove my car back in 2004 - we went 29 weekends. That ain't happening now. It is what it is, and people are just going to do what they can afford to do."
Last season's Lucas Oil national champions looking to defend their titles are Duane Shields (Top Alcohol Dragster), Frank Manzo (Top Alcohol Funny Car), Lou Ficco (Competition Eliminator), Jackie Alley (Super Stock), Joe Santangelo (Stock Eliminator), Gary Stinnett (Super Comp) and Peter Biondo (Super Gas).
The first divisional event of the year in Orlando will be followed in short order by the second event for NHRA's Southeasterly competitors; it will be held the very next weekend at Gainesville Raceway, and it will be the first regional event of the season.
Closing out a very full February will be the Division 7 opener at Firebird Int'l Raceway near Phoenix, which is slated to be a historic event as it marks the first double-header in the history of the Lucas Oil Series. The Valley of the Sun will be a hotbed of racing as the dual event will follow the NHRA Arizona Nationals held at the facility the weekend prior. The double-header will begin with a standard divisional event on Feb. 23-24 followed by a regional competition Feb. 25-26.
March will include three division events (including the first race of the year for Division 4), plus the first of three in the SPORTSnationals series: the always anticipated event held down south in Belle Rose at No Problem Raceway. Divisions 1 and 3 will join the fun in April with their openers respectively taking place in Virginia and Indianapolis, and divisions 5 (Great Bend) and 6 (Boise) will get it started in May.
The racing calendar will be packed during the summer months, of course, beginning with nine events scheduled for June. The end of the month will be heavily weighted with points meets for Division 1, 2, 3 and 4 slated for the weekend of June 22nd and the Allstars event scheduled to take place during the national event in Chicago at Route 66 Raceway.
Tommy Phillips
Photo copyright 2012 Auto Imagery, Inc.
Defending Allstars, typically invited back as blockers, will be Division 7's Jim Whiteley (Top Alcohol Dragster), Division 1's Frank Manzo (Top Alcohol Funny Car) and Frank Aagona Jr. (Competition Eliminator), Division 4's (Slate Cummings (Super Stock) and Tommy Phillips (Super Comp), Division 6's Mark Faul (Stock), Division 3's Rusty Cook (Super Gas) and James Monroe (Top Dragster), Division 2's Mike Griggs (Super Street), and Division 7's Joe Roubicek (Top Sportsman). Division 4 will surely be amped up to defend their overall title.
The season will begin to wrap up in August, as Division 3 puts on their last Lucas Oil event of the season in Bowling Green's Beech Bend Raceway the weekend of Aug. 24. Following the Mac Tools U.S. Nationals in Indianapolis held on Labor Day weekend in September, Division 1, 5 and 6 will close up shop, and later in the month the Northern SPORTSnationals will be held at National Trail Raceway in Hebron. The dates for the Pacific SPORTSnationals in Fontana had yet to be determined at the time of this writing.
Division 2 and Division 4 will sew things up in October, and all division and regional titles will have been decided after the series returns to Las Vegas for the Pacific Divisions finale at The Strip at Las Vegas Motor Speedway, just one week before the Full Throttle Series winds down at Auto Club Raceway Pomona.
Hope you're ready, because here we go.




LODRS: 10 Most Recent Entries [ top ]

Apr 23- LODRS 1-1 - Event Wrap Up
Apr 22- LODRS 1-1 - MXI/Magnaflux Top Dragster presented by Select Performance Final, Round 5 Eliminations
Apr 22- LODRS 1-1 - MXI/Magnaflux Top Sportsman presented by Select Performance Final, Round 5 Eliminations
Apr 22- LODRS 1-1 - Stock Eliminator presented by ATI Final, Round 7 Eliminations
Apr 22- LODRS 1-1 - Super Stock presented by ATI Final, Round 7 Eliminations
Apr 22- LODRS 1-1 - Super Street Final, Round 5 Eliminations
Apr 22- LODRS 1-1 - Competition Eliminator Final, Round 5 Eliminations
Apr 22- LODRS 1-1 - Super Comp Final, Round 6 Eliminations Results of final, round 6 eliminations in Super Comp at the NHRA Lucas Oil
Apr 22- LODRS 1-1 - Super Gas Final, Round 6 Eliminations
Apr 22- LODRS 1-1 - Super Comp Final, Round 6 Eliminations