Sat, 31 Dec 2011, 18:35 PM



Congratulations to Courtney & Brittany's Mom



By Bob Frey


Photo copyright 2011 Auto Imagery, Inc.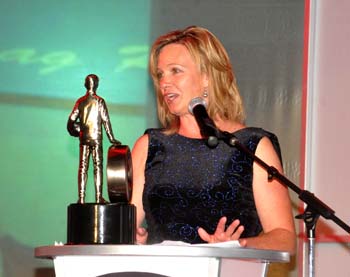 Jackie Alley
There is a 2011 World Champion who has daughters by the names of Courtney and Brittany. If I told you that was a possibility at the start of the season you probably wouldn't have been surprised, after all, Courtney and Brittany's father had already won fifteen world titles including that dramatic comeback in 2010, so the thought of winning one more wasn't a real stretch. As it turned out, John Force, the father of Courtney and Brittany, didn't win the championship, but Jackie Alley, the mother of twin daughters, Courtney and Brittany, did. In the process Jackie accomplished several major things and she etched her name in the record books for all time. She became just the second woman to win a Lucas Oil World Championship, joining the 1979 champ, Amy Faulk, on that very short list. She also became just the fifth woman to win a national event in Super Stock, adding her name to the list that includes Amy, Hall of Fame member Judy Lily, Margaret Glembocki and Diana Stewart. She also became just the fourth woman ever to win an NHRA World Championship in any class, with Amy, Shirley Muldowney and Angelle Sampey being the others. Not a bad year for Courtney and Brittany's mom, was it?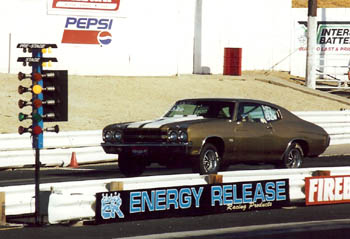 Alley in her '70 Chevelle SS
Jackie Alley is admittedly a very competitive person. "I played a lot of basketball when I was younger, and even played softball for a number of years in Boise." She went on to say that she thinks it's that competitive spirit that helped her win the 2011 Lucas Oil world championship. Before she began driving Jackie would go to the drag races and watch her husband, Mick, compete. "Since I was competitive by nature I figured that's something I would like to do and so I began driving myself." At that time Jackie was racing at Firebird Raceway in her hometown of Boise, Idaho, and she was driving a 1970 Chevelle SS that the family still owns. "It was basically a street car that Mick built into a race car / daily driver and I raced it for about a year. After that we built a '67 Chevelle that was a Pro bracket car for me that I still race from time to time. Later, Jackie and her husband decided to take Mick's bracket car and turn it into a Super Stock car and that's the car that she is running today. Ironically, her two daughters, Courtney and Brittany, ended up racing both the '67 Chevelle and the '70 Chevelle in the high school series at Firebird Raceway. "The girls both enjoy drag racing, but right now they're focused on getting a college education." As any good parent will tell you, girls, it's first things first!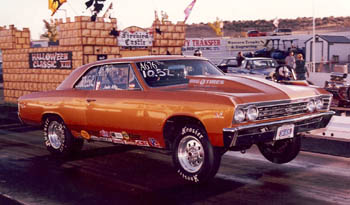 Jackie Alley in her '67 Chevelle
The race for the 2011 Lucas Oil championship wasn't an easy one for Jackie, and going into the last couple of races she still trailed the season-long leader, Peter Biondo. "I knew that I had to do well at the Las Vegas national event," she said. Jackie was extremely focused going into the Las Vegas race and knew that she had to win a lot of rounds in order to pass Peter. Ironically, once she passed him and took over the points lead, she also met the "Terminator" in the final round, a round that Peter won. "I don't think I was focused as much as I should have been going into that final round," Jackie said, "I really think that with so much attention on just going rounds and taking over the points lead I let that final round get away from me." She went on to say that after the race was over, Peter, whom she had never met before, did come over to her pit area and congratulated her on taking over the points lead, and he wished her well in the battle for the championship. "We have bought a lot of parts from Peter's company over the years but I had never really talked with him. He was a real gentleman and he couldn't have been nicer."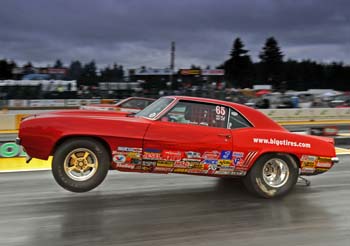 Alley in her Super Stocker
That lack of concentration going into the final round that she mentioned is something that Jackie's thought about throughout her career. "I often think that I think too much," she said in a very interesting statement. "A lot of racing is mental, and I think I let that get to me on occasion and I tried to work on that during the year." Most racers will say that they try things between rounds to take a lot of pressure off, and it may range from working on the practice tree to tuning up the car, but for her part Jackie said she that tried quilting. Really, quilting! "Mick asked for the book 'A Racer's Mind' a few years ago for Christmas. He got it and read it and I did too this year and it really helped me relax a lot more between rounds." So now, instead of going back to the trailer and pacing between rounds and worrying about her next opponent, Jackie makes quilts. She has made some quilts for racers back at her home track in Boise, Idaho, and ironically, the mother of Courtney and Brittany, also took some old John Force T-shirts and made them into a special quilt that was given away at the track.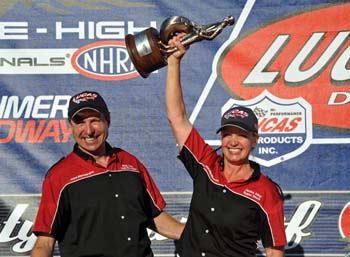 Mick and Jackie Alley
celebrate Mile-High Nationals win.
Following her runner-up finish at the Las Vegas national event, Jackie had one more points race at which she could claim points and that was also in Las Vegas. "I went into that race knowing what I needed to do to add some points," she said. "But unfortunately I lost focus and fouled out in the third round." That was the only time that Jackie fouled out all season long and she thought it might have cost her a shot at the championship. Still, with one national event left to go, she had a chance to add even more points, and maybe wrap up the championship at the last race of the season in Pomona. "It was a long shot since we had to go to the final round there to add points, but we were determined to give it our best shot." But living in Boise, Idaho, you know you can face some nasty weather, and when it began to snow in her hometown, she knew what she had to do. "We own a Big O Tires store, and when the snow comes that's a good time for us. We've often told our employees not to try to take off when the bad weather strikes and we had to set an example," Jackie said. "It was a calculated risk, but this is our business so we knew what we had to do." So Jackie and Mick went back home, sold some tires and sat by the computer listening to NHRA.com and the audio cast so she would know what the only driver with a chance to pass her in the points, David Bogner, was doing. "He kept going rounds and I have to admit it was awfully excruciating sitting back at home just listening and knowing there's nothing you can do about it."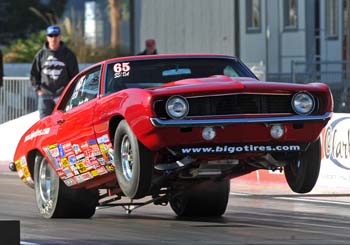 By now we all know how that ended. David went rounds but not enough to catch or pass Jackie, and his bid for the championship came up just a little bit short. "He was driving so well and facing so many good opponents and beating them all that I thought for sure he would catch us and pass us and win the championship," said Jackie. But he didn't and Jackie Alley's name is now part of drag racing history, becoming just the fourth woman ever to win an NHRA season-long championship and only the second person to do it in the sportsman classes. "It really hasn't sunk in yet," she said of the accomplishment. "Maybe it will next year when we start racing again, but for now I'm just glad that it's over and that we were able to get it done." There will be a lot of time to savor what she has accomplished, but for now, with a few weeks off from racing and some snow falling again in Boise, Jackie can do two of the things that are very important to her, sell some snow tires and make some quilts, and who knows maybe she'll make one for that other racer with daughters named Courtney and Brittany, one that says "Our Mom is the champion."




NHRA: 10 Most Recent Entries [ top ]

May 26- CHICAGO - Fact Sheet
May 26- CHICAGO - Tony Schumacher Aiming for Sixth Career Win at JEGS Route 66 NHRA Nationals
May 25- BOWLING GREEN - Stock Eliminator Class Eliminations Qualifying
May 25- BOWLING GREEN - Super Stock Class Eliminations Qualifying
May 25- BOWLING GREEN - Friday Wrap Up
May 25- BOWLING GREEN - Competition Eliminator Qualifying, Friday Order
May 25- BOWLING GREEN - Stock Eliminator Qualifying, Friday Order
May 25- BOWLING GREEN - Super Stock Qualifying, Friday Order
May 25- BOWLING GREEN - Top Dragster presented by RacingRVs.com Qualifying, Friday Order
May 25- BOWLING GREEN - Top Sportsman presented by RacingRVs.com Qualifying, Friday Order