Fri, 30 Dec 2011, 09:07 AM



South Central Bragging Rights



By Kelly Wade


Photo copyright 2011 Robert Grice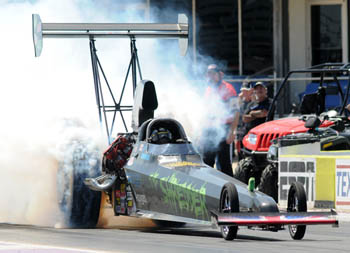 Mike Manners
The NHRA Division 4 championship chases boiled down to successful preservations of titles already in hand for a couple of drivers and shiny new achievements for a few others, but either way, a title earned in the South Central region is a title earned with heart. This year's winners included Mike Manners (Top Alcohol Dragster), Tony Bartone (Top Alcohol Funny Car), Joey Tanksley (Comp Eliminator), Todd Stewart (Top Sportsman) and Jimmy Arabie Jr. (Top Dragster).
Former Top Dragster hotshot Manners has been climbing in the alcohol ranks for the past three seasons; in 2008 he finished fifth in the Division 4 standings, he was third in 2009, and in 2010 he battled to the end and actually tied Chase Copeland in points but lost the tiebreaker and was second. This year, Manners achieved his goal and was christened the Division 4 Top Alcohol Dragster champion with 341 total marks over next-best James Thompson, who brought in 277.
The Willis, Texas-based driver had but a single round win on his scorecard after the first two events he competed in on the divisional circuit (Houston and Dallas), but another home race - this time in Cajun country at Belle Rose's No Problem Raceway - saw him drive right to the winner's circle to quickly recover from a nasty accident in testing, and from there it was on. Manners made a quick stop in Earlville in his A/Fuel Shredder rail to grab points for an out-of-division final round before heading back to the Lonestar state to just miss the title at the points meet in Houston, where Aaron Tatum was victorious.
A fourth consecutive final round and his second win of the season played out in Noble, and Manners had everything he needed. Although he didn't see any win lights at the Division 7 race in Las Vegas, he made it to the final round at the national event and was sixth in the world at the conclusion of the 2011 season.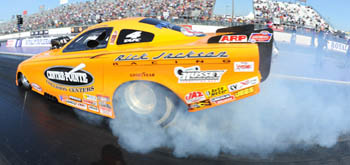 Tony Bartone
Thompson put himself in contention for the region title with three consecutive final rounds - Dallas and Tulsa were runner-ups, and he earned the Wally at the Division 5 race in Topeka. He was second at the end with 27 points on third-place Forrest Fair, while Tatum and defending Division titlist Chase Copeland were fourth and fifth, respectively.
Bartone, of Long Island City, N.Y., was in the thick of the national championship chase and won six times. He finished second in the world, and his successful defense of the South Central Division title was aided by two wins in four final rounds.
Driving the Rick Jackson Racing Centre Pointe Collision Center Ford Mustang, Bartone left Phoenix on an unenthusiastic note, but at his first race in the division - the meet at Royal Purple Raceway in Houston - he made it to the final round. Texas was kind to the Northeasterner, and in Dallas, at the next Lucas Oil Series event, he pulled in a win over Corpus Christi-based Steve Burck.
After managing a round win in Tulsa, Bartone traveled outside of the region and won in Columbus, followed by a runner-up in Bowling Green to make his 341 points stand as the best. Burck would runner-up in Houston after winning at Belle Rose to finish second, and his final-round opponent at No Problem Raceway, Bryan Brown, was third for the year in Division 4 competition.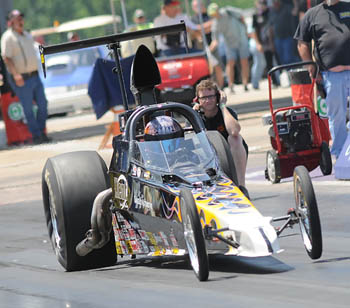 Joey Tanksley
Greenwell Springs, La., driver Tanksley defended his 2010 Competition Eliminator title but took the battle to the very end, just edging Keith Hall and keeping Adam White at arm's length. Kevin Self and Chris McGaha were also formidable contenders; Self with a win and a final and McGaha - who also tried his hand at Pro Stock in the Elite Motorsports entry - adding a final round to his tally at his last counted event in Houston.
For Tanksley, the year began on a positive with a visit to the final at the first Houston event in his C/Dragster. Hall had him on alert, though, by beating him there and then again visiting the winner's circle in Dallas where Tanksley was a semifinalist.
Belle Rose was another story, and Tanksley brought home the trophy while Hall let down his guard and was unable to muster a win light. Although Hall would win a round at each of his final three events, Tanksley won a round in Houston and then a pair at Silver Dollar Raceway down in Georgia, and he would be awarded the title based on his 325 points to Hall's 313. White, the runner-up in Dallas and Tulsa, was third, Self was fourth and McGaha rounded out the top 5.
The Top Sportsman title came down to a pair of Texans putting up their dukes at the final race of the year for the division, the meet at Thunder Valley Raceway Park in Noble. Stewart and his '67 Camaro got it done with a final-round defeat of Doug Woody, adding 95 marks to his tally while Tomball, Texas, driver Daniel Leibham won his first-round match but exited soon after for a 41 point outing that was a bunch shy of what it would have taken to claim the South Central title. Kilgore, Texas-based Stewart was triumphant, 390 to 324.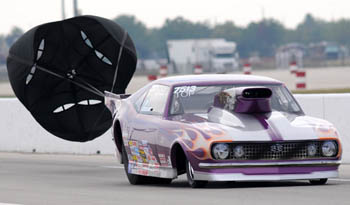 Todd Stewart
Stewart's early season efforts included a win at Belle Rose and a runner-up soon after at Texas Motorplex, and another final round performance displayed outside of the region, in Topeka, gave him the advantage heading into Noble. Second-generation driver Leibham lit up at No Problem Raceway for the Cajun SPORTSnationals, winning the event and following up with a defeat of Stewart later that fall in Topeka to set up the late-season rivalry.
Randy Phillips and Allen Firestone were third and fourth in their respective results, while Greg Lair and 2010 double Division 4 winner Keith Raftery (Top Sportsman and Top Dragster) tied for fifth. Raftery won the tiebreaker for the position.
Baytown, Texas, racer Arabie ignited his season in Houston with a hole in one at the division opener, and although the next two races weren't exceptionally favorable (he went to the second round in Belle Rose and was out early in Dallas), he was celebrating big at the Cajun SPORTSnationals. A runner-up in Tulsa a few weeks later kept Arabie motivated, and after garnering several round wins back at Royal Purple Raceway, it was again to the winner's circle at the division-ending race in Noble for a strong 411 point finish to Louisiana's Mark Jones, who cleared 324 total marks.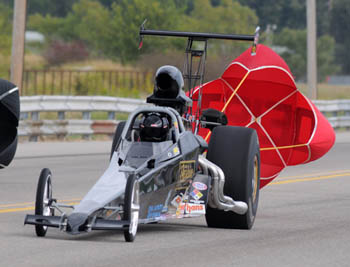 Jimmy Arabie Jr.
Jones was serious in his intent to chase the South Central crown and won the points meet at No Problem Raceway in March and scored again at the second race in Houston. Howard McCullar wasn't too far behind Jones in points after the last act; his win in Tulsa contributed to a total that was 32 points removed from the No. 2 spot.
The win was, perhaps, a little bit of vindication - or maybe just a pleasantly rewarding recovery - for Arabie after he earned a spot as the region's representative in the Allstars battle in Chicago but broke the night before and could not make the call for round one.
Keep an eye on Drag Race Central for the second part of the Division 4 championship wrap-ups, coming soon!

2011 Division 4 Point Standings

Top Alcohol Dragster
1 Michael Manners  
2 James Thompson Jr.
3 Forrest Fair  
4 Aaron Tatum  
5 Ryan Copeland 
6 Buddy Domingue 
7 David Brounkowski 

Top Alcohol Funny Car
1 Tony Bartone   
2 Steve Burck  
3 Bryan Brown  

Comp Eliminator
1  Joey Tanksley 
2  Keith Hall 
3  Adam White 
4  Kevin Self 
5  Chris McGaha 
6  Chase Williams 
7  Craig Bourgeois 
8  Dennis Smiley 
9  Scott Cashio 
10 Donald Thomas  

Top Sportsman
1  Todd Stewart   
2  Daniel Leibham 
3  Randy Phillips 
4  Allen Firestone 
5t Keith Raftery   
5t Greg Lair   
7  Michael Mims   
8  Joseph Mohana   
9  Jerry Tucker   
10 Bert Prejean   

Top Dragster
1  Jimmy Arabie Jr. 
2  Mark Jones 
3  Howard Mc Cullar 
4t Allen Constantine 
4t Scott Barker   
6t Brandon Chauvin   
6t Nicholas Brener  
8  Jimmy Lewis   
9  Michelle LeBleu   
10 Jenifer White   





NHRA: 10 Most Recent Entries [ top ]

Oct 17- We Win, You Win: Get $50 Off Your Next Order!
Oct 16- CHARLOTTE 2 -Through the Lens of Ron Lewis
Oct 15- CHARLOTTE 2 - Lucas Oil Drag Racing Series Wrap Up
Oct 15- CHARLOTTE 2 - Special Awards
Oct 15- CHARLOTTE 2 - Sunday Pro Mod Wrap Up
Oct 15- CHARLOTTE 2 - Sunday Video
Oct 14- CHARLOTTE 2 - Sunday Wrap Up
Oct 14- CHARLOTTE 2 - Countdown to the Championship Points
Oct 14- CHARLOTTE 2 - Pro Mod Championship Points
Oct 14- CHARLOTTE 2 - Bonus Points