Wed, 28 Dec 2011, 12:49 PM



The Best!



By Bob Frey


Photo copyright 2011 Auto Imagery, Inc.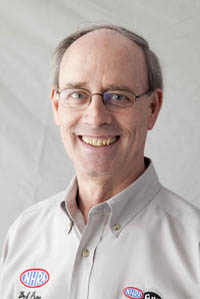 Bob Frey
Photo by Lewis Bloom
Ok, so it's the end of the year and everyone is making up their list of the favorite, the best, the worst, the strangest, the most surprising and all those other things from 2011, so I ask the question, who am I not to jump on the bandwagon? National DRAGSTER does it every year and they just came out with their list in the latest issue. In the interest of fair reporting I should note that I submit a ballot (if that's the right word) for that list in DRAGSTER. Every year, after I submit my list, I wait for the issue with the results to see if any of my suggestions made the cut. Almost always I am surprised at some of the things that I missed, but the DRAGSTER folks didn't. Hey, I'm only one guy so how much can I do (no comments, please)? So now, with a very quiet week in the sport, I thought I would share with you some of my "Best Of" results for 2011.
As you probably know, any list of this sort is very subjective, that is, a race, a racer or an event that I think is the "best" may not even make your top ten. I suppose that's why the folks at DRAGSTER ask for input from a variety of sources. Other web sites run contests or fan voting, or like NHRA, they run a contest on "Facebook" to determine certain "best of" winners. Well, if you read National DRAGSTER and that wildly popular (my words, not theirs) Bob-Tales column, you know that I don't do "Facebook" or any of those other social media things. Maybe if I had a social media specialist (I wonder where you can find somebody like that?) I could or would, but that's another story for another day. So, with all of that said, here are some of my picks for 2011.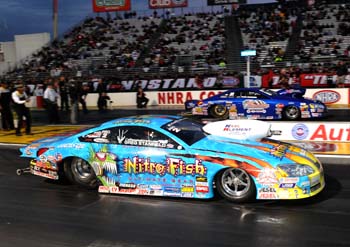 Greg Stanfield defeated Kurt Johnson
in the finals at the Finals.
In the "Driver of the Year" category it's easy to pick any one of the Full Throttle or Lucas Oil World Champions, after all, they didn't get to be champions by being lucky. But I took a look at some of the stats (even though I don't do social media I do do stats) and came up with my Driver of the Year. Drum roll, please! Greg Stanfield. Here's a guy who has done so many great things over the course of his career and who did more in 2011. Sure he didn't win the championship, but he did finish in the top ten again and his "Nitro Fish" car was very competitive. It was competitive for a couple of reasons. First of all Greg's team did a good job of preparing the car. It may not have been the quickest or the fastest this year but it always seemed to get down the track, and in drag racing that's a good thing. Did you know that Greg finished in the top ten again this year despite the fact that he didn't qualify number one, set low elapsed time or top speed in the entire season? In fact, he did the same last year when he finished second, and that brings me to the reason that he is my Driver of the Year. Did you know that, in 2011, Greg won eight rounds on holeshots and he didn't lose any on holeshots? Now in my book that's the sign of a good driver.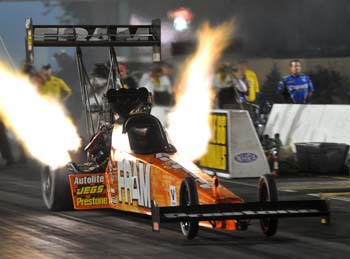 Spencer Massey
Plus,
did you know
that he was first off the line an amazing 75% of the time in 2011 and he did it all with an average reaction time of .025? If you can show me a better driver in 2011 let me know about it....
Did you know
that Greg was one of only two Pro Stock drivers who finished in the top ten in 2011 who didn't lead the class in at least one statistical category at a single race? The other was
Shane Gray
...On a more somber note, Greg's dad, Howard, is having some health problems right now and I hope you will all keep him in your prayers. It really does put things like top ten finishes and reaction times in perspective when you know what the family is going through....Others who should be on the list of good drivers in 2011 would have to be
Spencer Massey
,
Robert Hight
and
Jerry Savoie
, all who had very impressive numbers in their respective classes. Oh yeah, that
Vincent Nobile
kid wasn't too bad, either. With four holeshot wins and an average reaction time of .022, he left first over 80% of the time and had a great year.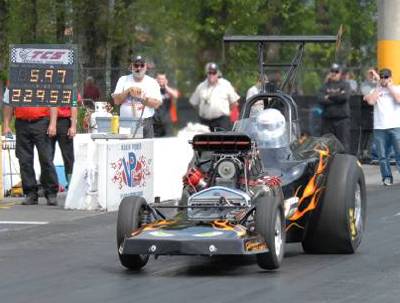 Jirka Kaplan
Photo by Rich Carlson
There were a lot of great runs in 2011 and I guess you would have to put Matt Hagan's 3.99 pass in Charlotte at the top of the list, but not my list. Ok, so it was a "barrier-buster" and those are hard to find anymore, but there were a couple of other runs that were noteworthy, at least to me. Among them would have to be Eddie Krawiec's monster 199.29 mph pass in Gainesville and Cruz Pedregon's stunning 4.09 in Denver, but neither of them are my "best of." I went with a sportsman run, the amazing 5.974 pass that Jirka Kaplan made at the Division 6 race at Mission Raceway early in the year. After struggling earlier in the event, he unloaded that spectacular run and it got everyone's attention. A five-second run in Comp Eliminator was really something special, and to me that was the "Run of the Year." Jirka would go on to win Indy in what some are calling the "Strangest Run of the Year." That's the one where Brian Browell appeared to have the race won when Jirka got out of shape right off the starting line. But, as that old adage goes, "it ain't over until it's over," and when Brian shut off Jirka stormed by to get the win, the biggest win of his career in one of the strangest runs of 2011....There were a lot of runs by the Full Throttle drivers that could have made the list including Mike Edwards 6.496 pass in Gainesville, the first 6.40 run in class history, or Del Worsham's record-setting run in Reading, while in the Lucas Oil ranks John Mehovitz, who ran 1.187 under his index in Pomona also warrants consideration.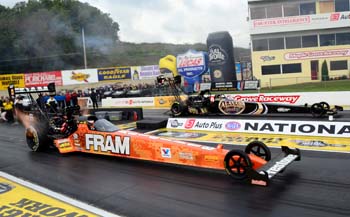 Massey defeated Worsham
in the Reading final.
There were a lot of great performances in 2011 in every class, so selecting the "Best Race of the Year" wasn't easy. The Matt Hagan – Robert Hight race at the Auto Club Finals was outstanding, and for that matter, so was their final round encounter at the Winternationals. The Del Worsham – Spencer Massey run at the "Finals" was spectacular and so was the all Summit Racing team final in Gainesville, the one where Jason Line beat Greg Anderson 6.554 to a 6.545. But in the end I had to go with that great final round between Spencer Massey and Del Worsham in Reading. After all, how many times does a dragster driver make the quickest run in history, set the record and lose the race? That's what happened to Del in Reading, but then he rebounded and won the championship and Spencer didn't qualify at the Arizona race. Still, when all was said and done, that was a great race, and in my mind it was the "Race of the Year."....Since I did pick a Lucas Oil race earlier I have to mention that Super Comp final round at Gainesville. The folks at National DRAGSTER pointed that one out (I told you they were good), the one between Tom Dauber and Edmond Richardson. Tom was .007 on the tree and Edmond was .009 and then they both ran 8.900. In poker that's what they call a "bad beat," in drag racing it's called a Gatornationals' championship for Tom. And before you feel too badly for Edmond, believe me, he has given out his share of "bad beats" over the year....lots of them!!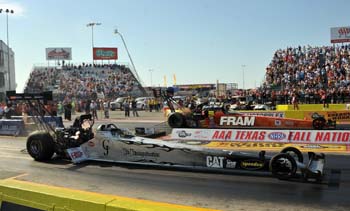 Bob Vandergriff vs. Spencer Massey
in the final at Dallas.
There is always a discussion about the "Most Improved" racer in a given year and 2011 was no exception. For my money, and for what it's worth, I picked Bob Vandergriff. Not just because of the win he had in Dallas, but because he had a very good season overall. Sure, he didn't make the top ten, but all season long I kept watching him and his team as they made little changes here and there and kept running better everywhere. In the end, that Texas win may have pushed him over the top but it was just one race in a season-long effort that saw him and his C & J Energy team improve almost every week....For the last part of the season the "Most Improved" would probably have to be Johnny Gray. After missing the "Countdown" and a shot at the championship, Johnny and his Service Central team got hot, really hot in the playoffs and they looked like they had the car to beat at all six of those races. The big question will be can they maintain that momentum when 2012 begins, and from what I saw this year the answer would have to be yes...In the Lucas Oil ranks there were several teams who seemed to improve and the one that I thought did it the most was Fred Tigges. Fred, who has been racing for a number of years, made some changes to his car and set-up and the results were very positive. He ran well, made some career-best passes and made it to the final round at Indy. Ok, so he lost to Frank Manzo there, but who hasn't? Congrats to Fred and his team for a nice job and for some major improvements in 2011.....By the way, I nominate and select Frank Manzo in every category. There, 'nuff said!!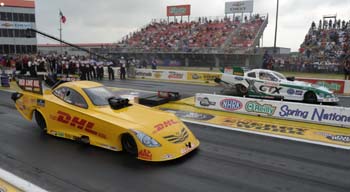 Jeff Arend vs. Mike Neff
in the final at Houston.
There are some surprising races every year, in fact, there are almost surprising races at every event, so to pick the "Upset of the Year" is not easy. Certainly Bob Vandergriff's win in Texas had to be considered an upset, although if you put him in the "Most Improved" category like I did, maybe it wasn't such a surprise after all. I thought that Jeff Arend winning in Houston was an upset, not because the DHL team wasn't capable of winning, but because of the fact that they didn't have the best car there and they still won. Did you know that Jeff started eliminations from the number ten spot in the field? To win in any of the Full Throttle classes from the bottom half of the field isn't easy, and to do it in the Funny Car class, with all the talent in the field, is really tough. Did you know that in the entire history of the Funny Car class, and that spans 692 races, the number ten driver has won just twenty-one times? Even though it might not be considered the greatest upset of all, when you're starting from the tenth spot and you win the race, that's impressive. And did you know that Jeff had the slowest winning time in every round of racing in Houston and he still won the race?...Since I like to include a sportsman race or racer in most of these categories I would like to nominate Kris Hool for winning in Brainerd as the "Upset of the Year." Even though there were only nine cars there and Frank wasn't one of them, Kris and his brother did a good job of winning rounds and claiming their first NHRA national event win. Plus, they beat Paul Gill in the final round, and even though he doesn't have the pedigree of a Frank Manzo (but then, who does?), he still has a very fast car and that was a nice win for the Hool family...Like National DRAGSTER I have to admit that Eric Dillard winning the Get Screened America Pro Mod title at Indy was huge and a big upset. I wonder if Eric knows who Marvin Graham is?
There were lot of other big stories this year and I'm sure that the Del Worsham retirement, the Kenny Bernstein retirement, the Larry Dixon whatever it was, the 60th anniversary of the NHRA and others all merit consideration as top stories and all made 2011 a very exciting year. So did Jackie Alley winning a national championship and the great battle for Rookie of the Year (which you could debate forever) between Vincent Nobile and Hector Arana Jr.. And how about the "Sarge," Tony Schumacher, not winning a race in 2011? That was a surprise, an upset, the story of the year and more....But all of that is behind us and by the time I write my next column it will be 2012 and we'll be looking ahead to the stories of the new year. In the meantime, enjoy the rest of the off-season and have a Happy New Year!!




NHRA: 10 Most Recent Entries [ top ]

May 21- TOPEKA - Pro Mod Championship Points
May 21- TOPEKA - Monday Video
May 21- TOPEKA - Monday Pro Mod Wrap Up
May 21- TOPEKA - Monday Wrap Up
May 21- TOPEKA - Championship Points
May 21- TOPEKA - Summary of Eliminations in Top Fuel
May 21- TOPEKA - Summary of Eliminations in Funny Car
May 21- TOPEKA - Summary of Eliminations in Pro Stock
May 21- TOPEKA - Summary of Eliminations in Pro Modified
May 21- TOPEKA - Summary of Eliminations in Top Alcohol Funny Car