Mon, 26 Dec 2011, 11:41 AM



Rounding Out North Central Winners



By Kelly Wade


Photo copyright 2011 Kevin Pepera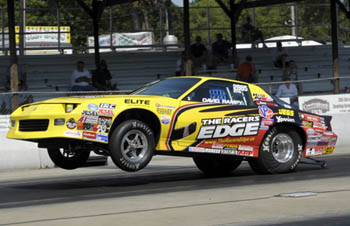 David Rampy
While Super Comp racer Steve Mikus was successful in defending the title he earned last season, there were also some new faces scoring in NHRA's Division 3 in 2011. Okay, David Rampy isn't exactly a new face when it comes to the winner's circle in many a category, but he ousted last season's titlist in the Super Stock battle, as did Bo Butner (Stock), and Allstars Rusty Cook (Super Gas) and Scotty Rienschield (Super Street).
During a season that included his 75th career national event win - earned in Competition Eliminator at the Cajun SPORTSnationals in Belle Rose - multi-class champion Rampy raced to the North Central's Super Stock title with an accumulation of 418 total marks to defending 2010 champ Brad Zaskowski's 373. Rampy scored his first victory of the year at the race at National Trail Raceway in July, and from there he was on full volume as he traveled to Stanton for another final (one that was won by Zaskowski) and then Bowling Green for a third consecutive showing in the big round. He sealed it all up with a trip down to Silver Dollar Raceway in Reynolds, Ga., where he went to the semifinals in his GT/HA '89 Camaro.
Mike Walter had a serious shot at taking the season glory as he launched into the competition in May with a runner-up in Norwalk and then defeated Rampy at Beech Bend Raceway for his first win of the year. Walter would finish third, and Fred Bartoli - with a runner-up in Cordova - and Norwalk winner Larry Hodge would land in fourth and fifth place, respectively.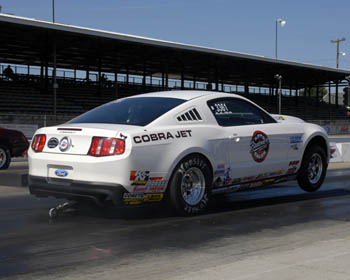 Bo Butner
Multi-class racer and former national champion Butner's great season included a Comp Eliminator win at the national event in Reading, but the excitement of chasing the Stock Eliminator title in his AA/SA '10 Mustang was enriched by the competition; when Kevin Zaskowski (cousin to Brad, the 2003 runner-up in the division and an IHRA championship runner-up) busted out back-to-back final round performances at Summit Racing Equipment Motorsports Park and Route 66 Raceway, he moved into second in the standings and within just one point of Butner.
But the Floyd Knobs, Ind., resident kept his cool, and after a runner-up in Atlanta and scoring the win over Zaskowski in Chicago, he went on to achieve success at Bowling Green, where he turned in his last win of the season and would count two more rounds at Earlville to solidify top division honors. His final score was 374 to Zaskowski's 320, with Brian Seibenick and Nick Folk tied for third (Seibenick won the tiebreaker) and Randi Lyn Shipp and Daryl Bureski tied for fifth (the tiebreaker went to Shipp).
The successful defense of the Super Comp crown began for Ashley, Michigan's Mikus in earnest in Gainesville, his second out-of-division race of the year. He trumped all the D2 guys and won the event, and then tallied a few more points for a pair of round wins down south before the Division 3 opener at Indy. In Chicago, Mikus was once more victorious, bringing home the third division win of his career and second of the year, and after going a couple of rounds at the Northern SPORTSnationals, he was back to winning and finished his last race of the year - at Stanton - with a trophy in hand and the crown firmly in place atop his head. He also finished a very respectable third in the national standings.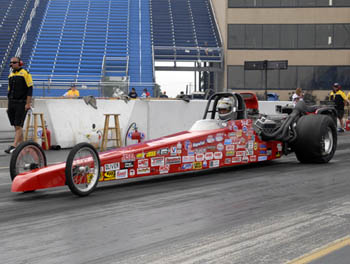 Steve Mikus
Michael Shelton was an early and serious threat, though, as he left Indy with a couple of rounds gone but then showed up for celebration parties honoring his victories at the next two events he contested - the meets in Norwalk and Columbus. Shelton cooled after that, though, and went rounds but was unable to revisit the success he enjoyed earlier in the year. He would miss the title by 23 marks.
Dave Dahlem was twice a finalist during the season - Norwalk and at the end of the season over in Earlville - to finish third in the region, and Ray Connolly won at Silver Dollar Raceway to move into fourth with Cook, the Super Gas winner, settling for fifth in Super Comp with a steady influx of points throughout the year.
Cook truly had an exceptional year as he wheeled his Corvette roadster to the D3 Super Gas title, picked up the Allstars win, was runner-up at the Chicago national event in his first final, and finished sixth in the national points.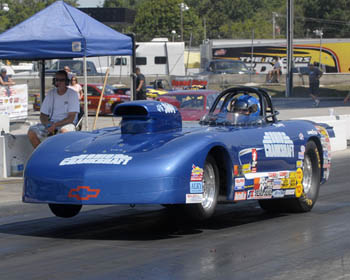 Rusty Cook
Larry Roedel was racking up points out of the division with a final at the Division 2 race in Cecil, but from the very first North Central race, Cook and Pat Martin were in the hunt. Cook, of Cynthiana, Ky., squared off with his season-long rival in the final round in Indianapolis and came up aces, but he wouldn't advance to another final until his second-to-last event of the year - the meet at Beech Bend Raceway in Bowling Green. In between, Cook won rounds at all but two of the eight events he attended and went as far as the quarterfinals at the meet in Columbus, while Martin was out for blood with a runner-up at Route 66 Raceway and a victory out of the division in Cordova.
Connolly was anything but idle as he plodded through the season and consistently walked away from each event with at least two rounds under his belt, and at Bowling Green, he was the guy who defeated Cook in the argument over winner's circle rights.
The top five were all fairly close, with Robert Moser scoring the Stanton win to finish fifth, Roedel scoring an identical 340 marks but ending up on the less fortunate end of the tiebreaker to finish fourth to Connolly's third, and Cook getting the nod over Martin, again on a tiebreaker, in their twinsy 395s after they both traveled south to Silver Dollar Raceway to fight to the bitter end (Cook went to the semifinals and Martin was out in round three).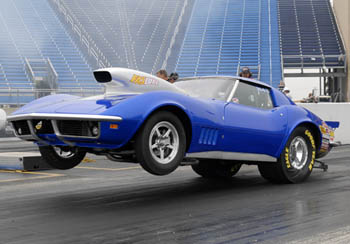 Scotty Rienschield
Sunman, Indiana-based Rienschield book-ended his season with Super Street wins at the division-opening points meet at Lucas Oil Raceway in Indianapolis and at National Trail Raceway at the Northern SPORTSnationals as the year wound down. Between the divisional victories, Rienschield scored at the national event at Route 66 Raceway and was runner-up in the Allstars competition to keep aflame, and he picked up a couple of round wins in his '69 Corvette at Summit Racing Equipment Motorsports Park in Norwalk, then put a couple more on the board at the first meet in Columbus before a semifinals appearance in Stanton.
Long before Rienschield hit the track in May, Rudy Matthews was well on the board with a win at the Division 2 meet at Bradenton, and another round won at the Gainesville divisional kept him keen before the month of February was even complete. Ricky Shipp joined the fun with a win at the Division 3 competition at Route 66 Raceway just outside of Chicago, and although Mark Smith would ultimately finish second in the division, his points were collected gradually throughout the season with an advancement to the semifinals at the National Trail Raceway meet as a high point.
Rienschield lead the pack at final tally with 374 marks to Smith's 287, and Matthews was behind the No. 2 man by a single point. Shipp finished fourth, and Joey Shipp, last season's Super Street titlist, rounded out the top 5 in the region.
Stay tuned for the Division 4 championship recaps, coming soon.

2011 Division 3 Points Standings

Super Stock
1  David Rampy
2  Brad Zaskowski
3  Mike Walter
4  Fred Bartoli
5  Larry Hodge
6  Jerry Silveus
7t Jeff Dona
7t Ricky Decker
9t Rock Haas
9t Marion Stephenson

Stock
1  Bo Butner III
2  Kevin Zaskowski
3t Brian Seibenick
3t Nick Folk
5t Randi Lyn Shipp
5t Daryl Bureski
7  Buddy Hughes
8  Dick Kincaid
9  Larry Hill
10 Sam Hamod

Super Comp
1  Steve Mikus
2  Michael Shelton
3  Dave Dahlem
4  Ray Connolly
5  Rusty Cook
6  Don O'Neal
7  Adam Gerber
8  Pat Martin
9  Pat Fitzpatrick
10 Troy Coughlin Jr.

Super Gas
1  Rusty Cook
2  Pat Martin
3t Ray Connolly
3t Larry Roedel
5  Robert Moser
6  Larry Bernshausen
7  Thomas Dimond
8  Steve Theodor
9  Rock Haas
10 Richard Kurth

Super Street
1  Scotty Rienschield
2  Mark Smith
3  Rudy Matthews
4  Ricky Shipp Jr.
5  Joey Shipp
6  Michelle Walker
7  Rick Shipp Sr.
8  Richard Spradlin
9  Corinne Rudy
10 James Unum II





NHRA: 10 Most Recent Entries [ top ]

May 21- TOPEKA - Pro Mod Championship Points
May 21- TOPEKA - Monday Video
May 21- TOPEKA - Monday Pro Mod Wrap Up
May 21- TOPEKA - Monday Wrap Up
May 21- TOPEKA - Championship Points
May 21- TOPEKA - Summary of Eliminations in Top Fuel
May 21- TOPEKA - Summary of Eliminations in Funny Car
May 21- TOPEKA - Summary of Eliminations in Pro Stock
May 21- TOPEKA - Summary of Eliminations in Pro Modified
May 21- TOPEKA - Summary of Eliminations in Top Alcohol Funny Car