Sat, 24 Dec 2011, 09:51 AM



At Last!!



By Bob Frey


Photo copyright 2011 Auto Imagery, Inc.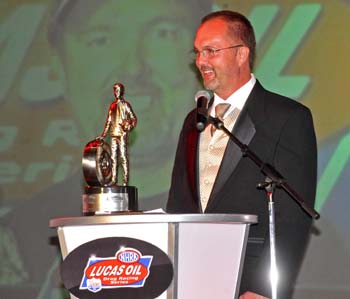 Duane Shields
The Top Alcohol Dragster Lucas Oil World Championship has been the personal property of the fuel injected cars, also known as the A/FD, for years. In fact, the last time a supercharged car won the title was back in 2001 when Rick Santos did it. Prior to this year Bill Reichert had won the championship in five consecutive years with his Rislone-sponsored car, and before that it was Steve Torrence (2005), Mitch Myers (2004), Alan Bradshaw (2003) and Arthur Gallant (2002). But, as I always say, in the interest of fair reporting, prior to Arthur's win in 2002 there had never been an A/FD driver who hoisted the championship trophy in all the years of the class's existence. True, from 1981 until 2002, every Lucas Oil national champion drove a supercharged car. In 2011 there was a group of drivers who thought that their supercharged car might end the dominance of the fuel burners, but in the end, Jim Whiteley, Joey Severance, Chris Demke and others fell short, and in the end it was Reichert who finished in second place behind the new and first-time champion, Duane Shields.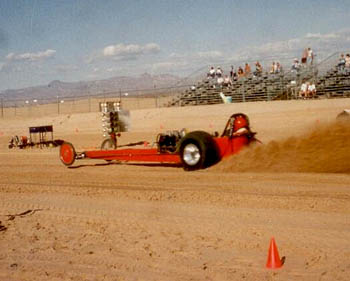 Shields in his sand dragster.
Duane Shields, a forty-nine year old businessman from the Las Vegas area, has been racing for more than twenty-five years, but not all of them have been in an alcohol dragster. "I actually started racing at the sand drags," he said. "I raced there with an injected, front-engine car but I always enjoyed the asphalt racing." He earned that love of the sport at an early age when he used to tag along with his father and go to the races. "I remember going to races at the old Ontario track and thoroughly enjoying it. I can't say that I always knew that I would do this some day but I do remember liking the alky cars." Truth be told Duane remembers looking at the alky racers and thinking to himself how easy those guys made it look. "Yeah, it wasn't until I got into it that I realized how much of a commitment it takes to run one of these." And by commitment Duane means a commitment of both time and money. "It's not a cheap class to run," he said. "These things can wear you out, and you have to weigh the expense factor against the enjoyment factor. I'm really enjoying myself, but if the scales ever tipped the other way I might have to take another look at it." For now, though, he says that he is going to savor the moment, the moment that he had longed for for so many years, the moment that he could put the number one on his car. "We came close a couple of times and finished second (behind Gallant) in 2002, and this year I was determined that we had the car and the team that could win the championship." Now everyone knows that's true!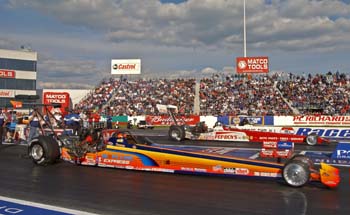 Shields wins Englishtown in 2002 in
his supercharged car against Arthur Gallant.
Since 2003 Duane has been running a fuel injected car, but that came after years of competing with the supercharged variety, and his supercharged car was one of the best. "We had a very good car, and we made that record setting run in Englishtown in 2002, but even then I knew that we still weren't able to run with the fuel cars." Then, after a divisional race out West where he made a couple of very good runs but still lagged behind the fuel cars, Duane made a tough but very important decision. "I'll never forget the numbers," he said. We ran a 5.42 at a divisional race and another driver, who hadn't been racing all that long, ran a 5.34 in a fuel car and I said right then that if we wanted to be competitive we had to switch." He went out and bought the car that had been run by Tony Bartone for the 2003 season and then got his own, new Brad Hadman car for the 2005 season and he followed that up with another new car in 2008. "That's the car we're still running now. We'll get it front-halved and back-halved during the off season, freshen up our parts and be ready to go for Pomona." When I asked him why he didn't just get a new car for next year he reminded me about that "expense factor," and suddenly it all made sense.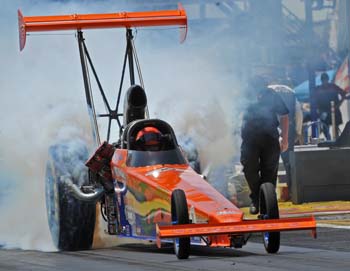 Shields this year.
In 2011 Duane made a game plan, and for the most part he stuck with it. "When we finished second that year I let my emotions get in the way of our game plan. I had races that I wanted to go to, but in the heat of the point's chase we decided to go to some of our competitor's tracks and race them there, and I guess you know how that turned out." It was not only in the heat of the title chase but also in the heat of the summer. "We were running on tracks for which we had no data and in conditions we hadn't been in before. We learned from that and were more disciplined this year." Even so, they did deviate from the plan once this year. "Yeah, we went to New England and it turned out to be the hottest day of the year up there. Needless to say we didn't do well." Undaunted, Duane plans to return to New England this year. "I have to say that they were the nicest people we met all year. They treated us well and the fans liked having us there so we'll go back." When he does he'll go back without his longtime friend and crew chief, Dana Hopewell. "Dana won't be with us this year, but the rest of our team will return." That includes Ralph Freeman, Bill Jones and Chris Zedeker, and Duane may also get some help from his close friend, Mike Johnson. "Mike and I have been friends for a long time and he'll help us out at the beginning of the season. It's nice to have someone like him to talk to."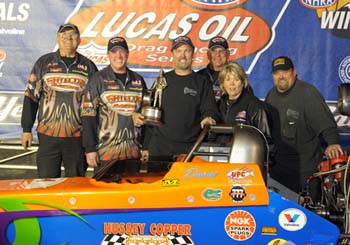 Shields and crew celebrate win.
As every racer knows, if you are in the championship hunt, you will have races that go your way and ones that don't, and that's the case with Duane. "I would definitely say that the race that got away this year was Reading. We had the car to beat and we love that track and we could have just about closed everyone out with a win." But he didn't win, he lost in the semi-final round, and that meant the championship chase would go down to the last race of the year. "Once we were out of races to claim we got to the point where all we could do was sit and watch." And that's exactly what he did in Pomona, he sat and watched his closest competitor and the only racer who still had a shot at the championship, Joey Severance. "I'm good friends with Joey and his dad and they are really great people. I was content with the fact that we had done all we could do and if he went on to win the race and the championship then that's what was meant to be." But he didn't, and when Joey lost in the second round Duane was the champ.
Duane had a birthday in early December and it just so happened to coincide with the celebration that he planned after winning the championship. "It was a great day. We had about 150 or 160 people come by and we just savored the moment. And I intend to savor it all through 2012, after all, no matter what happens next year we'll still be the champ until the end of the year." And while he's savoring the well-deserved title, Duane says that there are still things he hopes to accomplish in the years ahead. "I still haven't won Indy or the All Star race," he said. "I'd like to do both of them so we'll go after that in 2012." That and defending the championship, a championship that finally came for one of the best racers and nicest guys in the class.




NHRA: 10 Most Recent Entries [ top ]

Dec 11- Tickets Now on Sale for 66th Annual U.S. Nationals
Dec 11- Strutmasters.com Joins Foley Lewis Racing Top Fuel Team for 2020
Dec 11- Sonoma Raceway Hosts 9th John's March Against Stomach Cancer, Jan. 11
Dec 07- Justin Ashley and Davis Motorsports Team Up with King Engine Bearings
Dec 05- 1969 A Year of Change- Part III
Dec 04- Pro Stock Rises to the Challenge in 2019
Dec 03- Foley Lewis Racing Planning Eight-Race 2020 Top Fuel Campaign
Dec 02- 1969 A Year of Change- Part II
Nov 26- 1969 A Year of Change- Part I
Nov 25- NHRA Museum News- Statement on the Passing of Larry Fisher