Wed, 21 Dec 2011, 10:01 AM



What Off Season?



By Bob Frey


Photo copyright 2011 NHRA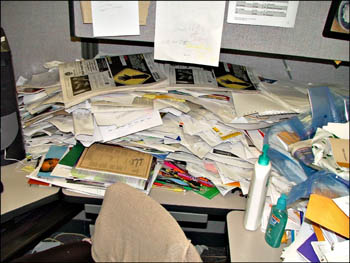 Not really Bob's desk, but...
Photo by hoarders.com
I normally look forward to the off season, the time between the last race of one year and the first race of the next year, and 2011 is no exception. I know that it's hard to believe but I let so much stuff pile up during the year when I'm busy (no, really, I am busy during the year), and it all needs to get attended to during the off season. By "attended to" I mean filed, processed, organized or simply thrown away. It's amazing how much stuff I hold on to during the year that I just toss during the off season. That begs the question, why did I hold on to it in the first place? Well, I wish I could answer that but I can't. Like so many people, guys mostly, I just can't bring myself to throw some things away. This year, as I began organizing and tossing, I realized that there were so many things happening that I really haven't made much of a dent in this pile of stuff. Oh well, I still have a few weeks so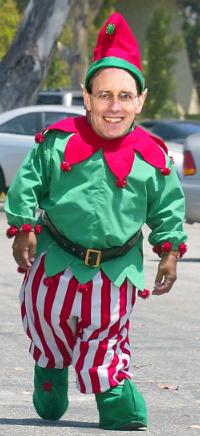 maybe there's hope! Then again.....Oh yeah, I'm still trying to finish up all of my Christmas shopping, and with a wife, three children and six grandchildren, that can take some time. I mention that because it's true and it also gives my editor, aka
Rick Green
, a chance to work that cute little elf picture into the story. Hey, anything I can do to brighten your day and his!!
By the way, it's not too late to order the new book by
John Jodauga
. It's called
"The Art of Drag Racing"
and you can find it on Amazon.com and it would make a great gift for any drag racing fan on your list. That's not a hint, either, since I already have my signed copy.
One of the reasons that I haven't accomplished nearly as much as I would like is because of all the turmoil that has been going on in the sport, and by turmoil I mean primarily the changes in the Al-Anabi camp. Sure, there were rumors of Del Worsham's departure before the official announcement was made, but not many folks had an inkling that Larry Dixon would also be off the team in 2012. Oh sure there were rumors, but everyone (except me) that has a web site prints rumors and some of them are bound to come true...eventually. After all, when you have three or four different drivers going to a team there's a chance that one of them may actually end up there. Del's departure, of his own free will, took everyone by surprise. Larry's departure, which I assume wasn't by his own free will, was also a stunning announcement and I know it caught me by surprise. There were rumors about both of these things circulating at the NHRA Full Throttle award's ceremony, just as there were rumors about Kenny Bernstein's exit from the sport, but I refrained from asking any of the parties about the situation on that gala night. I did this for two reasons, it wasn't the time or place to do that, and if they wanted to tell me something they would. I don't pry or try to get "exclusive" interviews or information from anyone. I like to think that I am a friend to most of the drivers, and as such I respect their right to do what they have to and make any announcements on their own schedule and not mine. And, since I do talk to a lot of the drivers, owners and team members, I often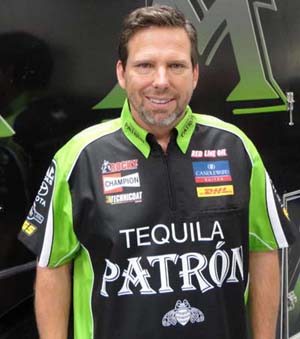 Del Worsham
know things long before they happen, but out of respect for the parties involved I keep it quiet. I think that's the way it should be and that's why I don't like to speculate on things. It's also why I think I have earned their respect in return. I say all of this because I am constantly getting phone calls, especially during the off season, about all the rumors that are going around. "What is this driver going to do? Is so and so staying with their team? Did you hear anything about what's going on with
John Force's
team (just to pick a name)?" And so it goes, and while I'm trying to organize my stuff I keep getting calls and e-mails about the latest rumor. It's time consuming, and even though I often know, I can't and won't say.
Now, with all of that out of the way I have to say that I was surprised by the Larry Dixon announcement, but certainly not by the announcement of the replacement driver. Sheik Khalid Al Thani has put together a very impressive team, one that has won the Top Fuel championship in back-to-back years. His new drivers, Shawn Langdon and Khalid al Balooshi, have certainly proven themselves to be competent, even very good drivers, so that team shouldn't miss a beat going into 2012. Shawn has done a wonderful job as a driver, and his reflexes, coupled with the power provided by Alan Johnson, should make him an instant threat to win the championship. Did you know that in his three year Top Fuel career Shawn has won ten races on holeshots and he has never lost a round on a holeshot? That's very impressive and so is the fact that he has been first off the line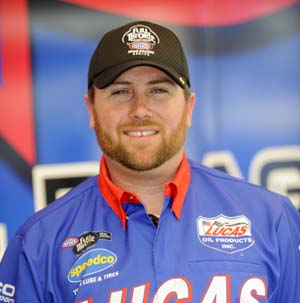 Shawn Langdon
71% of the time over those three years. Put that together with a quick and fast race car, like the one you know he'll be driving next year, and you have all the ingredients for a title run. Let's put it this way, I wouldn't want to bet against him or that team. Just for the sake of conversation during the off season I ask, what are the odds of an Alan Johnson team winning the Top Fuel title in three consecutive years with three different drivers?...For his part. al Balooshi will be a rookie in the Top Fuel class although he has a done well, excelled and won championships at almost every level at which he has competed. That includes, of course, winning the
Get Screened America Pro Mod
series in 2011 as well as finishing second in the ADRL Pro Mod class.
Did you know
that he will be the second rookie driver, or should I say third, that Alan Johnson has brought into the Top Fuel ranks? One other would be
Gary Scelzi
, who got the call from AJ in 1997. Of course if you call Gary a rookie you would also have to call
Blaine Johnson
a rookie when he and Alan stepped up to Top Fuel in 1994.
Did you know
that
Blaine
had driven in 76 races in the alky ranks before stepping up while
Gary
had competed in forty-nine? So I guess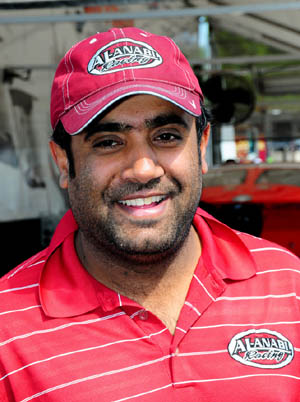 Khalid al Balooshi
"rookie" in Top Fuel would be correct for both of them just like it will be for al Balooshi. Speaking of rookies, the conventional wisdom was that
Alexis DeJoria
and
Courtney Force
would battle it out for the top rookie honors in 2012, but now with al Balooshi in the mix all bets are off...Even though both Blaine and Gary raced in the alky classes al Balooshi has performance numbers in his Pro Mod career that can match both of them.
Did you know
that
Blaine
's best run in the Top Alcohol Dragster class was a 5.912 at 234.19 mph, and for his part
Gary
's best was a 5.691 at 245.43? In the Pro Mod car al Balooshi has gone 5.846 at 245.72, quicker than Blaine and faster than Gary, so maybe it's not as much of a stretch going from a Pro Mod to Top Fuel as you might think, at least not if you look strictly at the numbers....The Al Anabi team will definitely be one of the ones to beat in 2012, or two of the ones if that makes sense. Take nothing away from any of the other teams but I think the path to the 2012 Top Fuel title might go through
Qatar
...In the ever popular "for what it's worth" category,
did you know
that Shawn ran a 3.79 and al Balooshi ran a 3.85 in their test runs at
Palm Beach International Raceway
earlier last week?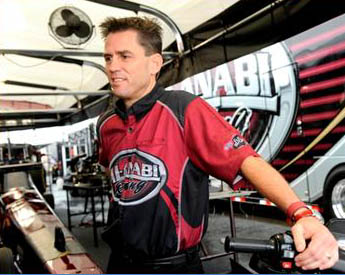 Larry Dixon
Now, what about Larry Dixon? We know that Del Worsham has a gig for 2012 and beyond working with Alexis DeJoria and her Funny Car operation, but what about Larry? I can assure you that the timing isn't great for someone in his position, and we all know that the economy isn't great, so the big question is will we see him on the track in 2012? I, for one, think that it's a big loss for our sport if Larry Dixon isn't competing. There are certain drivers out there who have contributed a lot to the sport and who mean so much to it and Larry is one of them. Having said that there are no charity cases out there and I'm sure that Larry isn't looking for that, but from a sponsor's point of view or a potential partner's points of view, I think Larry has a lot to offer. He's good looking, well spoken, has a great track record and history and is an excellent driver. Saying that you've won three Top Fuel championships can't hurt, either. Larry's three titles came with very good teams and the rest of the crew that worked on those cars has to get a lot of credit, but there have been a lot of drivers who drove for good teams and had good crews and never won one, let alone three Top Fuel titles....Now when I say "excellent driver" I mean on the track as well as on the starting line. Getting off the line first is one thing, but not making any mistakes on the tack is another and maybe a more important thing and that's something that Larry does very well. Did you know that Larry has competed in 950 rounds and that's the fourth most in NHRA Full Throttle history? Anyway, without getting on a soap box I just hope things work out for Larry and that he is racing, if not full time in 2012 then certainly full time in 2013.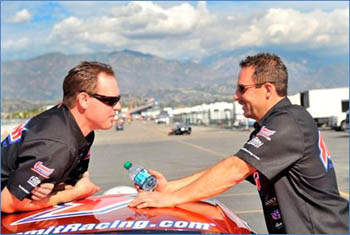 Jason Line and Greg Anderson
I mentioned Del Worsham's story and that was part of the NHRA fan voting for "Story of the Year" along with Kenny Bernstein retiring, the Rookie of the Year battle between Vincent Nobile and Hector Arana Jr., Matt Hagan winning the championship and Erica Enders year in general. For a few weeks now NHRA has been conducting polls to find out which story, upset, driver and team they thought was the best one of the year. There was also a category for "Upset of the Year" and that voting just concluded over the weekend. It's a great chance for the fans to get involved, and they can by going to NHRA.com or the NHRA Facebook page to see the nominees and vote for their favorite. Voting has already concluded for the story and upset but you can still vote for the other categories....Kenny Bernstein's retirement is a huge story, and just like Larry Dixon it won't be the same without him out there. No word (although a lot of rumors) about what Brandon Bernstein may be doing next year so I guess we'll just have to wait and see where he lands, if anywhere. When people talk about the talented young drivers in the sport Brandon certainly comes to mind and I hope he's in the starting lineup at Pomona. Overall the general shake up in the dragster class could turn out to be the story of 2012 and the year hasn't even begun yet.....The "Team of the Year" will be interesting when that comes up for a vote beginning on Wednesday (and ending Thursday). When was the last time you talked about the best team in the sport and Team Force wasn't among them? John's team had a solid year with eleven wins and three drivers in the top ten, and for most teams that would be cause for celebration. But the nominees in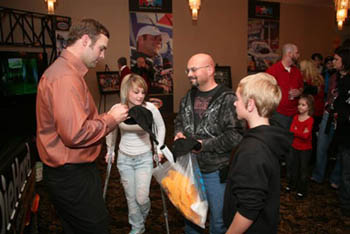 Hagan signs autographs.
this category are the Al-Anabi team,
Matt Hagan's Die Hard
team, the
Vance & Hines Screamin' Eagle
team and the
Summit Racing / Ken Black
Pro Stock team. Do you see a common denominator among them? Right, they are all the championship teams for 2011. Make sure you cast your vote and then wait to see the results beginning next week....Speaking of Matt he was the guest of honor recently at a celebration honoring his Funny Car Championship. You may already have read about it here on
DragRaceCentral.com
, but if not let me tell you that the event, which was hosted by
Shelor Motor Mile
in Matt's hometown in
Virginia
, drew over 1,000 fans and went on for hours. It's only the first of many celebrations that Matt will be a part of during the off season and I hope it doesn't wear him out. With all of the accolades coming his way he and his team still need to prepare for their title defense which will begin in
Pomona
in just a few weeks. Before that, though, Matt will be honored for being selected to the first team of the
American Auto Racing Writers and Broadcasters Association
Drag Racing Team. That's quite an honor and Matt will be part of that group's celebration in Indy in early January. For Matt it's like winning the World Series or any major championship for the first time, and he has to get used to all of the activities that go along with winning the title and then put it all behind him before he gets to
Pomona
.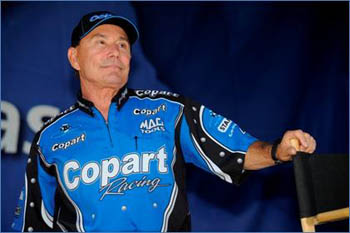 Kenny Bernstein
On a personal note, while I am cleaning things up here, or trying to at the end of the year, I did want to take a moment to thank Kenny Bernstein. As you know he is being inducted into the International Motorsports Hall of Fame next May and he has asked me to be the one to induct him. There are a lot of things that I love about my job but it's hard to beat being asked to do something like this for a racer and a man of Kenny's stature. Without making a big deal about it (although it really is) and not trying to brag (although I would like to) I do want to thank Kenny for the honor and I look forward to sharing the time with him as he joins a great group of racers in the Hall of Fame. Did you know that John Force is also being inducted so it will be a very good day for drag racing and I believe it's the first time that two drag racers have been inducted on the same day. Congratulations to both of them and I'm looking forward to the ceremony.




NHRA: 10 Most Recent Entries [ top ]

May 26- CHICAGO - Fact Sheet
May 26- CHICAGO - Tony Schumacher Aiming for Sixth Career Win at JEGS Route 66 NHRA Nationals
May 25- BOWLING GREEN - Stock Eliminator Class Eliminations Qualifying
May 25- BOWLING GREEN - Super Stock Class Eliminations Qualifying
May 25- BOWLING GREEN - Friday Wrap Up
May 25- BOWLING GREEN - Competition Eliminator Qualifying, Friday Order
May 25- BOWLING GREEN - Stock Eliminator Qualifying, Friday Order
May 25- BOWLING GREEN - Super Stock Qualifying, Friday Order
May 25- BOWLING GREEN - Top Dragster presented by RacingRVs.com Qualifying, Friday Order
May 25- BOWLING GREEN - Top Sportsman presented by RacingRVs.com Qualifying, Friday Order