Mon, 19 Dec 2011, 18:39 PM



Herzog Contracting Corp. Re-Ups with Pedregon Racing



Courtesy of Cody Poor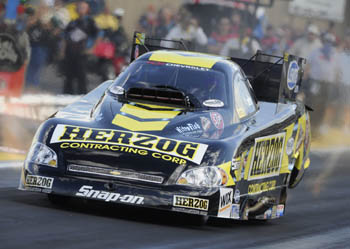 Tony Pedregon
Since 2004, Herzog Contracting Corp. has been a valued part of Pedregon Racing. For the 2012 NHRA Full Throttle racing season, that partnership will continue. Herzog will be an associate sponsor on Cruz Pedregon's Snap-on Tools Toyota Camry and Tony Pedregon's TBA Funny Car.
"Our partnership with Herzog has always been an important part of our program," says Tony Pedregon, a 43-time winner in the Funny Car division. "Our personal friendship has also developed over the years with the many Herzog customers and guests that come to the track."
Founded in 1969, Herzog Companies Inc. was founded primarily with the goal of being a part of asphalt paving and airport construction in the Midwest. However, 40 years later, Herzog is a nationwide 400 million dollar business focused in four primary areas; Railroad Construction, Transit Services, Civil Construction and Railroad Services. Herzog also has a renewed commitment to safety; they have won several awards for their work for both their employees and customers.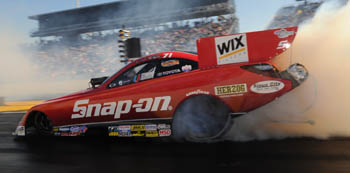 Cruz Pedregon
"Herzog is once again looking forward to leveraging the NHRA brand of excitement to our customer base and employees," said Stan Herzog, President of Herzog Contracting Corp. "Tony and Cruz professionally represent NHRA and Herzog, in a level of integrity and sportsmanship that we are proud to be associated with and put on name on their equipment."
"It's an honor to bring back Herzog for a seventh season. Stan Herzog, CEO, has shown incredible support that has allowed us to do many things which have led to championships for both myself & Tony," stated Two-Time Funny Car Champion Cruz Pedregon. "Their contractors and customers throughout the country have come out to the track to support us and the NHRA. Stan's friendship means a lot and we're hoping to pay him back by winning another championship in 2012."




NHRA: 10 Most Recent Entries [ top ]

Jun 23- NORWALK - Saturday Wrap Up
Jun 23- NORWALK - Total Qualifying Bonus Points
Jun 23- NORWALK - Pro Stock Motorcycle Qualifying, Session #1 Bonus Points
Jun 23- NORWALK - Funny Car Qualifying, Session #2 Bonus Points
Jun 23- NORWALK - Top Fuel Qualifying, Session #2 Bonus Points
Jun 23- NORWALK - Pro Stock Motorcycle Qualifying, Session #2 Bonus Points
Jun 23- NORWALK - Pro Stock Qualifying, Session #1 Bonus Points
Jun 23- NORWALK - Pro Modified Eliminations Ladder
Jun 23- NORWALK - Pro Modified Final Qualifying, Session #2 Order
Jun 23- NORWALK - Funny Car Eliminations Ladder