Thu, 15 Dec 2011, 18:19 PM



Q&A with 2011 NHRA Funny Car Champion Matt Hagan



Courtesy of Judy Stropus


Photo copyright 2011 Auto Imagery, Inc.





CHRISTIANSBURG, Va. --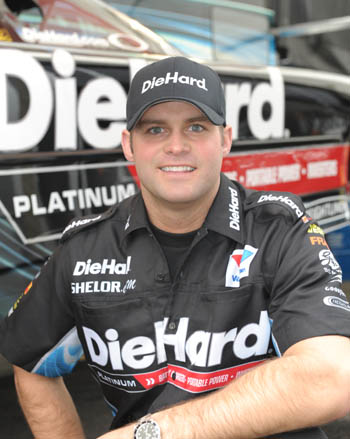 Matt Hagan
It's been one month since Matt Hagan claimed his first NHRA Full Throttle Drag Racing Series Funny Car championship, at the young age of 28. We sat down with the driver of the DieHard/Shelor Motor Mile Dodge Charger R/T at his Virginia cattle farm to talk with him about his stellar season, driving for Don Schumacher Racing, his work on the farm, his family and what his goals are for the future.
Racing in only his third full season in the NHRA Funny Car class for multi-team owner Don Schumacher, Hagan scorched the country's dragstrips by winning twice, qualifying No. 1 three times and finishing runner-up two times. He was the first to break the Funny Car 3-second barrier, blasting to a stunning national-record-setting 3.995 seconds at zMax Dragway in Concord, N.C. At the same fall event he established the fastest speed in NHRA history of 322.27 mph.
He didn't stop there. At the season finale in Pomona, Calif., he avenged his painful loss of the title to John Force last year when he upset his DSR teammate Jack Beckman in the quarterfinals and then outran two-time Funny Car champion Cruz Pedregon in the semifinals to score his first World Championship. He went on to win his second race of the season and fifth of his short career by posting a track-record performance of 4.009 seconds at 317.79 mph to hold off final-round opponent Robert Hight in the quickest side-by-side race in Funny Car history. Hight trailed with a 4.031/318.92.
Hagan became the second-youngest Funny Car champion in NHRA history. Frank Hawley was the first, capturing the championship at age 26 in 1982, the year Hagan was born. Hagan is also the 13th driver to win a Funny Car crown in the class' 38-year modern-era history.
TWENTY QUESTIONS WITH MATT HAGAN:
1. Has it finally sunk in that you are the 2011 NHRA Funny Car champion?
A: Well, I tell you. It's pretty amazing to just hear people say that. And it probably won't really sink in until I get back out in the race car and get my seat in the car. It's just been great back here at home, with my family and everyone, and it's been great to share it with them.
2. After such a devastating loss in 2010, did you and crew chief Tommy DeLago approach the 2011 season any differently?
A: Yes and no. We had a game plan. Tommy had a game plan, let me put it that way, to go testing during the regular season and then run what he was comfortable with in the Countdown. We didn't exactly set the world on fire during the regular season, but we were trying to learn new stuff with new equipment. Tommy's game plan really seemed to work out.
3. You're the second youngest driver to have won the Funny Car championship since Frank Hawley won it at 26 in 1982, coincidentally the year you were born. Do you feel the face of NHRA racing is changing with more younger drivers coming in to challenge for the title?
A: Absolutely. This sport is growing every day and there are many up-and-coming stars in NHRA and it has to have a younger face eventually to grow. There are a lot of guys who have been out here for a long time - hey, I'm rooting for them, don't get me wrong - but there's always a new kid who's got spunk and is ready to go. And I'm sure in a few years we'll see some new kids come into this thing. It's about marketability and being able to be marketed, to be able to sell and promote a product for your sponsor and also to show them a return on their investment. It's no different than other motorsports where these younger kids are coming in and they're growing a relationship with sponsors and I think there will be long future commitments.
4. John Force seemed to have fallen off during the Countdown this season, but another young JFR driver, Mike Neff, was nipping at your heels. To what do you attribute your success over Neff?
A: Our DSR team cars are really stepping up. To be honest with you, I was more worried in the Countdown about our own team cars. You look at Johnny Gray who didn't even make the Countdown who probably would have won the championship if he had. And Jack Beckman who finished second in the world. I was more worried about them and Ron Capps than I was about the JFR cars. I think that Don Schumacher has really taken this program to the next level. His R&D program has just been huge. He has taken all the right steps to put his teams in a place that I guess John Force was several years ago to win as many championships as he has. You definitely have to give Neff a lot of credit. He won five races during the regular season and he struggled when he came into the Countdown. The guy is a great driver, he's a great tuner, he's got two championships under his belt as a tuner. And I'm sure in the near future he'll get his driver's championship. But we're really glad that it worked out in our favor this year.
5. You had two other DSR team drivers vying for the same title in the Countdown, while the third, Johnny Gray, didn't make the Countdown. How did you interact with all of them during the Countdown?
A: It was really difficult because they're your friends and your buds. And something that was really tough for me was when Johnny Gray beat us in Phoenix during the Countdown. We wouldn't have wanted it any other way, because he had a better car and deserved to win. But when I crawled out of the car I could see how it upset Johnny to beat me because he wants the team to do well, win the championship, and he knows he wasn't in contention. But you could also see that he is a competitor. He didn't do anything to drive it out of the groove, or red-light, or do whatever to let us win. We're out here to win, he's out here to win, so it's really tough with our teammates, because they're not going to give you any breaks. You have to earn everything you get out here with DSR. It's no different than being an individual team when you put the body down and pre-stage the car. At the end of the day, you share a cold beverage with your teammates, but when you crawl in the car it's anybody's ballgame.
6. How did you deal with that loss to Johnny Gray?
A: It was tough to have Johnny take us out and see Jack win against Johnny in the final in Phoenix and take over first place. You're kind of thinking, What's going on here? But, truly, I learned after talking to Johnny's crew chief Rob Wendland, that their intention was to try to beat Jack too. It's kind of tough when you're in that situation because you want to win so bad and you're up against a team who's not in the hunt and you think to yourself, Maybe we can get around this guy, especially since he's a teammate and he's not in contention, but it just doesn't happen that way over here. We're digging deep every race to make sure that we can turn the win light on even against our own teammates. We have to step up and it makes it even harder because they have the same equipment we do and they have the potential to run just as well as we do.
7. Were there moments of frustration throughout the year when you thought you had no chance of winning the title?
A: I thought that if we didn't move around before the Countdown came in when it got hot that they were going to brand the No. 5 on us. Obviously, as a driver and a competitor, and even Tommy as a crew chief, we want to win as many races as we can, but in the regular season sometimes we had to take a step back and say, Hey, we're not used to running this combination, this is not working the way it should be out here and setting the world on fire. That's something that we're learning. So you have to take a step back and take a deep breath and say, All right, and re-evaluate what you're doing. Obviously, it is to win as many races for the sponsors. But, taking this regular season and trying to learn something for 2012, '13 and '14 to help better the car, sometimes you have to learn new combinations and try new things. So, it is frustrating sometimes, but when you take a deep breath, sit back and you say, Well, this is what we accomplished and this is where we're going to be in the future and this is the direction we're going to work towards, it makes sense. As frustrating as it can be sometimes and you become narrow-minded and short-sighted, you have to look at the bigger picture, and I think Tommy DeLago has been doing that all along.
8. Who would you give the most credit to for your success this year?
A: The guys who work on the race car. They're putting together the race car and they have so many opportunities to mess up, just like Tommy and me, and they were flawless all year long. I love these guys, because the guys are the same age and they're like family. I'm around them just as much or more than my family. They are the real heroes in the story. They don't get to be in the limelight. As the driver, I come in late and leave early, and these guys come in early and stay late, and they're the ones who put this car together and bring it out and make sure we have a phenomenal hot rod at the race track and it goes up to the starting line and starts.
9. You lost 37 pounds at the beginning of the season. How did that help your performance?
A: Obviously, when you lose weight, you're lighter and it allows you to move weight around in the car. Also, it makes you mentally focused and physically you're feeling better. It's a positive all around. Tommy was able to move some weight around when we needed to gain traction. You move it around to help the car get up on the tire. So, it can't hurt anything. You also become more marketable, in my opinion, by looking better. All that goes hand in hand and it's just a good thing to do and I want to lose another 10 pounds give or take. I'm 202 right now. I put on five pounds during the season and I want to be about 190-195 pounds before the 2012 season starts in Pomona.
10. Who has been your mentor in the sport?
A: I've got a lot of great teammates and I think that Tony Schumacher really has been a big influence on me this year. In fact, the last three years. He's always been kind and always shared techniques, trying to help me out. He watches me stage the car and gives me pointers here and there, and some different things that I can do away from the track as far as my mental game goes to get prepared for each race. I also have great guys like Ron Capps I can go to with technical questions and off-track advice. And then Shirley Muldowney has been like the best cheerleader I could ever have. She's given me a lot of hoorah, saying 'you can dig deep, you can do this.' That's been great as well.
11. You've been named to the First Team of AARWBA's (American Auto Racing Writers and Broadcasters Association) All America Team. How does that make you feel?
A: It's phenomenal. It's definitely an honor. I'm looking forward to getting to the dinner in Indy on January 8 and having some fun and celebrating. It's nice that it's in Indy. I'll be able to come in and see my guys at DSR in Brownsburg, and have some fun right before we go to the first race next year in Pomona.
12. How are things on the farm? Has anything changed now that you're a world champion? Has your farm grown in the past year or so?
A: My wife (Rachel) and I are still buying some land here and there. We have about 1000 acres that we own or lease. We're working hard at that, and we're still feeding close to 300 mama cows on the farm and we'll have somewhere around 600 or so head at any given time on the farm. It's funny, I told my dad (David), It's awesome to win No. 1 in the world and I told him things were going to change. And the second day I'm home on the farm and I see a tweet on my phone and it's Ron Capps. He and I are great buddies and he's done a really good job. He tweeted that he was in Hawaii about ready to go to a luau. And I said to my dad, Hey, Capps is in Hawaii and heading to a luau and then to a fan cruise and I'm heading out to feed the cows. I want to get on his program. It was all in fun.
13. Do you associate with other farmers in your area, or belong to any groups dedicated to farming?
A: No. not really. There's a bunch of dairy farmers in the Christiansburg area and I grew up helping out on their farms when I was younger. My boy Colby is not quite old enough to be a member of the 4-H Club, but at age 6 we plan on enrolling him next year. I'd like to get my young'uns (Penny Louise is 2) involved in that, to have some fun there, and to learn to be hands-on with these cattle. I think that will go over well.
14. Now that you've won a championship, are you satisfied?
A: Well, no. I can see why Force has 15. It just makes you want it that much more. As bad as it is to say you're greedy, it makes you greedy. Even after we won the championship I still wanted to win the race (in Pomona at season finale). That meant as much to me as anything, to be able to win the final and put an exclamation point on this season. Everybody remembers the last race and they've got all off-season long to think about who won that race, how they did it, how it went down, and who won the championship. So, it was big for me for us to go out there, win the championship and win the race.
15. Talk about your family life. Are you treated any differently now that you're a world champion?
A: There's a lot of pats on the back. As for my family, it's the same old routine. They're excited for me, they're happy for me, but it's back to business. My wife is going to graduate from nursing school this spring, and she's been focused on that, so there hasn't been that much time to celebrate. She's into the books and studying. I think we're enjoying having won the championship as much as we can and moving forward.
16. Do people recognize you in airports or in stores?
A: More and more it's starting to get like that. It's kind of funny. Obviously the longer your career the more folks have the opportunity to recognize you. I can remember when I first started I couldn't hand out a hero card at the races, much less get someone to take it if I signed it. And now there's a big line when I come to the ropes. For all my fans who support me, I can't say thank you enough.
17. Where do you see yourself in the next five years?
A: It's really tough to say, because being young in the sport you get the opportunity to deal with some great sponsors, and you really want to grow something with them, like Tony Schumacher has done with the Army for so many years. He hasn't had to jump around with 10 different sponsors in 10 different years. They have something good there, and the Army keeps coming back because he's done a great job for them. And that's what I want to do in the future. I want to grow a strong relationship with a sponsor that will last for a very long time. Trying to hustle every year, trying to keep ourselves out here, is just too hard to do. More times than not you're not going to be successful, because it's survival most of the time. For me in the next five years I'd love to be racing, but in reality it's very tough to do. You have to stay ahead of the game and you have to secure solid sponsorship and I think by being with DSR it puts me a step or two ahead of the rest.
18. You'd like to win more championships, correct?
A: Absolutely. That's the name of the game and that's why we work so hard.
19. Will you ever consider getting into a Top Fuel car or trying to race in other series, such as IndyCar or sports-car racing?
A: I've been asked that many times. I would definitely consider racing a Top Fuel car, but after being in a fuel Funny Car, and those cars are so aggressive and so fast, it kind of spoils you. I've never been in a Top Fuel car or warmed one up so I can't comment. But I'm sure it wouldn't be comparable to racing a fuel Funny Car after all these years. Funny Cars suit me. It's nice to be able to to manhandle a Funny Car and put it where I want it, get that adrenaline rush, take control of that wheel and make it go to the other end.
20. What is the ultimate pinnacle in life you'd like to achieve?
A: I'd like to have a good life, enjoy the ride, enjoy what's happening, enjoy the opportunities that come along. Great people are made out of great moments and I think you have to see what comes your way in life, whether it's on the race track or not. Don't take anything for granted and don't look a gift horse in the mouth. Be grateful for the opportunities that are there.




NHRA: 10 Most Recent Entries [ top ]

Apr 24- CHARLOTTE 1 - Steve Torrence Enjoying Four-Wide Success Heading to NGK Spark Plugs NHRA Four-Wide Nationals
Apr 24- CHARLOTTE 1 - Fact Sheet
Apr 24- Kalitta Motorsports Welcomes NASCAR Stars to the SealMaster Track Walk in Charlotte
Apr 24- zMAX Dragway Celebrates 10th Anniversary
Apr 24- CHARLOTTE 1 - NGK Spark Plugs NHRA Four-Wide Nationals Brings 40,000 Horsepower Thrill Show to zMAX Dragway
Apr 23- HOUSTON - Lucas Oil Drag Racing Series Wrap Up The NHRA Lucas Oil Drag Racing Series Wrap Up
Apr 23- CHARLOTTE 1 - J.R. Todd Aiming for Two Four-Wide Racing Wins in 2018
Apr 23- Mid America Dragway Joins NHRA Member Track Network
Apr 23- HOUSTON - Special Awards
Apr 23- HOUSTON - Sunday Video