Wed, 14 Dec 2011, 17:59 PM



2011 NHRA Get Screened America Pro Mod Champion Khalid alBalooshi Named Al-Anabi Top Fuel



Courtesy of Rob Goodman


Photo copyright 2011 Roger Richards





BROWNSBURG, Ind. - -
Driver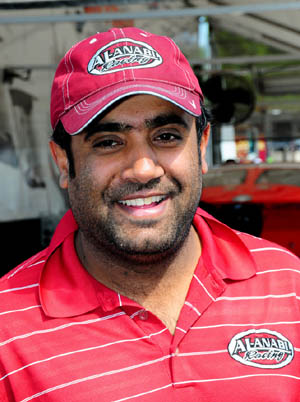 Khalid alBalooshi
Khalid alBalooshi is the new driver of the Al-Anabi Racing gold Top Fuel dragster, it was announced today.? alBalooshi, who replaces retired driver Del Worsham, began his tenure in the Al-Anabi Top Fuel car with a test session this week in West Palm Beach, Fla.? Shawn Langdon, the driver of the Al-Anabi silver Top Fuel dragster, is also participating in the test.?
Prior to this week?s test session, alBalooshi had never driven a Top Fuel dragster.? During the test, alBalooshi earned his Top Fuel license by completing a series of different-length passes until making the full 1000-foot pass as required by NHRA, a 3.86-second pass at 319 mph.?
?I like driving the Top Fuel car and learning what is going on with the car step-by-step.? The car is perfect.? Alan and all of the crew are taking good care of me; they are paying close attention to where I need help.? They are making sure I am comfortable in the car and checking on every detail, and that is very important to me. I appreciate everyone doing this for us. Going from 3,000 horsepower in Pro Mod up to 8,000 horsepower in Top Fuel is a big jump. In Top Fuel, you go faster and faster. It is a big difference.? It is much faster from start to finish line than Pro Mod; the feeling is just so much faster.? 3.86 at 319 mph is not bad; it is very good.? I would like to thank Sheik Khalid and Alan Johnson for giving me this opportunity.??
During the 2011 drag racing season, alBalooshi, 32, won the 2011 NHRA Get Screened America Pro Mod Championship and the 2011 Arabian Drag Racing League Pro Mod Championship winning five of the season?s seven races in Qatar.? In addition, he finished second in the American Drag Racing League Pro Mod point standings.? Last year, he won Qatar?s Arabian Drag Racing League Pro Mod championship winning four of the eight races.?
The Dubai, UAE native has won 158 races in the Pro Mod, Outlaw and Super Street classes combined.? He began his career as a professional driver in October of 2001 and has now reached a top speed of 319 mph.? Although currently living in Dubai, alBalooshi plans to relocate to the United States.??
alBalooshi is not the first rookie driver Al-Anabi team manager Alan Johnson has brought into NHRA Drag Racing.? In 1997, Johnson fielded the Team Winston Top Fuel dragster with rookie driver Gary Scelzi.? The team won 11 races and the NHRA Winston Top Fuel championship that year.? The Johnson-Scelzi duo also won the championship in 1998 winning six races.??
?Khalid alBalooshi has been a star within the Al-Anabi Racing organization for many years,? Alan Johnson Racing team owner and Al-Anabi Racing team manager Alan Johnson said.? ?We at Alan Johnson Racing welcome him to our Top Fuel team with great excitement.? Balooshi is a true competitor that has made the commitment to race Top Fuel and compete at the level of excellence we expect at Al-Anabi and AJR.? Though Balooshi is a Top Fuel rookie, he has extensive drag racing experience, and we look forward to watching him learn to compete at the NHRA Full Throttle Drag Racing Series level.
?When we started this team, we said that one of our goals was to promote international drag racing awareness, specifically in the nation of Qatar.?? Now we have driver who has won a championship in Qatar competing in the NHRA Full Throttle Drag Racing Series.? Balooshi driving the Al-Anabi Top Fuel car will further that goal while galvanizing the reality that drag racing is becoming an international motorsport that appeals to many different cultures throughout the world.?
Al-Anabi Racing operates out of multiple locations in both the United States and Qatar.? In the United States, the Brownsburg, Ind.-based operation is a two-car NHRA Full Throttle Drag Racing Series team fielding entries in Top Fuel competition that is managed by Alan Johnson Racing.? At the forefront of this team is His Highness Sheik Khalid Al Thani?s goal to promote the domestic and international awareness of Motorsports in the nation of Qatar.? Alan Johnson is a 14-time NHRA national champion.? For additional information on the Al-Anabi Racing Team, please visit www.alanabiracing.com.?




NHRA: 10 Most Recent Entries [ top ]

May 27- BOWLING GREEN - Competition Eliminator Final, Round 5 Eliminations
May 27- BOWLING GREEN - Super Stock Final, Round 7 Eliminations
May 27- BOWLING GREEN - Stock Eliminator Final, Round 7 Eliminations
May 27- BOWLING GREEN - Top Sportsman presented by RacingRVs.com Final, Round 5 Eliminations
May 27- BOWLING GREEN - Top Dragster presented by RacingRVs.com Final, Round 5 Eliminations
May 27- BOWLING GREEN - Super Comp Final, Round 6 Eliminations
May 27- BOWLING GREEN - Super Gas Final, Round 6 Eliminations
May 27- BOWLING GREEN - Super Street Final, Round 6 Eliminations
May 27- BOWLING GREEN - Sportsman Motorcycle Final, Round 4 Eliminations
May 27- BOWLING GREEN - Competition Eliminator Round 4 Eliminations