Wed, 14 Dec 2011, 10:48 AM



The Outlaw Fuel Altered Association Releases 2012 Schedule



Courtesy of Chris Graves


Photo copyright 2011 Max Cackle Photography





Painless Performance Renews Title Sponsorship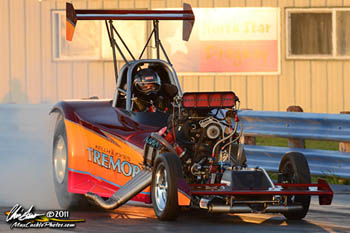 Jimmy Jones
The Outlaw Fuel Altered Series is heading into it's seventeenth consecutive season of ground shaking, header flaming, guardrail to centerline nostalgia drag racing excitement with great optimism as the Dallas, Texas based Painless Performance Products has renewed it's $10,000 points fund payout program for 2012.
"What an outstanding racing association, we are blessed to have them in our own backyard. The events themselves are spectacular, the fans have a great time and pack the stands, the racing is awesome and, from a sponsor's point of view, the recognition is priceless. Painless Performance is excited and proud to be renew our sponsorship for their 2012 racing season," said Painless Performance President Adrian Murray.
Since 1996, the Painless Performance OFAA Series has wowed the crowds of tracks across the southwest. In the earliest years of the late 1990's, an eight car show was a blessing to circuit President Bobby Marriott, but through the years popularity has evolved the series into what it is today, with fields in excess of sixteen and sometimes up to twenty cars and time slips regularly dipping into the three second zone in the eighth mile at 180+ mph.
2011 Champion Jimmy Jones and the "Texas Tremor" team made the switch from the diminishing alcohol ranks of NHRA divisional and national event competition to spend less money and have more fun racing in the OFAA series. Jones notched his first series Championship by less than one round win over five time Champ Bobby Marriott and impressive rookie Terry Brian. As it has many times before, the Championship came down to the elimination rounds of the final race of the year.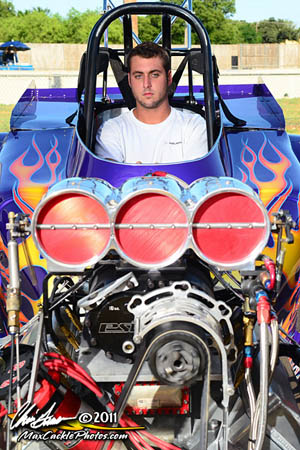 John Broussard
Twenty six teams earned points during the 2011 OFAA calendar season with drivers ranging from the youngest shoe in the mix, twenty two year old Cajun sensation John Broussard (who won his first OFAA race at the age of nineteen) driving the "Purple Haze" blown alcohol machine. Also among the big names of the series is the quickest and fastest female fuel altered driver in history, Mary Reep. Reep fields her three second blown alcohol altered from Austin, Texas and tuned by her husband Larry, clicked off a career best 3.90 at 192 mph just two months ago at the final race of this season.
This ain't no cakewalk people, these boys and girls are playing for keeps. A handful of the OFAA member teams head north to Eddyville, Iowa each August for the World Fuel Altered Nationals, in which an OFAA car has won either the "A" or "B" field each year since it started in 2006. The series has finalized it's official 2012 racing schedule and is proud to announce the following eight race campaign as the teams will be preparing through the off-season to battle one eighth mile at a time for those precious Painless points.

2012 Painless Performance Outlaw Fuel Altered Schedule



April 7th - North Star Dragway Spring Nationals - Denton, Texas
May 5th - Texas Nostalgia Thunder - San Antonio, Texas
May 25th - Texas Raceway Fuel Altered Friday - Kennedale, Texas
July 7th - North Star Dragway Summer Nationals - Denton, Texas
Sept 1-2nd - MoKan Dragway Labor Day Classic - Asbury, Missouri
Sept 29th - Royal Purple Raceway Super Chevy Show - Baytown, Texas
October 13th - North Star Dragway Fall Nationals - Denton, Texas
October 20th - Texas State Championships - San Antonio, Texas

Rumors and spy photos suggest that former top fuel driver and pro football quarterback Dan Pastorini will field a brand new fuel altered in the OFAA series in twenty twelve, just one of many newcomers ready to join the fun next season. The series would like to thank Painless Performance, Good Vibrations, Lenco Transmissions, North Texas Napa Auto Parts stores, Wizard's Warehouse, Competition Sales of Dallas and Max Cackle Photography for their support of the 2012 per race bonus programs.
If you don't have the pleasure of seeing this show in person, make sure you follow along on their website www.ofaa.net where you can learn more about the teams, follow the results and points standing and see event photos of these racers in action.




Drag News: 10 Most Recent Entries [ top ]

Apr 24- NHRA Heritage Series Heads To Wild Horse Pass
Apr 22- K&N Spring Fling Million Final Day Results
Apr 21- K&N Spring Fling Million Friday Results
Apr 20- K&N Spring Fling Million– Thursday Results
Apr 19- K&N Spring Fling Million- Wednesday Results
Apr 18- Buckeye S/SS @ National Trail April 28th
Apr 18- Don "the Snake" Prudhomme Returns To Baja Competition After 50 Years
Apr 18- K&N Spring Fling Million Tuesday Results
Apr 17- K&N Spring Fling Million Pre-Race
Apr 12- Summit Racing Equipment is Newest Sponsor of Midwest Junior Super Series