Mon, 12 Dec 2011, 09:16 AM



GEICO renews with Morgan Lucas Racing through 2014



Courtesy of Rob Geiger


Photo copyright 2011 NHRA





CHEVY CHASE, Md. --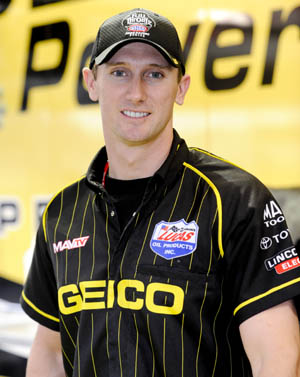 Morgan Lucas
Insurance giant GEICO has renewed its agreement with Morgan Lucas Racing and NHRA Top Fuel driver Morgan Lucas for three more years.
GEICO originally joined Lucas' drag racing team in 2009, a career-best season for the 28-year-old from Brownburg, Ind., that featured three victories and a berth in the Countdown to the Championship playoffs. The former sportsman level star has become a fixture in the elite top 10 ever since, representing GEICO at more than 20 NHRA national events each year.
"I know without question we have the best sponsor in the world," Lucas said. "GEICO is a true partner in every sense of the word and their understanding of motorsports and drag racing in particular is unparalleled. It's very simple -- we could not do this without GEICO. Quite frankly, we wouldn't want to race without them. We've become so close to so many people within the organization. They are part of our family."
Lucas is the youngest son of Forrest and Charlotte Lucas, the founders of Lucas Oil Products. GEICO and Lucas Oil are partners in numerous sporting entities, including the GEICO Endurocross Series presented by Lucas Oil and the Lucas Oil Off Road Racing Series presented by GEICO.
"There's a lot of synergy between my parent's company and GEICO," Lucas said. "This will continue to grow in the years ahead and we couldn't be happier about that.
"To have a three-year commitment in the current financial climate speaks volumes about GEICO's tremendous support. It lets all of the guys on this team and their families know they have a long-term place to call home."
GEICO's renewed support of Morgan Lucas Racing comes on the heels of the team's signing of crew chief Aaron Brooks and assistant tuner Rod Centorbi, who joined the group in late November.
"It's a fresh start for us all the way around," Lucas said. "Everyone is super pumped-up to put our dragster on top of the drag racing world. Winning races and contending for the Full Throttle Championship is the best way for us to show GEICO how much they mean to us."
Lucas has 14 career national events victories in 21 final-round showings. His career-best numbers on the 1,000-foot drag strip are 3.814 seconds at 321.81 mph.




NHRA: 10 Most Recent Entries [ top ]

May 27- BOWLING GREEN - Competition Eliminator Final, Round 5 Eliminations
May 27- BOWLING GREEN - Super Stock Final, Round 7 Eliminations
May 27- BOWLING GREEN - Stock Eliminator Final, Round 7 Eliminations
May 27- BOWLING GREEN - Top Sportsman presented by RacingRVs.com Final, Round 5 Eliminations
May 27- BOWLING GREEN - Top Dragster presented by RacingRVs.com Final, Round 5 Eliminations
May 27- BOWLING GREEN - Super Comp Final, Round 6 Eliminations
May 27- BOWLING GREEN - Super Gas Final, Round 6 Eliminations
May 27- BOWLING GREEN - Super Street Final, Round 6 Eliminations
May 27- BOWLING GREEN - Sportsman Motorcycle Final, Round 4 Eliminations
May 27- BOWLING GREEN - Competition Eliminator Round 4 Eliminations