Fri, 09 Dec 2011, 11:54 AM



Adkinson Drives Camaro to Overdue Division 2 Crown



Courtesy of Luke Bogacki



DAMASCUS, Ga. --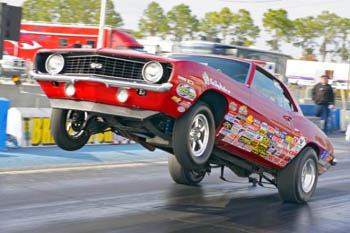 Jeff Adkinson
Longtime NHRA Division 2 standout Jeff Adkinson enjoyed an incredible season in 2011. Driving his Jeff Taylor Racing Engines powered B/SA Camaro, Adkinson added one of the few trophies that had previously eluded him in his career; that of NHRA Division Champion.
Adkinson began his championship season with a semi-final showing at the Division 2 opener in Bradenton, FL back in February, but followed with a pair of disappointing showings at the next two LODRS events. He leapt back to the top of the pack by scoring a crucial victory at the Atlanta event in May, and would not relinquish it for the remainder of the season. He added rounds to his total outside of the Southeast Division with solid finishes in Belle Rose, LA and Columbus, OH before rounding out his 310 point divisional total with a 2nd round loss at the Division 2 closer in Reynolds, GA.
Adkinson finished the season comfortably ahead of Merrill Schrimscher, Robbie Shaw, Jim Marshall, and Brenda Grubbs, his closest pursuers in the chase for the Southeast Division title.
In addition to his Stock Eliminator success, Adkinson also competed in Super Stock throughout the 2011 season behind the wheel of his immaculate Chevrolet Cobalt. He drove that machine to a solid 6th place finish in the Division 2 standings, highlighted by a victory at the Charlotte LODRS event in August. In NHRA's national point standings, Adkinson finished the season ranked 32nd in Stock and 37th in Super Stock.
"This was really a great year," said the Damascus, Georgia based farmer. "We were able to get a victory on the divisional level in both cars, and win the championship in Stock. I think anyone who's ever spent much time racing in the Southeast Division can appreciate how big an accomplishment it is to come out on top of the group of racers we have here in Division 2. I've been racing in this part of the country for my entire life, so winning this championship is a great honor."
Adkinson plans a similar schedule in 2012, as he and longtime friend and engine builder Jeff Taylor have recently purchased a 3-car hauler to house both of Adkinson's machines as well as Taylor's Super Stock Camaro. The duo will chase the NHRA Division 2 tour, and attend several national events as well. Jeff Adkinson was quick to thank Taylor and his crew chief Willie Evans, as well as his wife Amy and their daughter Kaitlyn. The Adkinson team relies on support from Comp Cams, Mickey Thompson Tires, JEGS, and ThisIsBracketRacing.com.




Drag News: 10 Most Recent Entries [ top ]

Apr 21- K&N Spring Fling Million Friday Results
Apr 20- K&N Spring Fling Million– Thursday Results
Apr 19- K&N Spring Fling Million- Wednesday Results
Apr 18- Buckeye S/SS @ National Trail April 28th
Apr 18- Don "the Snake" Prudhomme Returns To Baja Competition After 50 Years
Apr 18- K&N Spring Fling Million Tuesday Results
Apr 17- K&N Spring Fling Million Pre-Race
Apr 12- Summit Racing Equipment is Newest Sponsor of Midwest Junior Super Series
Apr 12- Summit Racing Named Official MWPMS Sponsor and Event Title Rights Holder
Apr 11- NMCA All-Star Nationals Chevrolet Performance Challenge Series Final Results