Thu, 08 Dec 2011, 12:17 PM



IHRA Welcomes Popular Bradenton Motorsports Park as Newest Member Track



Courtesy of IHRA Communications



NORWALK, Ohio --
TYPE:STORY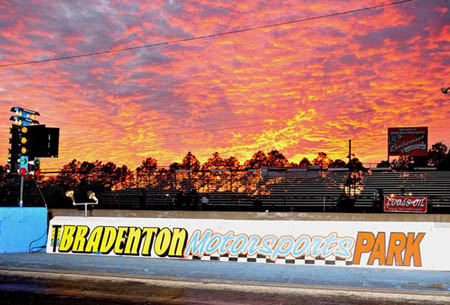 Known as a top racing destination,
IHRA is excited to welcome BMP
as the newest member track.
The International Hot Rod Association (IHRA) is proud to announce the return of popular Florida facility Bradenton Motorsports Park to the IHRA family of member tracks.
Bradenton, a former IHRA national event facility in the late 90s, is an extremely popular racetrack in the southeast that draws thousands of spectators and racers with special events and big races held throughout the year. The facility managers are very much looking forward to taking advantage of the numerous sportsman racing programs offered by the IHRA and anticipate hosting major IHRA sportsman racing events for years to come thanks to a three-year deal.
"The management and staff at Bradenton Motorsports Park are thrilled to become part of the IHRA racing family beginning in 2012," said Dave Lansberry, Vice President of Marketing and Development at BMP. "The facility is known for personalized service and commitment to sportsman racing and we are convinced that our patrons will enjoy the opportunities offered by sanctioning with the IHRA."
Located on the western edge of the Sunshine State, Bradenton is open year-round with racing almost every weekend. During the year the track hosts a number of large-draw spectator events and big races including the U.S. Street Nationals, Outlaw Drag Racing Championships and more and is a popular destination for professional testing during the winter months. Bradenton also prides itself on being a sportsman-driven facility with exciting weekly programs that will only continue to grow with the inclusion of IHRA's multiple special programs including the popular Summit SuperSeries.
"The Summit SuperSeries offers unparalleled value and prize availability and our monthly points competitors will have an opportunity to shoot for that $200,000 package as well as other opportunities in the future including our usual exciting array of special events and some new additions for 2012 and beyond," Lansberry added.
Bradenton becomes the fifth IHRA track in the state of Florida, joining Central Florida Racing Complex, County Line Dragway, Immokalee Regional Raceway and Palm Beach International Raceway. The IHRA is quickly approaching a member-track list 100 strong and features facilities in 28 states and five countries.
For more information on the IHRA and its programs, visit www.ihra.com for complete details. For more information on Bradenton Motorsports Park, visit www.bradentonmotorsports.com.




IHRA: 10 Most Recent Entries [ top ]

Jan 17- Ohio's Thunder Capital, IHRA Reach Sanctioning Agreement
Jan 11- The Best Value in Bracket Racing Comes to State Capitol Raceway Feb. 1-3
Jan 08- Xtreme Raceway Park Completes Summit Sportsman Spectacular Schedule
Dec 23- East Texas Track Renews Commitment to IHRA
Dec 18- Iowa Track, IHRA Reach Multi-Year Agreement
Dec 12- US 131 Motorsports Park Signs Multi-Year Renewal
Dec 11- IHRA, Dart's Carts Announce Multi-Year Partnership
Dec 04- IHRA, Keizer Aluminum Wheels Announce Multi-Year Partnership
Nov 30- IHRA Summit SuperSeries Top 10 List Released
Nov 29- IHRA Releases 2019 Summit Sportsman Spectacular Schedule