Wed, 07 Dec 2011, 09:45 AM



He's Just A Kid With A Dream



By Bob Frey


Photo copyright 2011 Auto Imagery, Inc.





TYPE:STORY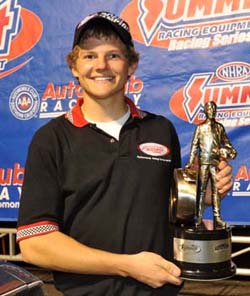 Brandon Schmall
As NHRA closes out the 2011 season and its 60th anniversary, a couple of things come to mind. First, it was a very exciting year with three of the four Full Throttle Championships being won on the last day of the season. The fact that several of the Lucas Oil titles also went down to the wire is also worth pointing out. Second, drag racing is and continues to be a great family sport. Regardless of class or category, from Top Fuel to bracket racing, the sport has a long history of families sharing the winner's circle, of father (or mother) passing the tradition down to the next generation, and that generation carrying the torch for years to come. At the SEMA show this year NHRA featured the "Nitro Generation," a fitting tribute to the family aspect of the sport, and while that's all very obvious in the professional classes, it is also a prevalent theme in the sportsman ranks and even at the local tracks across the country. Case in point, Brandon Schmall who just happens to be the 2011 Summit Racing E/T Series Pro Champion and who also happens to be the second member of his family to race at the prestigious event.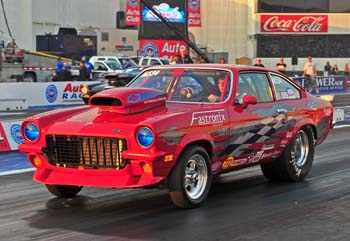 Andy Schmall
Brandon Schmall is the third member of his family to drag race. His father, Joe, did it and so did his brother, Andy. In fact, Andy had already made two trips to the Summit Racing E/T Finals before Brandon did. "Yeah, he's pretty good," Brandon said in an understatement. And while Andy didn't cash in during his trips to Pomona in 2007 and 2008, Brandon says that the experience his brother gained was invaluable to him in 2011. "I have to say that having been there with Andy took a lot of the suspense and awe out of the visit. We pretty much knew what to expect, how the whole thing would go and how to approach it." From what I've heard from other first-time racers at Pomona, that's a huge advantage. "It let me concentrate on racing and not have to worry about all of the other things that can be distractions."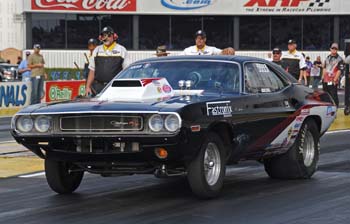 Brandon Schmall
You might not think that there are a lot of distractions in your life when you are eighteen years old like Brandon is, but when you've got a very busy schedule at home, it's nice to be able to get away once in a while. "I'm a mechanical engineering student at the University of Minnesota in Duluth," he said. Since a lot of really good racers have come from Duluth, Minnesota, I asked Brandon what his future goals might be in the sport. "Well, I know Warren Johnson is from Duluth and that may be a rather lofty goal to do what he has done. I'd just like to get better at racing and maybe be like Luke Bogacki some day." An interesting name for an eighteen year old to throw out. "I've never even met him but I know of him and what he does. Guys like him and Edmond Richardson, the things they do are amazing. I'd like to improve and run some big money bracket races and maybe get into some Stock or Super Stock racing, too, but for now I want to focus on school and racing at our home track." When asked if he had spoken to Edmond, who also won in Pomona, Brandon said yes. "He was the most humble guy I ever met. We were in the winner's circle and he said that he didn't deserve to win this and that his kids couldn't believe he had. It was nice to meet him."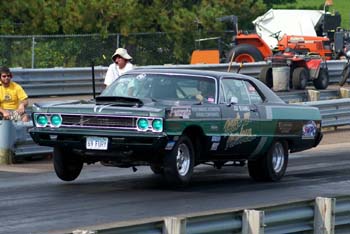 Joe in his 1969 Plymouth Fury.
Brandon's roots in drag racing began by watching Joe who once campaigned a 1969 Plymouth Fury. "It's a tanker," Brandon said. "Even with all the stuff we took out of it it still weighs almost 4,000 pounds." Equipped with a 440 big block engine it's also the car that Brandon began racing when he was sixteen. "I raced a Jr. Dragster for a few years and then got to race the big car." And when he says big, he means big. "Yeah, it was kind of different, I mean there weren't a lot of '69 Plymouths out there racing." While he was doing that his brother, Andy, was racing a 1971 Chevrolet Vega and the two were competing at local tracks like Rock Falls Raceway and Cedar Falls Raceway. "We got to make a lot of runs and sometimes we'd double-enter the cars just to be able to race some more." In 2011, between the two tracks, Brandon had a couple of top five finishes which is pretty good for an eighteen year old. The car that Brandon raced during the year and in California was a Dodge Challenger. "It was an original Hemi car," he said. "It was in an accident and then they turned it into a race car." A very good race car, apparently. "It has a 400 inch stroker motor, a 4-link suspension and it's just a good, consistent car." One more thing about the car, Brandon doesn't own it. "No, it belongs to Dennis Remer and Greg Collins and I just drive it." Sounds like a good arrangement all around.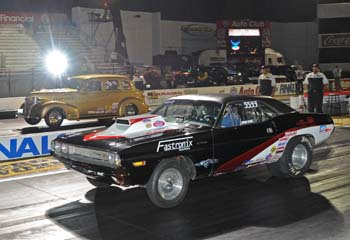 Schmall vs. Paul Comeau in the final.
In Pomona Brandon admits to getting lucky in the first round. "I was a little late (.037) on the tree and I knew he had me." His opponent, Steven Parrish, was almost perfect (.008) and that had Brandon worried. "I just tried to let him go, have the stripe and hope that he ran out." He did, in fact they both did, but on a double-breakout Brandon advanced to round two. There he said he didn't want to be late again so he pushed the tree a bit. "I was really close (.007) and when I took off I just said 'Please be green' as I went by the tree." It was and he got the win to advance to the final where he would face Paul Comeau in his classic '39 Chevrolet. "I said to myself this is just another race, another run, and don't be late." He wasn't (.014), and then the thought process began, a thought process that would make Luke or Edmond very proud of the eighteen year old. "I didn't want to break out or do anything stupid so I just started scrubbing and scrubbing time off, I hammered the brakes, and hit the stripe." Oh yeah, and he got the win.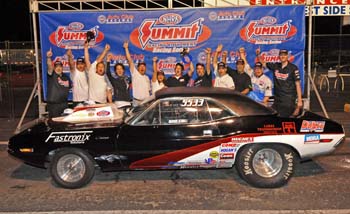 Brandon celebrates with family and friends.
The trip to California was handled by the car's owners, Dennis and Greg, while Brandon and his family flew out. "Like I said, it was just a great experience and I'm glad I was able to do it and I do have some people to thank. Obviously, my family, my dad, Joe, my mom, Patti, my brother Andy and his girlfriend, Jamie. I would also like to thank the people who made the trip to support me in Pomona including Uncle Jim Lambrecht, Del Ray Schultz, Cedar Falls Raceway Manager Dan Driscoll, and Butch and Linda Belair as well as the racers at home who supported me. Also I couldn't do it without the help of Fastronix Solutions Performance Wiring Components, B & L Custom Trailers, Competition Products, Soulfisher Photography, Lake Transmission Service and Summit Racing Equipment for making this experience all possible." Wow, for an eighteen year old he already knows who to thank and who to plug, so maybe he should skip that "Bogacki" thing and go right to Warren Johnson. "I'm just living a dream right now," he said. "Our tracks are all closed for the season but we'll be working on the car over the winter, taking it apart and getting it ready for next year." And as the reigning Summit E/T Champion he'll also be looking to see what other mountains he can conquer in 2012.




NHRA: 10 Most Recent Entries [ top ]

Apr 24- CHARLOTTE 1 - Steve Torrence Enjoying Four-Wide Success Heading to NGK Spark Plugs NHRA Four-Wide Nationals
Apr 24- CHARLOTTE 1 - Fact Sheet
Apr 24- Kalitta Motorsports Welcomes NASCAR Stars to the SealMaster Track Walk in Charlotte
Apr 24- zMAX Dragway Celebrates 10th Anniversary
Apr 24- CHARLOTTE 1 - NGK Spark Plugs NHRA Four-Wide Nationals Brings 40,000 Horsepower Thrill Show to zMAX Dragway
Apr 23- HOUSTON - Lucas Oil Drag Racing Series Wrap Up The NHRA Lucas Oil Drag Racing Series Wrap Up
Apr 23- CHARLOTTE 1 - J.R. Todd Aiming for Two Four-Wide Racing Wins in 2018
Apr 23- Mid America Dragway Joins NHRA Member Track Network
Apr 23- HOUSTON - Special Awards
Apr 23- HOUSTON - Sunday Video