Mon, 05 Dec 2011, 15:45 PM



Bennett Flying High On and Off the Track



Courtesy of IHRA Communications



Racer and Pilot Putting His Life on the Line for Fans and Country



NORWALK, Ohio --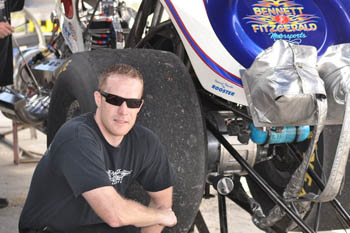 Chris Bennett
There is nothing more important than the mission.
That is all you can really think about. Safely getting the cargo from point A to point B, that is the task at hand. To do that you have to put out of your mind all that is going on around you. Forget the war. Forget the risks. This cargo HAS to make it to its destination.
The plane fires up. Pretty soon this big hulking target will be thousands of feet in the air on its way through hostile airspace. Moments before takeoff the pilot takes a few deep breaths. What can possibly get him through another trip into the unknown?
Drag racing.
Images of 230 mile per hour passes down that big, beautiful quarter-mile race through the pilots head. The wind whipping all around, swerving from centerline to wall, that is the stuff dreams are made of. All that acceleration. All that speed. The roar of the crowd as you near the finish line.
A few hours later the plane touches down. Before you know it another successful mission has been completed over the hostile skies of Iraq and Afghanistan. And right in the middle of it all is drag racing.
Sure the sport of high acceleration and incredible speed is nothing more than a form of entertainment, an escape during these tough times, but to some it is life. To some, drag racing is more than a sport. To some it is an escape from the everyday.
Even if that day includes combat missions over some of the most dangerous skies in the world.
"It is all I know. My entire childhood I grew up watching my dad, Jeff Bennett, strive to be an independent racer. He struggled a lot, but his passion kept him going and that is an important part of my life today," said Chris Bennett, a 16-year member of the United States Air Force and driver of the "Pure Heaven" Fuel Altered and Funny Car. "There were some pretty hairy times flying over Iraq and Afghanistan, but then again there have been some pretty hairy times in my racecar too.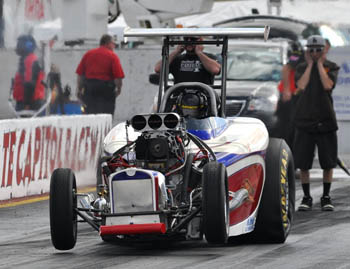 Chris Bennett
"As most of us adrenaline junkies can relate, you just react. You don't think about either that much. You just do what needs to be done and either it is good enough or it isn't. Most people who strap themselves into an airplane or a racecar know exactly what they are getting themselves into. It is a thrill, a rush, an addiction.
"I absolutely love drag racing. It is the source of all my passion and drive. It plays a major role in who I am today."
While Bennett may look like your average racer, there is certainly nothing average about the man from Las Vegas. By day a pilot with the U.S. Air Force, flying dangerous missions all over the world, and by night a racer in one of the most thrilling classes in motorsports, Bennett lives for the rush of both. Whether answering the call of his country, or putting on a show for his fans, Bennett says that there is no separating the two and he couldn't imagine life without either.
"When people at my job hear that I race they want to know all about it. At the track when people hear that I am a pilot it is the same thing. They both make up who I am," Bennett said. "But drag racing is just in my blood. The acceleration, the rush and adrenaline is out of this world. Sawing on the wheel and trying to keep it between the blur of white and the blur of orange is what it is all about."
Bennett has been racing since he was 16, growing up in a household where his father dedicated his life to the sport. Studying his father, Bennett learned the ins and outs of the acceleration game as his dad campaigned the "No Mercy" nitro machine for decades. Then, right after high school, Bennett's racing career was put on hold when he decided to join the Air Force.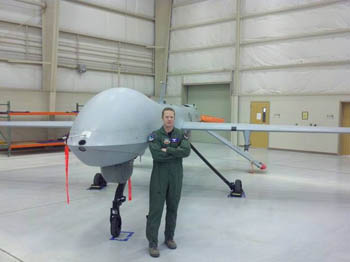 Chris Bennett
"I enlisted in the U.S. Air Force after a year of community college. I was frustrated with getting accepted to some very prominent engineering schools, but then not having the money to attend," Bennett said. "When you grow up in a racing home there is not a lot of money around for that kind of thing. So I finally decided the Air Force was the best decision for me. I wanted to serve my country and learn a skill."
Bennett served a year at Davis-Monthan Air Force Base in Tucson, Ariz. studying to become an Aircraft Electrical and Environmental Specialist. After a year there, Bennett decided he wanted to expand his horizons and volunteered to serve overseas where he spent five years seeing the world and, surprisingly enough, fulfilling his drag racing fix.
"I was fortunate enough to get assigned to RAF Mildenhall in the UK where I spent nearly five years. I re-enlisted in the Air Force while I was over there and used the bonus money to buy a front engine dragster that I raced in the UK," Bennett said. "While performing my fulltime duty as a maintenance technician I was really burning the midnight oil going to college at night. Eventually, with some hard work and dedication, I attained my bachelor's degree and was accepted to Officer Training School and Pilot Training.
"I spent a lot of time with that dragster until 9/11 happened. After that, it was all work and no play for several years."
With a degree finally in hand and the country in turmoil, Bennett went to work training to become a pilot, finally being assigned to fly C-17s out of McChord Air Force Base in Washington.
"I flew all over the world and spent numerous hours over both Iraq and Afghanistan. Things got interesting at times as people were shooting at us, but after a while things calmed down," Bennett said. "While doing all that I also built my first funny car, an ex-Whit Bazemore car. I match raced all over Oregon and Washington. That is where my driving career really started to take off."
After three years flying combat cargo missions around the world, Bennett decided to volunteer for the Unmanned Aerial Vehicle (UAV) program in the mid 2000s where he to this day enjoys a nice career as an instructor with this unique program.
"I have been a UAV pilot for over four years now and I really enjoy it. I fly the MQ-1 Predator, which is nice because at the end of the day I get to go home regardless of the outcome" Bennett said. "It has been an amazing 16 years of active duty service. I very much value my time in the Air Force and any opportunity I get to mentor a young person about it is a pleasure."
But amazingly that is only the prelude to Bennett's incredible story.
While Bennett has finally found a home doing something he loves, it has also allowed him to dedicate more time to fulfilling his lifelong dream of racing. After multiple years of part-time operation, Bennett and his father decided to combine their operations three years ago and go to work on the car Bennett currently pilots today.
Combining forces with legendary racer Leon Fitzgerald, Bennett Motorsports unveiled the 1969 Camaro tribute Funny Car in 2008 with the famous "Pure Heaven IV" adorning the side. Without the body Bennett campaigns the car as a Fuel Altered with the same famous lettering on the side.
For three years Bennett and his team began their quest for drag racing glory culminating with a unique opportunity earlier this year.
In 2011, the International Hot Rod Association's Nitro Jam series added Fuel Altered and Prostalgia? Nitro Funny Car fulltime to the schedule, giving Bennett a fulltime home for the first time in his racing career. It is also the first time a sanctioning body has given these out-of-control machines a fulltime home since Fuel Altereds were banned from organized competition in the 1960s.
"For some reason, the second we take the Funny Car body off and put this Bantam body on, it takes on a life of its own," Bennett said. "There is a lot of history with Fuel Altereds and I take a lot of pride in being a third generation pilot of these cars. My biggest heroes in this sport are Fuel Altered drivers and I am humbled to be a part of their group."
Bennett made his IHRA Nitro Jam debut in January of 2011 at Palm Beach International Raceway alongside such legendary machines as "Nanook," "Rat Trap" and "Pure Hell" and wasted little time throwing his hat in the ring. On the very first night of competition, Bennett set what would become the standing record for the class in IHRA competition with a blazing pass of 6.030 seconds at 230.21 miles per hour and won the very first Fuel Altered race in IHRA history over Jason Richey in the "Pure Hell" machine.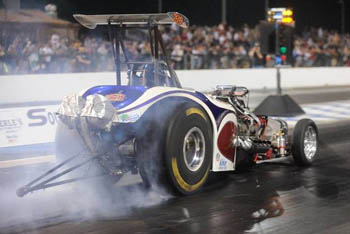 Proving his early success was no fluke, in his first four races Bennett won six times in seven finals and was beginning to run away with the inaugural Fuel Altered title until he got word that he was needed back on the job following the race in San Antonio in early April. With that Bennett missed the remaining five races of the year as Ron Maroney came on strong in the "Nanook" machine and won the inaugural championship. Still, even after missing the second half of the year, Bennett still finished third in the standings behind Maroney and Richey thanks to his strong start.
In addition to Bennett's success, the class also received quite a bit of fanfare as a whole new generation of spectators watched these nostalgia cars put on a show unlike anything seen in modern drag racing.
"Nitro Jam was a blast. The fans are amazing and it really reminds me of when I was a kid," Bennett said. "It reminds me of when I would stand in front of a driver in complete awe. It is so amazing to be towed onto the starting line and look around and see the stands packed with cheering fans and to have all those fans come down into the pits for signatures and to talk racing. It is an amazing deal.
"We had a blast all year. We were all nerves at that first race and then to set the record off the trailer and win that first night it was complete joy. We were happy to have some success for ourselves and for Leon, the original driver of the 'Pure Heaven' car from the 60s. We all had a great time and the fans really responded."
Today, after 16 years with the Air Force and many more working on and piloting some of the most spectacular race machines in the world, Bennett hopes that he can spend even more time pursuing his passion for racing and one day truly make a name for himself like all of his racing idols before him.
"We hope to race the entire 2012 season with the Fuel Altered. We will probably carry the Funny Car body along with us and have it on display so fans can get an idea of how we race as both a Funny Car and a Fuel Altered," Bennett said. "I think we have a lot to offer this sport and hopefully we can get some more financial help to make our dreams a reality."




IHRA: 10 Most Recent Entries [ top ]

Apr 24- Racers Receive Prizes at IHRA Summit Sportsman Spectacular Opener
Apr 24- Comeaux, Hughes Make History at IHRA Summit Sportsman Spectacular
Mar 21- 2018 IHRA Summit Sportsman Spectacular Series on April 20-22
Feb 26- Weather-Related Construction Delays Postpone IHRA Xtreme Raceway Park Opener
Feb 16- IHRA Summit Sportsman Spectacular Schedule Announced
Feb 15- New York Track Finds Value for Racers with IHRA Agreement
Feb 15- IHRA Summit Sportsman Spectacular Debut Only One Month Away Now is the Time to Pre-Enter
Feb 15- Summit Texas Location is a Racers' Paradise
Feb 15- Canadian Track Makes Large Commitment to IHRA Drag Racing
Jan 27- Mid-Michigan Destination Joins IHRA Family