Mon, 24 Oct 2011, 12:56 PM



ADRL World Finals VII Winners Awarded At Texas Motorplex



Courtesy of ADRL Communications


Photo copyright 2011 Roger Richards





ENNIS, Texas --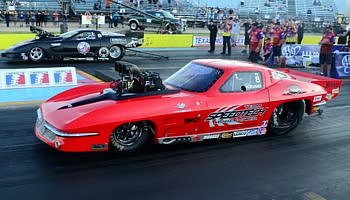 Jason Scruggs (near) vs Frankie Taylor
(October 22, 2011) - After a disappointing start to the 2011 American Drag Racing League (ADRL) season, Jason Scruggs sure found a way to end it in tremendous fashion.
On the final drag race of the ADRL season, Scruggs put together a classic performance on Sunday, running a 3.604 at 208.59 miles per hour to knock off Frankie Taylor in the finals of the LenMar Motorsports ADRL World Finals VII presented by Summit Racing Equipment at Texas Motorplex.
"We're just thankful we've got a good car right now," Scruggs said. "When we were down, everybody was helping us and I can't say enough about all the people who helped us get back on track."
The highlight-filled race served as a fitting end to a record-breaking 2011 season as well.
After Cary Goforth (Extreme Pro Stock), Ashley Owens (Pro Extreme Motorcycle) and Mike Castellana (Pro Nitrous) had already clinched world championships, two others also joined them on Sunday as 2011 ADRL World Champions.
Pro Extreme standout Jason Hamstra clinched his title with a first-round win on Sunday, while Dan Millen became the Extreme 10.5 world champion moments earlier by winning his first-round race.
Millen carried that momentum to earn a World Finals VII win on Sunday, joining a list that also included Shannon Jenkins (Pro Nitrous), Dave Vantine (Pro Extreme Motorcycle), Tony Gillig (Extreme Pro Stock), Chanse Bullock (Summit Racing Equipment Top Sportsman) and Lee Adkins (Pro Modified).
Scruggs qualified at No. 2 with his first pass in the 3.50s (3.59) on Saturday and stayed in the low 3.60s on Sunday to pick up his second win over the final four races of 2011.
"This is just a wonderful way to end the year," Scruggs said. "I'd be the first to tell you, you're only as good as your last pass, so this lets me go all winter saying I won."
Jenkins proved he still has it, making a number of impressive passes in earning his 10th career ADRL victory.
He went 3.80 in the finals to hold off Burton Auxier, thoroughly enjoying his first driving experience in the ADRL in 2011. Jenkins spent all season up until this weekend as the crew chief for Mahana Al-Naemi (and Mike Castellana), but when a member of Al-Naemi's family fell ill and he couldn't attend the race, Jenkins stepped in.
He ran 3.781 in qualifying and proceeded to be flawless during eliminations as well.
"We had the car prepared, so I thought why not. We brought the car out and it really went well," Jenkins said. "We learned some things for next year, tried some things out and it all worked out very well."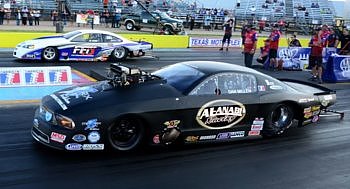 Dan Millen (near) vs Grant McCrary
The storybook season ended with the perfect finish for Millen in Extreme 10.5, as he wrapped up the ultimate weekend trifecta at Texas Motorplex.
After winning the Battle For the Belts on Friday and clinching another world championship early on Sunday, Millen finished the deal by going 3.88 in the finals against Grant McCrary.
It was the fifth run in the 3.80s for Millen over the weekend as he continues to put together one of the most dominant stretches in Extreme 10.5 history.
"I can't say enough about my crew and the job they did this year," Millen said. "It's just been an excellent year all the way around."
Vantine's first win in Pro Extreme Motorcycle cost Casey Stemper his first victory, as Stemper went red and Vantine coasted to a win with a 4.13.
That the win came against the largest overall field and the quickest qualifying field in ADRL history - all 16 qualified bikes ran in the 4.10s or quicker - made it that much more satisfying for Vantine, who went as quick as 4.09 during eliminations.
"We've been working hard at this. Its feels good and this has been a long time coming," Vantine said. "The last few races, we've really been putting in the time. We really buckled down late in the season and it paid off."
Gillig put together a remarkable day in Extreme Pro Stock to earn his first win, running 4.095 and beating John Montecalvo, a five-time runner-up this season, in the finals on a big holeshot.
It was an incredibly satisfying victory for Gillig, who jumped into the driver's set of Larry O'Brien's Bear's Performance Products 2010 Dodge Avenger for the final three races of the season.
"It's just been a crazy season for me, but I want to thank Larry and this brother (Wayne) for this opportunity. They're great guys and to have Larry step out of the seat, it's just awesome," Gillig.
Gillig, the No. 14 qualifier picked up his first ADRL win thanks to an outstanding effort on the starting line on Sunday. He won via holeshots in every round of what was a record qualifying field, ousting heavy hitters like Dean Goforth and Pete Berner before cutting an .027 light in the finals.
"We just had a great day and I'm just fortunate to have an opportunity like this," Gillig said. "It was just amazing and I just truly enjoyed this day."
After qualifying in the No. 14 position, Bullock was workmanlike in working through the Summit Racing Equipment Top Sportsman bracket.
He had three straight runs of 4.53 and then went 4.54 in the finals, quickly acclimating himself to Top Sportsman racing.
"I'm just blessed to be doing this. It's only my second Top Sportsman race and to be able to do this, it's just amazing," Bullock said.
Adkins made it two in a row in Pro Modified, earning his third career ADRL victory by going 3.929 to beat Pete Farber in the finals for the second straight race.
Farber ran slightly quicker, but Adkins was better on the starting line and then gracious in celebrating afterwards. "If there's anyone that helped me do anything or get to this point, I want to thank them," Adkins said.
In Pro Junior Dragster, Kaley Allen went 8.044 to beat Morgan Benfield and earn her first career ADRL win.
The 2012 ADRL Tour begins on March 30-31 with ADRL Dragpalooza VIII at Royal Purple Raceway in Houston. It is the first of 10 races that will take place during the 2012 ADRL season.