Mon, 22 Aug 2011, 07:06 PM



The Northern Victorious



By Kelly Wade


Photo copyright 2011 Auto Imagery, Inc.





BRAINERD, Minn. --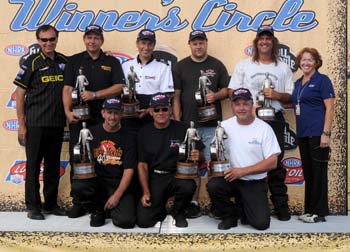 Standing: Jim Whiteley, Brian Antony,
Ron Mattson and Randy Vados
Kneeling: Kris Hool, Randy Hopkins and Gary Stinnett
Sportsman racers of the Lucas Oil Drag Racing Series recently converged upon Brainerd Int'l Raceway to wrestle for trophies at the 30th annual Lucas Oil NHRA Nationals, an event that takes the tour north to the Land of 10,000 Lakes. Those Minnesota victories were earned by Jim Whiteley (Top Alcohol Dragster), Kris Hool (Top Alcohol Funny Car), Gary Stinnett (Super Comp), Randy Vados (Super Gas), Randy Hopkins (Super Stock), Ron Mattson (Stock) and Brian Antony (Top Sportsman).
Whiteley won his 12th national event in his 14th final with a dispatching of A/Fuel pilot Mark Taliaferro. Their money-round meeting was a repeat of the Houston final earlier this season and with the same outcome; Whiteley got the win light, 5.343 to 5.431.
The J&A Service/Rator blown alcohol dragster driven by Whiteley didn't shine quite as brightly during qualifying - he started from the No. 9 position with a 5.432 that was a hundredth behind No. 1 starter Bill Reichert - but during eliminations he made major gains.
After a first-round pummeling of Mike Manners, the Grand Junction, Colo., resident recovered mightily from a troubled start to the weekend when he utilized a speedy low-of-the-round 5.288 at 270.86 mph to halt Chris Demke, the quickest runner of the opening act. Whiteley was again the most efficient of the group in the semifinals, and his 5.275 dashed 5.287-runner Chase Copeland's hope for a final round berth.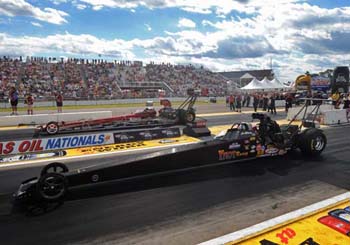 Whiteley vs. Taliaferro
Three-time finalist Taliaferro, a former blown dragster driver who stepped away from racing for nearly a decade and then returned in an A/Fuel car with a Tom Conway setup - exchanged back-to-back 5.42s in the first and second round for respective wins over Jared Dreher and Randy Meyer before rising to a 5.329 to recover from Dean Dubbin's wowing .004 reaction (his own was a .117) in the semis.
Top Alcohol Funny Car's Hool and his Gripper Monte Carlo, based out of Casper, Wyo., earned a trip to the final for the first time in his career after getting the nod in the semifinals when oral reconstructive surgeon Thomas Carter red-lighted in the Jawbreaker Mustang. Hool was also gifted with a red-light from first-round opponent Kirk Williams and then caught and passed No. 1 qualifier Vern Moats and the Kendall-backed Mustang in the quarterfinals.
Notably, the low qualifier award was the first for Moats since the event in Denver in 2000, a race that he won.
The pendulum of victory swayed in Hool's direction when two-time national event titlist Paul Gill, in the Moduline Mustang, encountered major tire shake in the final, and Hool raced ahead and tripped the win light with his quickest pass of eliminations, 5.675 at 256.06 mph.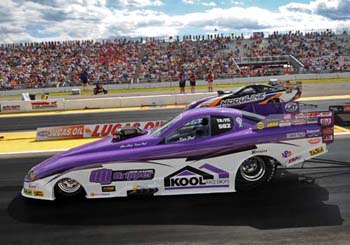 Hool vs. Gill
Super Stock No. 1 qualifier Hopkins, of Mission, Texas, was on a tear in his 8-second SS/AA Cobra Jet Mustang. The 1994 Brainerd finalist returned to the big round for a defeat of SS/M Mustang shifter Terry Johnson. After Johnson was perfect at the tree and ran .012 over a 10.82 target in the semis, Hopkins knew he had to be on his game and played accordingly, clocking a near-perfect .003 light and racing to an 8.584 on his 8.55 dial to top Johnson's .013 and 10.836 (10.81).
Eliminations began with a bye run for Hopkins, who then pulled to the starting line next to Dennis Nelson. After his opponent was too quick to leave by .043-second, Hopkins launched with wheels way high and the bumper of his Mustang on the ground then came down hard, bounced back up, and came down once more with force.
The eventual winner settled down for a third round match with fouling Jim Thune; after seeing his opponent's red light, Hopkins left on a delayed .302 before easing down the racing surface to record a leisurely 13.064. All had returned to normal in the quarterfinals, though, and he was .005 at the hit to challenger Brett Speer's over-eager -.005, and the 8.556 that flashed on the scoreboard was assurance that Hopkins would be good to go for the final after he got through his semifinals bye run.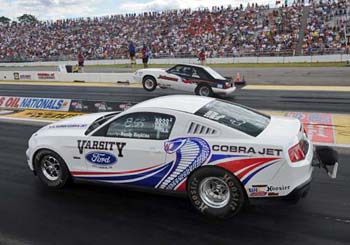 Hopkins vs. Johnson
Mattson, the 2004 Lucas Oil Nationals runner-up, tied up his first national event win by surviving a Stock Eliminator double-breakout with Durand, Illinois-based Nick Folk. Mattson had the better reaction time, .029 to .044, and ran a hundredth under 11.34 to Folk's .023-under 10.62.
Cloquet, Minn., driver Mattson wheeled his H/SA '72 Camaro to a dead-on 11.32 in the eliminations-opener next to a foul starting Brian Schultz, and in the second round he nearly saw his day done in by a tardy .211 reaction to Scott Cook's .026 - but Cook gave up the stripe and with it, the win.
Mattson complemented his good fortune by putting together an excellent package in a nail-biter of a race with Brad Haugaard in round three, where the eventual victor was first to leave, .025 to .033, and was .006-over 11.35 to E/SA Demon driver Haugaard's .003-over 11.30. The holeshot triumph was by just .005.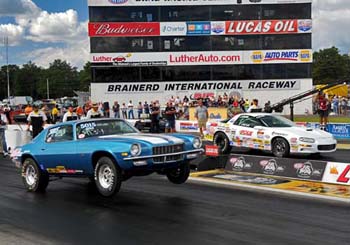 Mattson vs. Folk
After recovering from a small starting line disadvantage in the quarterfinals to beat Johnny Diekema in a double-breakout, Mattson toppled Minnesota neighbor Steve Hutar and the Line Performance-powered J/SA Impala with a sharp .005 green light and 11.363 on his 11.34 dial to his challenger's .051 and 11.763 that was seven-thousandths quicker than the digits on the window.
Folk, the Super Comp winner in Norwalk earlier this year, was competing in his fourth final at Brainerd Int'l Raceway and looking for his third win there; he earned the first victory of his career at the facility in 2000 and successfully defended the title the following season.
Super Comp defending event champion Stinnett earned a third consecutive and fourth overall Brainerd Wally (he was the Super Stock winner at the event in 2009 and won the 8.90 category there in 2002) with a great light and a closer-to-the index 8.893. First-time finalist Rodney Thompson was quicker off the starting line by .004 but further from the bullseye with his 8.888.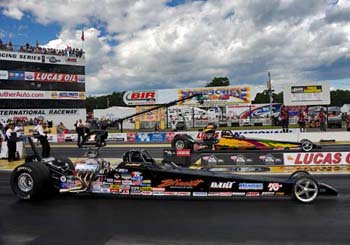 Stinnett vs. Thompson
En route to pocketing win number 22, Stinnett paired a .018 with a dead-on 8.902 to better Schaun Schnathorst's .011 and breakout 8.885 in the first round, and Dustin Long gave the expert driver and reigning national champion room to breathe by clocking a .043 at the starting line and finishing 9-flat to Stinnett's .018 and 8.975.
The third stanza was more of the same for Emporia, Kan., resident Stinnett, who scored on his quick .008 start and 8.934 to Craig Clark's .046 and under-the-index 8.883. A double-breakout win over Tom Nygaard in round four was good for the bye run into the semifinals, where he put the U.S. Army rail driven by Don O'Neal on the trailer with an awesome .001 and 8.941 to .006 and two-thousandths early 8.898. The Super Gas final had Cedar, Minn., driver Vados in a very strong position right from the start, when he was a perfect .000 to give him some room at the stripe and turn a 9.945 into success over .032-second leaver and 2006 runner-up Dan Smith's closer-to-the-index 9.923.
The unique '78 Bradley kit car piloted by Vados was first to launch and first to the finish in the opening round to stop Steve Schultz, and Vados had it all in order in round two when his timing at the starting line was admirable - .012 to Mike Ricke's .032 - and a .006-over was well ahead of his opponent's 10.198.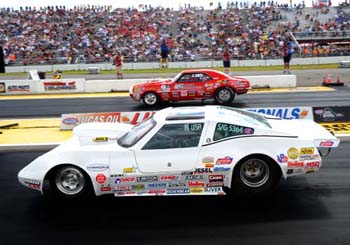 Vados vs. Smith
The tables were turned when third-round challenger Tim Tiry left first, .009 to .015, but Vados again played the finish line well for a 9.905 to 9.911 decision. A better light and dead-on 9.903 had the chips falling in his favor against Jeff Beckman in round four before he left last but saw Randy Nygaard take the stripe prematurely in the quarterfinals. In the semifinals, 2003 Brainerd finalist Al Gavlovsky went red by .011-second.
Lonsdale, Minn., driver Antony earned his first national event win in his first final by driving his '01 Avenger Top Sportsman entry off the starting line with the advantage, .018 to .045, and running closer to his number, turning away second-time finalist Monte Green (he raced for the money in Topeka in 1993).
Antony got a jump on the competition when first-round opponent Charley Wittenburg fouled by .006, and the round-win came with that sought-after bye run into the quarterfinals. After using the power of the Hemi under the hood to stay sharp in his lone run and clock a 7.084 on his 7.09 dial, Antony was a little tardy at the hit, .077 to .035, but finished with an almost perfect 7.085 (7.08) to Rick Bowman's breakout 7.458 (7.46).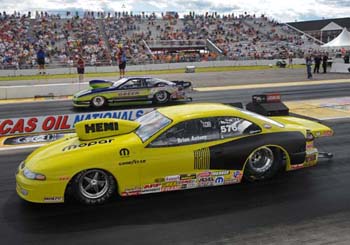 Antony vs. Green
Next came the semifinals, and the survival of this narrow match would be a bullet point on his resume as Antony kept cool and ousted No. 1 qualifier Glenn Butcher by just .006. The pair were just .004-second apart in reaction time and Antony was to be triumphant based on his 7.085 (7.07) to his challenger's 6.665 (6.64).
True to the nature of the territory, the Pro Snowmobiles had their moment in the spotlight at Brainerd Int'l Raceway. No. 1 qualifier Ron Bray, of Anoka, Minn., topped fellow Ski Doo rider Louis Wirbel for the trophy, 8.354 to 9.371.
Throngs of Lucas Oil competitors will next be charging into one of the most historic races of the season as the Full Throttle Series travels to the Mac Tools U.S. Nationals presented by Lucas Oil in Indianapolis, Aug. 31-Sept 5. See you there.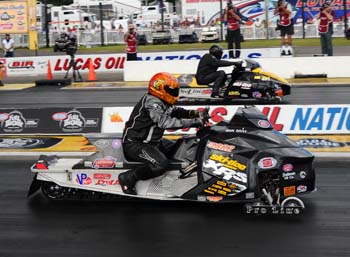 Bray vs. Wirbel
Sunday's Lucas Oil Drag Racing Series final results from the 30th annual Lucas Oil NHRA Nationals at Brainerd International Raceway.
Top Alcohol Dragster -- Jim Whiteley, 5.343, 270.27 def. Mark Taliaferro, 5.431, 261.72.
Top Alcohol Funny Car -- Kris Hool, Chevy Monte Carlo, 5.675, 256.06 def. Paul Gill, Ford Mustang, 10.034, 86.15.
Top Sportsman -- Brian Antony, Dodge Avenger, 7.133, 193.52 def. Monte Green, Ford Probe, 7.114, 194.32.
Super Stock -- Randy Hopkins, Ford Mustang, 8.584, 135.71 def. Terry Johnson, Mustang, 10.836, 121.94.
Stock Eliminator -- Ron Mattson, Chevy Camaro, 11.330, 113.48 def. Nick Folk, Camaro, 10.597, 118.84.
Super Comp -- Gary Stinnett, Dragster, 8.893, 176.58 def. Rodney Thompson, Dragster, 8.888, 169.10.
Super Gas -- Randy Vados, Bradley, 9.945, 144.12 def. Dan Smith, Chevy Camaro, 9.923, 148.61.
Pro Stock Snowmobile -- Ron Bray, Ski Doo, 8.354, 153.33 def. Louie Wirbel, Ski Doo, 9.371, 109.02.




NHRA: 10 Most Recent Entries [ top ]

Apr 20- HOUSTON - Friday Wrap
Apr 20- HOUSTON - Saturday Schedule
Apr 20- HOUSTON - Top Fuel Qualifying, Session #2 Order
Apr 20- HOUSTON - Top Fuel Qualifying Notes, Session #2
Apr 20- HOUSTON - Pro Stock Qualifying, Session #2 Order
Apr 20- HOUSTON - Funny Car Qualifying, Session #2 Order
Apr 20- HOUSTON - Pro Modified Qualifying, Session #2 Order
Apr 20- HOUSTON - Funny Car Qualifying Notes, Session #2
Apr 20- HOUSTON - Pro Stock Qualifying Notes, Session #2
Apr 20- HOUSTON - Pro Modified Qualifying Notes, Session #2