Mon, 1 Aug 2011, 05:58 PM



Playing It Again In Sonoma



By Kelly Wade


Photo copyright 2011 Auto Imagery, Inc.





SONOMA, Calif. --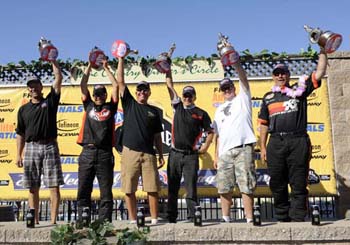 Steve Casner, Eric Reyes, Mark Faul,
Sheldon Gecker, Jody Lang and Mike Ferderer
The middle event of the three-race Western Swing took place at Infineon Raceway in beautiful Sonoma Valley this past weekend, and repeat winners were the closing theme as Mark Faul (Super Stock), Jody Lang (Stock), Eric Reyes (Super Comp), Steve Casner (Super Gas), Mike Ferderer (Top Sportsman) and Sheldon Gecker (Top Dragster) all took home trophies from an event that they had each won before.
The Top Dragster final was a replay of the 2000 Super Comp decider as Gecker and Tacoma, Wash., driver Mike Henderson pulled to the starting line again, this time with dialed-in rails. Gecker, in his K&N Filters dragster, and Henderson were dialed nearly identical - Gecker was aiming for a 6.95 target and Henderson a 6.96 - but their race was over before it even truly began when Henderson left the starting line .022-second too soon.
Division 7's Gecker, not far from his Surprise, Ariz., home base, scored a final-round finish in the category the weekend before at the divisional event at the same facility. In the first round of the national event, luck was on his side when Tony Jardino, a runner for the division championship, fouled out, and in the second round, heavy-hitter Art Hoover - second in the standings heading into the event - took a pummeling early when Gecker came out with a .001 reaction to his opponent's .063 before tying it up at the top end.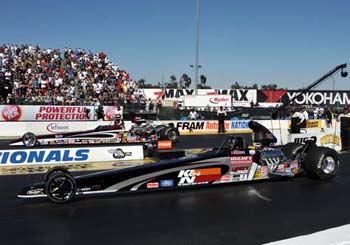 Gecker vs. Henderson
Gecker sailed into his fourth final round at a Sonoma national event after Mera Silvia was on the wrong end of a double-breakout in the quarterfinals and Randy Pressel was stunned at the tree and unable to recover from a .285 reaction in the semifinals. The esteemed driver possesses three Sonoma victories: He added the brand new pewter Wally to trophies earned there in Super Comp in 2000 and 2006. He was also the Super Comp runner-up in 2007.
Another K&N Filters-backed driver made a stellar showing when powerful sportsman competitor Ferderer successfully defended the Top Sportsman title. Buckley, Wash., racer Ferderer, wheeling K&N colors on his '06 Grand Am, was the benefactor of 2007 Fontana winner Rich Takahashi's .002-second red-light start. The win was the 23rd of his career and his fourth in the Sonoma big show; Ferderer also won Super Comp at the event in 1992 and Super Gas a decade later, in 2002, before becoming the Top Sportsman winner last year.
He didn't need it, but the eventual winner ran dead-on his 7.39 dial with a 7.391 in the opening round following a red-light start by No. 1 qualifier Craig E. Olson, and in the second round, "The Ferd" was on at the tree and clocked a .004 reaction to put Johnny Matassa at an immediate disadvantage. Matassa started with a .036 reaction and ran a nice 7.045 on his 7.03 dial, but Ferderer turned his starting line performance into a win with his 7.419 (7.38).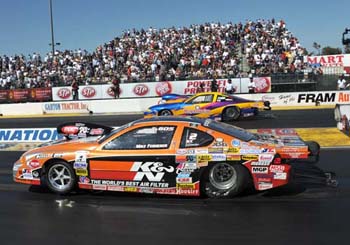 Ferderer vs. Takahashi
Things got weird before his race with Division 6's Curt Geise even got underway in the quarterfinals. Geise's Turbo-charged GTO slipped - reportedly in its own oil - during the burnout and smacked into the wall, damaging the body and allowing Ferderer a single into the semifinals, where a .004-second foul by Dan Borg was an instant invite to the final.
Faul, now a 15-time national event winner, left Sonoma holding the Super Stock points lead after scoring the win at both the divisional and national events at the facility, and he was ninth in the Stock Eliminator standings. His closing-round victory over three-time finalist Ken Etter came when he was .021 on the launch to his challenger's .076 and put a 10.752 (10.71) on the scoreboard to 10.512 (10.49).
Faul, driving his GT/GA Grand Am, wasn't quite as good at the hit as young Justin Lamb in the opening round, but he played the finish line better and advanced on Lamb's breakout pass to take on John Winslow Jr. in round two. Unfortunately for Winslow, his GT/TB Dakota bowed out with a jump and a shimmy as soon as he hit the throttle, and Winslow rolled to the 60-foot timer and stalled, necessitating a tow backwards off the track while Faul made a solo trek down the 1,320.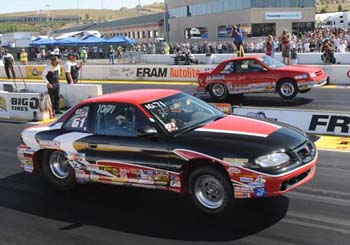 Faul vs. Etter
Tacoma, Wash., resident Faul, the 2009 winner of the event, next survived a double-breakout with Pacific Division racer Dave Bridgewater and his SS/GA Firebird to snag the single into the semifinals, where he was 100 percent perfect at the starting line to Frank Grossi's .015-second red-light.
Like Faul, Stock Eliminator winner Lang also won the divisional event at the facility the weekend prior to the national and leaves Northern California hanging out at the very top of the standings. Lang, in his N/SA grocery-getter Malibu wagon, was awesome at the starting line in the final, posting a near-perfect .001 to 2008 Sonoma Stock winner Eric Waldo's .038 and racing effectively to a 12.653 on his 12.62 number to top Waldo's 10.868 (10.84).
On the way to his third win of the season, Lang advanced easily from round one when Don Keen went red and then got another break after something went wrong in Paula Cotten's G/SA Duster in round two. The gifts kept on coming as Kyle Rizzoli's foul sent him to a quarterfinals match with Gerald Stein. With a semifinals bye run up for grabs, Stein was tuned up for a nice .018 launch to Lang's .030, but the soon-to-be titlist was simply better at the finish line and cleared the stripe just .009 over his 12.58 target to Stein's breakout 10.976 (10.99). It was the 21st title for Lang.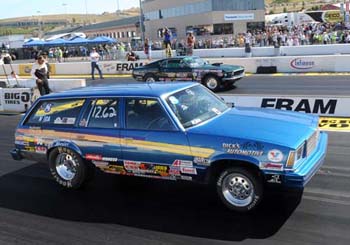 Lang vs. Waldo
Notably, finalist Waldo was right at home in Sonoma - it is where he earned his first victory by beating Tony Hewes in the 1994 Stock Eliminator closing act. He has eight career wins.
Petaluma, California-based Super Comp racer Reyes relived memories of the first win of his career that took place there in the Super Gas category in 1989 when he put together an awesome .017-second package to defeat second-time finalist Gabriel Torres. Reyes drove like a pro in their final-round battle, recording a .016-second start and crossing the finish line a thousandth over the 8.90 index to his opponent's breakout 8.896.
Reyes earned the third national event trophy of his career after moving from the first round on red-lighting challenger Chris Lindsay and using a superior reaction to beat Cameron Ferre in round two. Mike Gomez fought hard in round three, leaving first (.010 to .016) and clocking an 8.912 to Reyes' 8.905, and in the fourth round, Reyes was outstanding at the starting line with a .005 start and got the nod on Robert Naber's breakout. Two more breakout opponents followed - Tom Lindemann in the quarters and Tom Gresham in the semis - to set Reyes up for his third Sonoma final.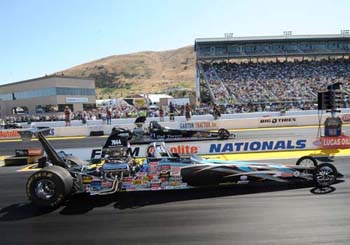 Reyes vs. Torres
Super Gas winner Casner earned his first victory at Infineon Raceway in 1996. The most recent win counted as the third of his career in his fourth final and came with the besting of first-time finalist and '92 Firebird driver Rob Willis, of Edmonds, Wash. Casner was second to launch in his '07 Cavalier, .030 to Willis' .012, but ran closer to the 10.90 index, 9.951 to 10.007, for the win light.
Sheridan, Calif., resident Casner blasted into eliminations with an ideal run in the first round; his 9.900 hit the index with precision to trailer Rick Beckstrom, and the perfection was rewarded with a single in round two.
Joe Greco headed home after Casner hit the tree with a .008 reaction to his own .014 and ended it with a 9.918 to Greco's nearer-the-index but losing 9.913. Quarterfinals challenger Brad Pierce was out of the gate in .017-second to Casner's .014, but he pushed a bit too hard at the top end and ventured empty-handed back to Riverside, Calif., when he broke out by .018.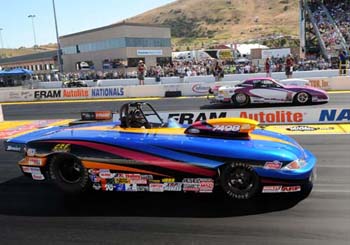 Casner vs. Willis
It came down to the semifinals for Casner, who took on second generation racer Val Torres Jr. Looking to go to his second Sonoma final, Torres Jr. was the better of the two at the starting line, .018 to .035, but Casner played it right at the top end for a .013-second margin of victory.
Lucas Oil Series drag racers are packing up to head north for the final leg of the three-race Western Swing at Pacific Raceways in Seattle, August 5-7. Stay tuned.
Sunday's Lucas Oil Drag Racing Series final results from the 24th annual FRAM-Autolite NHRA Nationals at Infineon Raceway. The race is the 13th of 22 in the NHRA Full Throttle Drag Racing Series--
Top Sportsman -- Mike Ferderer, Pontiac Grand Am, 7.401, 184.42 def. Rick Takahashi, Chevy Cavalier, foul.
Top Dragster -- Sheldon Gecker, Dragster, 6.972, 189.71 def. Mike Henderson, Dragster, foul.
Super Stock -- Mark Faul, Pontiac Grand Am, 10.752, 119.01 def. Ken Etter, Dodge Shadow, 10.512, 125.08.
Stock Eliminator -- Jody Lang, Chevy Malibu Wagon, 12.653, 95.99 def. Eric Waldo, Ford Mustang, 10.868, 122.14.
Super Comp -- Eric Reyes, Dragster, 8.901, 167.51 def. Gabriel Torres, Dragster, 8.896, 168.70.
Super Gas -- Steve Casner, Chevy Cavalier, 9.951, 150.55 def. Rob Willis, Pontiac Firebird, 10.007, 156.01.




NHRA: 10 Most Recent Entries [ top ]

Apr 24- CHARLOTTE 1 - Steve Torrence Enjoying Four-Wide Success Heading to NGK Spark Plugs NHRA Four-Wide Nationals
Apr 24- CHARLOTTE 1 - Fact Sheet
Apr 24- Kalitta Motorsports Welcomes NASCAR Stars to the SealMaster Track Walk in Charlotte
Apr 24- zMAX Dragway Celebrates 10th Anniversary
Apr 24- CHARLOTTE 1 - NGK Spark Plugs NHRA Four-Wide Nationals Brings 40,000 Horsepower Thrill Show to zMAX Dragway
Apr 23- HOUSTON - Lucas Oil Drag Racing Series Wrap Up The NHRA Lucas Oil Drag Racing Series Wrap Up
Apr 23- CHARLOTTE 1 - J.R. Todd Aiming for Two Four-Wide Racing Wins in 2018
Apr 23- Mid America Dragway Joins NHRA Member Track Network
Apr 23- HOUSTON - Special Awards
Apr 23- HOUSTON - Sunday Video