Thu, 28 Jul 2011, 08:06 PM



Neff Wins Again



By Bob Frey


Photo copyright 2011 Auto Imagery, Inc.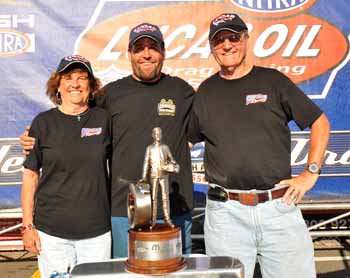 Clint Neff celebrates win
with his mother and father.
For the first eleven races of the season it seemed like every time you turned around Mike Neff was winning races. After getting the call to tune and drive the Castrol GTX Mustang for John Force, Mike Neff began the season with a semi-final finish at the Winternationals and he followed that up with a win at the Gatornationals. From that time on he has been the points leader in the Funny Car class and has enjoyed a great start to the season. As we head to the thirteenth race of the year Mike has won four races and been to the final round at three others. In Bandimere, for the 32nd running of the Mopar Mile High Nationals, it was Neff in the winner's circle again, only this time it wasn't Mike, it was Clint. A second-generation racer, Clint Neff won at his home track and he was joined in the winner's circle by another great racer named Neff, his father Ron. And while this was the first national event win for this particular Neff family member, it continues a tradition that has been in the family for years.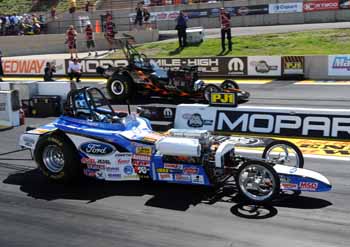 Neff vs. Kaplan in the final.
Clint Neff said that the last two days have been very hectic and extremely enjoyable. "I've been talking so much and yelling so much and I even slept with my 'Wally.' He probably wasn't too happy because he kept getting tossed and turned and I thought I was going to end up on the couch. But it was worth it." If Clint's wife, Jaime, didn't send him to the couch it's because she knows what it's like to be a drag racer. "Her dad, Don Westra, races in Super Gas and that's how we met. I met her at the Mile High Nationals in 1990. I always said I wouldn't get married unless I found a woman who likes racing and I found a great one." The couple has two children, Brady and Cali, and Clint enjoys spending time with them, but right now he's enjoying racing, too. "This was the best day of my racing career," he said. "And the win came in the seventh final round for our family, so I guess seven was a lucky number for us." Those other final rounds were shared between his father, who went to five finals, and Clint who also made the final round at the Brainerd race in 2000.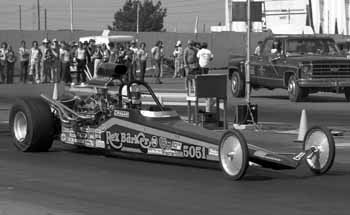 Ron Neff at Fremont in '79.
Ron Neff is one of the best drag racers to never win a national event. He began racing back in the early 1980's and he had some of the best years of any racer in Competition Eliminator history and he made it to five national event final rounds and thirteen divisional finals. The first final round came in the family's home state of Colorado when he faced Norwin Palmer in the final of the Pueblo Division 5 race. "Dad had a great career and I have to thank (announcer) Bruce Kamada for remembering him this week. It was so nice to hear him say those good things about my father." For anyone who has followed the sport it would be hard not to say good things about Ron Neff. His string of cars, from the split bumper Camaro that he had to the string of classic Econo Dragsters, Ron Neff was as good as anyone. During the course of his career he finished in the top ten of the national points four times and he was the 1990 Division 5 champ. "He had some good cars and he always stayed within his budget. I'd say that the B/ED that he had in 1987 may have been his best car. It was built by Mike Bos at his Chassis Craft shop, and was one of the best cars around back then. Jolly Rancher sponsored it and dad did very well with that car." A succession of other dragsters propelled the elder Neff into the national spotlight and into the record books as one of the top Comp racers ever. He raced with engines from some of the greats, too, like John Lingenfelter and a lesser known builder by the name of Verl Stevens. "Today dad's retired and I think he's having as much fun as he did when he was racing." Clint went on to say that he thinks he enjoyed winning the race for his father while he thinks Ron enjoyed the win more for Clint. "Let's just say that it was a great day for both of us."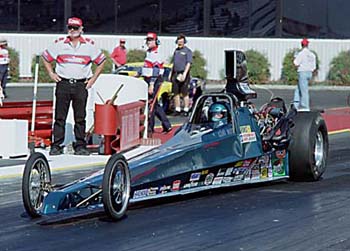 Clint at the '98 Winston Finals.
With a father who raced as much as Clint's did it should be no surprise that he grew up around the track. "I went with him all the time and had a great time." The first time Clint drove was in 1995 and he did it with one of his father's former cars. "I ran the C/ED and then I decided I wanted to try a 5-speed, so I did and we ran it in C/D. It was strange for my dad to see me make that change since he was always an automatic kind of guy." From there Clint got an A/ED and then he got involved with a man who changed his drag racing fortunes. "David From has been racing for a while," he said. "He always enjoyed making his cars go fast and I think he even enjoyed that more than the driving part." The two formed a team, with David tuning and Clint driving and it worked out very well for both of them. "David knew that I liked the car and he asked me if I wanted to buy it. I said yes, and believe it or not, I paid him for the car on Thursday before the Mile High Nationals. My only regret about the race is the fact that David went home and wasn't there on Sunday. I would love to have had him with me in the winner's circle."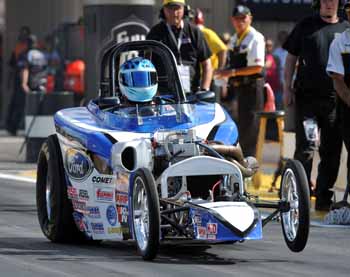 Clint Neff
The car that Clint bought runs in the K/A class and it is powered by a 254 cubic inch engine that came out of a boat. "It's a Merc Cruiser engine with an aluminum block and Ford E-460 Pro Stock style cylinder heads. It has a 125 inch wheelbase that was built by Frank Parks." While Clint enjoys running the car, he does say that the fact that it is one of the lower classes means that he almost always gets the head start and he keeps waiting for those big speed cars to come rumbling by. "I usually give up about forty miles per hour and that's a lot. I hit my index in the early round this week, and after that I just figured that I can't hurt myself any more so I never even looked back after that. I just focused on the win light and it paid off." That was good strategy, especially against the two fast cars that he ran in the last couple of rounds. "Matt Hartford, Joe Mozeris and Jirka Kaplan all have fast cars and I knew I would have to run hard to beat them." He did and he picked up the first win for the Neff family. At least the Colorado Neff family.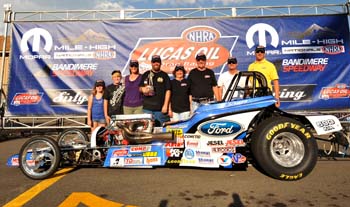 Clint Neff celebrates win.
As far as his future plans this year Clint says that he will race at a few more divisional races and then see where he stands in the points. "This is the first time that I have ever been in the top ten," he said. "We have a couple of divisional races coming up in Cordova and Topeka and that will keep us busy. After that we'll see where we stand and plan accordingly." If past history is any indication he'll be standing in the winner's circle and his father and wife will be standing right there with him. "In addition to my family I would like to say a special thanks to David and Donna From for the opportunity to not only drive but to own a very mean race car. I hope there are more wins in the future for the From and Neff racing team."




NHRA: 10 Most Recent Entries [ top ]

Mar 20- Strong Stable of Contending Pro Stock Racers Vie for Final Starting Position for K&N Horsepower Challenge
Mar 20- GAINESVILLE - Special Awards
Mar 20- GAINESVILLE - Lucas Oil Drag Racing Series Wrap Up
Mar 19- GAINESVILLE - Sunday Video
Mar 18- GAINESVILLE - Pro Mod Sunday Wrap Up
Mar 18- GAINESVILLE - Sunday Wrap Up
Mar 18- GAINESVILLE - Pro Mod Championship Points
Mar 18- GAINESVILLE - Bonus Points
Mar 18- GAINESVILLE - Championship Points
Mar 18- GAINESVILLE - Mickey Thompson Top Fuel Harley Series Championship Points