Wed, 29 Jun 2011, 08:38 PM



Second Round in PMRA Drag Racing Goes to Eric Latino



Courtesy of Tim Miller


Photo Credit: Bill Mehlenbacher Photography, Mike Goodwin and Dave Erauw Photography





Camaro Driver Bests Tough Pro Modified Field at Toronto Motorsports Park During Cayuga



CAYUGA, ONTARIO --
Dragway's Xtreme Mayhem Nationals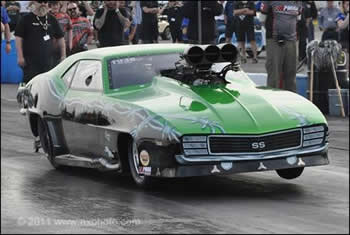 Eric Latino
The competition was strong, but at the end of the day Eric Latino won the Pro Modified Racing Association race at the Xtreme Mayhem Nationals at TMP's Cayuga Dragway.
With his new G-Force Race Cars 1969 Camaro Pro Modified, Latino, from Whitby, Ontario,  held off Vito Montesano in the final round to take the win with a 6.758-second, 232.95 mph run against Montesano's 6.630-second, 157.76 mph. 
  Montesano, of Maple, Ontario was the driver to beat all weekend as he qualified his 1969 Camaro Pro Modified in number one spot with a 5.889-second run. Latino qualified number two in the field with a 5.898-second, 243.72 mph posting. Both teams ran five-second passes consistently over the weekend.
  "It wasn't pretty, but it was a win," said Latino after his victory. "The car has been awesome all weekend, and the first full pass in testing with it gave us a 5.87."
  The win was Latino's second in PMRA competition.
Latino thanked his Team Green partners, well-known Pro Modified car owners Rob and Ann Sporring, engine guru Al Billes, tuner Paolo D'Alimonte, along with crew members Pete and Rachel Olin, Gord Campbell, and son Matthew. Latino also wanted to thank his sponsors who support his team.
  "Everybody did their job over the weekend," Latino continued. "Everything clicked. It was a great weekend."
  With his new Camaro, Latino eliminated Derek Hawker of Corbyville, Ontario and Mark Nielsen of Brantford, Ontario before going up against Montesano in the final. Montesano shut down Gary Irving of Toronto, Ontario in the Al Hinds Corvette, and the Camaro of John Russo of Middletown, Massachusetts, who recorded top speed of the meet with a 245.81-mph pass.
  Hawker made the show as number one alternate when Terry Brown of Caledonia, Ontario, who qualified seventh, could not make the elimination rounds. Former IHRA Funny Car Champion Rob Atchison of London, Ontario, debuted his new Corvette Pro Modified at the PMRA event, and spent the weekend with some shakedown runs learning about his new car.
  Latino said after the race that it took the crew some time to adjust to the new car, but once they found the combination, the car responded well.
"The car wanted a different set up then what the Jerry Bickel 38 Chevy Pro Mod needed to get down the track," he noted. "The crew figured out the new G-Force car in just eleven incremental runs with the twelfth pass going straight down the track to a 5.87 elapse time."
  With two rounds of the six-event season completed, Montesano leads the 2011 Championship Point Award Series presented by Magnum Auto Parts and Patio Passport with the smallest of margins, 581 points over the 580 points of season-opener winner Bruce Boland of Hamilton, Ontario. Latino is third with 563 points, just ahead of Irving with 560 points. Fifth at present is Jeff Roth of Kitchener, Ontario with 556 points.
  The next round of PMRA racing will take place at the Canadian Nitro Nationals July 1-3 at the Cayuga Dragway of Toronto Motorsports Park.
  For information about Toronto Motorsports Park in Cayuga, Ontario call (905) 772-0303 or visit online at www.torontomotorsportspark.com  
For more information, please contact:   Bruce F. Mehlenbacher Director of Operations Telephone: (905) 772-1800 Ext. #22 Cellular: (905) 517-5345 E-mail: Bruce@PMRA.ca   Media Director Telephone: (905) 870-1456 E-mail: Tim@PMRA.ca 1209 Kohler Road, Cayuga, ON Canada N0A 1E0 Telephone: (905) 772-1800 Extension #22, Fax: (905) 772-1799 E-mail: Bruce@PMRA.ca Website: www.PMRA.ca ________________________________________ To unsubscribe to this mailing list, reply with UNSUBSCRIBE in the subject line.    




Drag News: 10 Most Recent Entries [ top ]

Mar 10- Dodge//SRT and Mopar Brands to Offer Complimentary Drag Race Experience for NMCA Competitors in 2018
Mar 10- Cottrell, Wittenberg, Hix, and Bates Come Out Swinging at the 2018 March Meet
Mar 09- Universal Technical Institute Named Official Sponsor of Sonoma Raceway's Drags and Drift Program
Mar 09- Revitalized Street Fights Series Roars into Action with a New Look and Feel
Mar 07- Todd Martin Wins in Pro Mod Return at MWPMS Season Opener
Mar 07- Keith Haney Racing Encouraged by Strong Start at MWPMS Season Opener
Mar 06- Gateway Motorsports Park to open Saturday, March 31
Mar 06- Mad Mule Pro Mod Shootout at GALOT Motorsports Park Results
Mar 05- BAKERSFIELD - Nostalgia Rear Motor Top Fuel Round 1 Eliminations
Mar 05- BAKERSFIELD - Nostalgia Funny Car Final, Round 4 Eliminations