Tue, 14 Jun 2011, 01:08 PM



Racing in the shadow of the Rockies



Courtesy of IHRA Communications



Nitro Jam returns to Salt Lake City June 17-18



SALT LAKE CITY, Utah --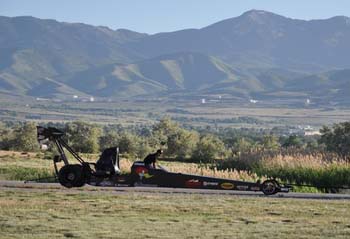 Rocky Mountain Raceways provides
a backdrop unlike any other.
It is a view unlike any other.
Just beyond the grandstands that seat thousands of eager motorsports fans, just beyond the tasty concessions, miles of open pits housing many of the greatest drivers in drag racing and the state-of-the art facilities, exists a view that is worth the price of admission alone.
And it only exists at Rocky Mountain Raceways.
"It is sometimes hard to concentrate on the job at hand when you are looking down the track and all you can see are snow-capped mountains," said Top Fuel driver and defending race winner of the Salt Lake Nitro Jam Bobby Lagana Jr. "There is simply no track out there quite like it. It is really something else when you pull onto the track, do a burnout and stage all in the shadow of these beautiful mountains.
"The racing at Rocky Mountain Raceways is always topnotch, but when you throw in such great fans and the wonderful backdrop that Salt Lake City provides it just makes this a unique and special place for us to race."
Now in its 15th year, Rocky Mountain Raceways is one of the most modern multi-use racing facilities in the western half of the U.S. Located in the Salt Lake City suburb of West Valley City, RMR is home to some of the best racing in the country including its newest tradition, the Salt Lake Nitro Jam presented by NAPA Auto Parts which will return to the track in just a few weeks June 17-18 with its biggest show yet.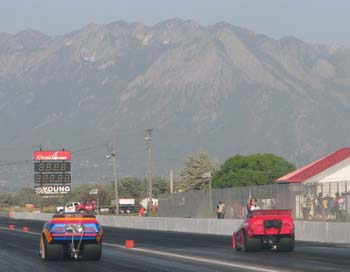 Many of the world's best will
travel to RMR June 17-18 for
the annual Salt Lake Nitro Jam.
Many of the world's greatest pro drivers and exhibition cars will travel to Utah for two nights of over-the-top drag racing action and it all takes place later this month at a place that has gained a reputation as one of the most exciting racing facilities in the nation.
"We race at tracks all across the United States and I will tell you there aren't many places out there like Rocky Mountain Raceways," Lagana said. "We have had a lot of fun going west to places like Utah and have got to do a lot of neat things including winning on Saturday at last year's race. Now we are going back with a new sponsor and a new attitude to put on the best show possible while trying to come away with a pair of wins."
After last year's event produced massive crowds and set attendance records at the track, this year's event is expected to surpass last year's numbers as Nitro Jam brings in three of the quickest and most exciting racing classes in the world capped off with the 300 mile per hour stars of Top Fuel. Last year New York native Bobby Lagana and Indiana's Bruce Litton traded wins in front of a capacity crowd.
Joining the fastest class in all of racing is a full field of championship Prostalgia Nitro Funny Cars from all corners of North America and some of the craziest drivers in the sport making their RMR debut in Nostalgia Fuel Altered.
The incredible weekend will be complimented by a pair of Salt Lake City firsts as the world famous Grave Digger monster truck battles the 30,000 horsepower Shockwave jet semi in a quarter-mile battle of monster machines and the car-crunching, fire-breathing Megasaurus makes its debut.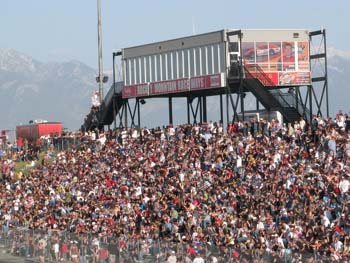 Last year's Salt Lake Nitro Jam
broke attendance records a
t Rocky Mountain Raceways.
It will be a night Salt Lake City fans won't soon forget and it all takes place at one of the most modern motorsports facilities in the country.
Rocky Mountain Raceways is truly a top-notch venue, offering not only outstanding views of the snow-covered Wasatch Range of the Rocky Mountains, but also providing the best programs and amenities possible for racers and fans alike making this the perfect destination for families and fans of all ages.
And when you include additional fan-friendly activities such as a completely open pit area, the FanFest fan zone and more, you get an event that can't be missed.
Don't miss out on the biggest motorsports event in Utah June 17-18 at Rocky Mountain Raceways. Tickets start at just $25 if purchased in advance so act now if you want to get a ticket to a night of speed, fire and entertainment.
For more information logon to www.nitrojam.com or call Rocky Mountain Raceways at (801) 252-9557.




IHRA: 10 Most Recent Entries [ top ]

Mar 21- 2018 IHRA Summit Sportsman Spectacular Series on April 20-22
Feb 26- Weather-Related Construction Delays Postpone IHRA Xtreme Raceway Park Opener
Feb 16- IHRA Summit Sportsman Spectacular Schedule Announced
Feb 15- New York Track Finds Value for Racers with IHRA Agreement
Feb 15- IHRA Summit Sportsman Spectacular Debut Only One Month Away Now is the Time to Pre-Enter
Feb 15- Summit Texas Location is a Racers' Paradise
Feb 15- Canadian Track Makes Large Commitment to IHRA Drag Racing
Jan 27- Mid-Michigan Destination Joins IHRA Family
Jan 27- Mississippi Track Reaches Sanctioning Agreement
Jan 16- Michigan Track to Host IHRA Summit Sportsman Spectacular