Thu, 3 Feb 2011, 08:00 PM



Not Just for Show



By Kelly Wade


Photo copyright 2011 Philip Hutchison, Diane Kubicke & Dan Wonsch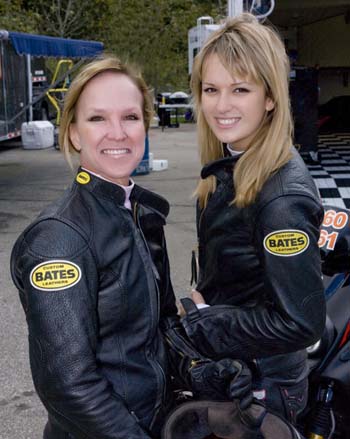 Tiina Duncanson and her daughter, Kiersten.
The NHRA's Northeast Division broke ground in 2010 as the first of the seven divisions to carve out an actual class for Pro Stock Snowmobile competition, and that made a lot of people pretty darn happy. When the season was complete, there was no one happier than Acton, Ontario, sled pilot Tiina Duncanson, who earned the first Wally in the newly established category and added two more to a quickly growing collection on the way to earning the first Pro Stock Snowmobile championship in the division.
That important piece of the story is good, but oh, it gets better. Tiina, a mechanical engineer by trade, raced in four events and went to the final round at each one, only forfeiting the title once. The second-place finish at Napierville Dragway in Quebec was to her daughter, Kiersten, and it definitely wasn't a gesture of kindness. The two have a fierce rivalry on the track, and neither is willing to cut the other an inch of slack.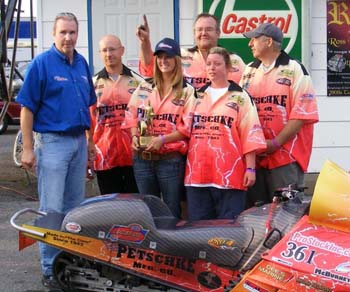 Kiersten and the team celebrating
her first win at Napierville Dragway.
"When I beat my mom, that was probably my proudest moment in racing," said Kiersten, who began training to drive sleds competitively at the age of 11. "Not only did I beat my mom, who has been my biggest competitor for the longest time, but I also won my first Wally - and it was the first Canadian Wally given out to a Pro Stock Snowmobile, so that was really, really cool for me."
Kiersten, a native Canadian who resides in Michigan with her fiance, Jeremy Hannen (he is also her head mechanic), doesn't feel bad about putting a wrench in her mom's perfect season because she remembers a time not long before earning that extremely special trophy when the tables were turned.
The two were racing at Cecil County Dragway, and Kiersten needed to qualify well and win the race in order to pick up enough points to compete at the Lucas Oil NHRA Nationals in Brainerd, an event that is considered the pinnacle of the season for the Pro Stock Snowmobile racers. With only eight spots available, racing at the Minnesota track is a prestigious reward in itself.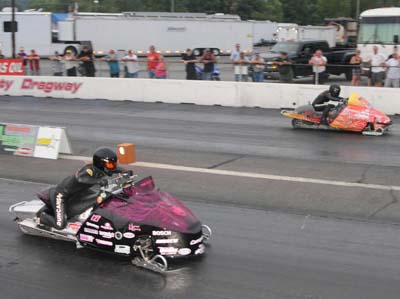 Tiina, near lane, racing Kiersten
in Cecil County in 2010.
"I hadn't been able to get to all of the races, and I was sitting just like one slot off of making the cut," recalled Kiersten. "She went up against me in the final and had to make the choice about whether or not to win and put me out of the ladder, and she did.
"To tell you the truth, I was a little surprised. I never wish for my mom to let me win, but this time, I honestly had hoped. But she didn't, and she didn't even look back as she crossed the finish line. It was a total different side than I'd seen of her. I was very surprised, and for her to make that decision to put me out of something that she knew meant so much to me was very hard for her, and I didn't take it personally."
Tiina maintained the points lead with the victory and had no regrets over her decision.
"I've always brought my kids up to know that you have to win to proceed," said Tiina. "You shouldn't win because you're somebody's daughter. It should be a clear win, and when you get there, you should earn it. It did cross my mind, and I thought, 'Oh, a really good mother would just throw this,' but later on in the season, when she beat me and got her first Wally, she knew that she had earned it and I hadn't given it to her, and that meant a lot."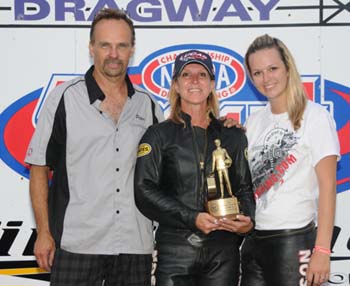 Celebrating with the prized Wally
in the winner's circle at Cecil County.
Mother began teaching daughter a sportsman-like attitude and so much more from a very early age. Tiina, who enjoyed pleasure riding before she started racing, took baby Kiersten on a sled in a soft baby carrier beneath her own jacket shortly after she was born. Later, the opportunity to race was provided to both Kiersten and her older sister, Kyla, and while Kyla passed, Kiersten seized the opportunity.
She started racing with her mom on the grass, initially just learning and testing and then finally, when she reached the accepted age of 13, competing across Canada at different tracks every weekend. Kiersten started in Jr. Novice aboard a 440cc fan-cooled Ski-Doo sled that wasn't too fast and was fairly easy to handle.
"I took off from there," recalled Kiersten. "I was racing against my mom in the top class in 1000cc Open Mod by the time I was 15 or 16. I was racing against people who were 40 years of age. It was really surreal for me, and around that same time, we started racing on the asphalt."
Kiersten recalls that the transition from grass to asphalt was no picnic in the park.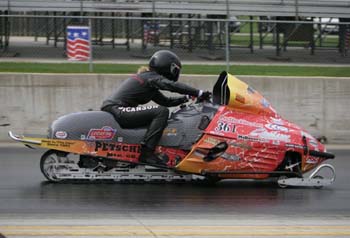 Kiersten aboard her Ski-Doo.
"We stepped into a much bigger pond than we were used to," she said. "On the grass, we had really dominated, and we'd found our groove and been riding it for four or five years. When we started racing asphalt, it was a whole different level of competition, and it took us probably two or three years before we really found the groove that we're in now. It was very, very difficult."
As something of a trailblazer in the class, Tiina was accustomed to challenging situations. She got the urge to race sleds in the mid-1990s when she and her husband, Peter, saw a couple of young ladies running Stock. Though she'd never drag raced anything before, Tiina says that she thought to herself, "Wow, I can do better than that."
Soon after, she purchased a sled for her hubby to use during the winter that she could race in the summer, and that was the beginning. Peter became her crew chief and Tiina started racing on grass, progressed quickly and incorporated ice racing into her schedule, and then stepped up to the asphalt six years ago.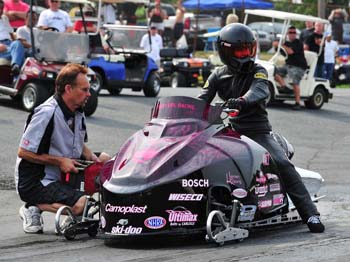 Peter and Tiina at the starting line.
"When I started, there were a couple of women in Stock, but there were no women in Improved Stock, Pro Stock, or Open Mod," said Tiina. "That was an area no woman had ever gone, and it was very difficult in the beginning. At first it was like, 'Whose wife is that?' even though it was my team that I had built. The sponsors were worried, initially, that because you're a woman you're going to get hurt. And I have crashed; I think in the beginning you take more risks because you have something to prove. I felt that I was breaking ground for anybody behind me."
She doesn't give her any breaks on the racetrack, but Tiina's efforts have definitely laid the foundation for many more years of competitive sledding for her daughter. Of all the challenges Tiina has had to face, though, perhaps one of the toughest has been finding the balance between being a mom and a rival.
"It was very hard to let her grow and not be worried, and to also be a competitor against her. I remember the first time she was ever on a 1000cc Pro Stock on the grass, and it wheelied. I was in the next lane, and there was a split second where I thought, do I stop or do I go. So you know, of course I went," she laughed. "You do that mothering and protecting thing, but at the same time, she is a racer, and she is a very capable driver."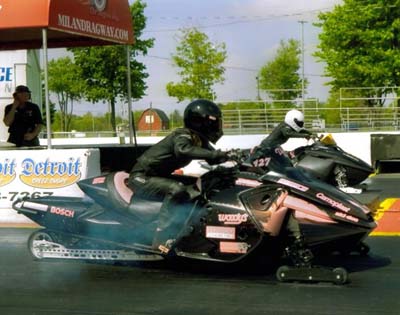 The Duncanson ladies racing
at Milan Dragway.
Kiersten admits that because she has watched her mom race for all of her life, she knows exactly what her weaknesses and strengths are, which can be good and bad.
"There is a lot of jokey-jokey, and I know how to push her buttons and she knows how to push mine," said Kiersten. "We've become extremely competitive, but it hasn't gotten in the way of the mother/daughter relationship. We know how far we can push each other.
"She taught me everything I know. I'm a way better driver because I've raced her and learned as a competitor how she races and how to pick flaws from people and use them as an advantage. I've learned all of that from my mom, and I wouldn't be anywhere without her. She's been a huge influence on my racing career."
Kiersten also sang praises for her dad, Peter.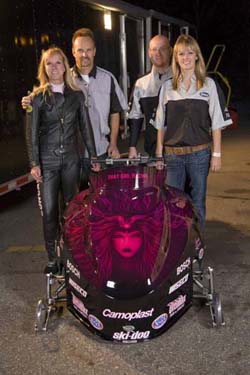 Tiina, Peter, Kiersten's head mechanic and
fiance Jeremy Hannen, and Kiersten.
"We get all the glitter and glam from this, but he is the absolute backbone of the team. He keeps everything going and he does it all by himself."
As the first to earn the championship, Tiina gratefully acknowledged the support of her family and Mike Crooks (for whom she competes on the ice in the winter) as well as sponsors Wiseco; K&N Filters; Bosch; Ski-Doo; Camoplast; Digatron; Carlisle Rubber; V-Force; Pro-Stock, Inc.; Woody's; Sledpro; Yourway Auto Repair; Teds Bearings; and Hannen Racing.
"[Last season] was just perfect," Tiina reflected. "We won the first Wally, and no one is ever going to top that or take it away. We also set the NHRA record for the quarter-mile time for Pro Stock Snowmobile at 8.27 at 157 mph. And we got the championship.
"My daughter thinks I should retire; I've had my best year ever," she laughed. "But in the summer we're booked for 11 races. We could do more and have a lot of invites [from other organizations], but I really want to put all of my eggs in the NHRA basket right now."
Kiersten took the winter off from racing on the ice to focus on her nursing studies at Baxter College in Michigan but will return to the asphalt in the summer. She thanked her parents for helping her begin and continue racing and her fiance Jeremy for supporting her and helping her make her dreams come true. She also thanked Steve Petschke, the owner of the Petschke Racing team that she drives for in the Northeast Division's Pro-Stock, Inc., Pro Stock Snowmobile series.
It's intriguing enough to watch those little sleds swallow up the quarter-mile in just over eight seconds, but Tiina and Kiersten Duncanson infused the first season of Pro Stock Snowmobile competition in the Northeast with a kind of drama that makes the astute spectator really want to tune in for more. Fear not, there isn't much longer to wait; the first of six Pro Stock Snowmobile races in Division 1 is scheduled for April 8-9 at Atco Raceway in New Jersey, and the 2011 title is up for grabs. Challengers should be forewarned, however: the reigning champ isn't one for showing mercy. Even when it comes to her own kin.




NHRA: 10 Most Recent Entries [ top ]

Apr 24- CHARLOTTE 1 - Steve Torrence Enjoying Four-Wide Success Heading to NGK Spark Plugs NHRA Four-Wide Nationals
Apr 24- CHARLOTTE 1 - Fact Sheet
Apr 24- Kalitta Motorsports Welcomes NASCAR Stars to the SealMaster Track Walk in Charlotte
Apr 24- zMAX Dragway Celebrates 10th Anniversary
Apr 24- CHARLOTTE 1 - NGK Spark Plugs NHRA Four-Wide Nationals Brings 40,000 Horsepower Thrill Show to zMAX Dragway
Apr 23- HOUSTON - Lucas Oil Drag Racing Series Wrap Up The NHRA Lucas Oil Drag Racing Series Wrap Up
Apr 23- CHARLOTTE 1 - J.R. Todd Aiming for Two Four-Wide Racing Wins in 2018
Apr 23- Mid America Dragway Joins NHRA Member Track Network
Apr 23- HOUSTON - Special Awards
Apr 23- HOUSTON - Sunday Video