Thu, 27 Jan 2011, 11:08 AM



Building The Hitman



By Kelly Wade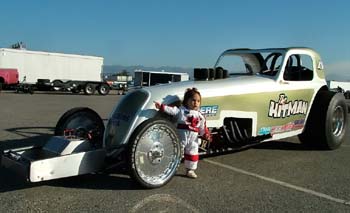 Chatterton's daughter Theresa,
with his '37 Fiat Topolino
Photo by Race Day Images
While Full Throttle and Lucas Oil Drag Racing competitors are still gearing up for the season ahead, drag racing is already underway for the Pacific Division's Summit Racing Series, and nothing could make George Chatterton III happier. You see, he spent a lot of time building his super unique '37 Fiat Topolino, and it really isn't much fun at all to watch it sit idle while racing is on hold.
Chatterton, who has been racing his prized eye-catcher since 2005, recently took to the track at Auto Club Dragway at Fontana for the first two Summit Series races of the season with wife Rachelle, daughter Theresa, and son Trevor in attendance to cheer him on. He races the stretched Fiat in the Pro category and is a regular head-turner as he wheels "The Hitman" across the finish line at a time of 8.60 at right about 150 mph almost every single pass.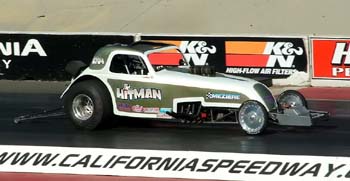 George Chatterton III
Photo by Race Day Images
"It's a fun car," said Chatterton, who made the trip north to Fontana from his home in Escondido, Calif. "It shakes and rattles, and it's definitely not boring to drive, but I don't have to worry about getting down the track. I worry a lot more about losing. Some people look at this and go, that's scary looking. I say, you know what's scary, not driving this."
Chatterton built the car with good friend Harold Meziere of Meziere Enterprises, a company well known in the racing industry as a reputable producer of speed equipment. The Mezieres are family friends of the Chatterton clan, and when Harold offered to help build the car, Chatterton gratefully accepted.
It took about two years to complete, and the build time was restricted to after-hours; Chatterton would put in a full day of regular work and then throw in a couple of hours working on his project. Thankfully, he had help.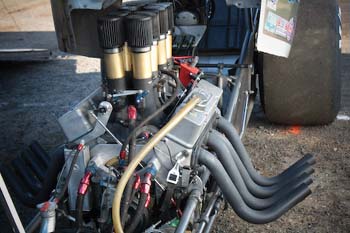 This small block Chevy has been in each
of Chatterton's cars, from the 10-second Camaro
to the Fiat, which runs 8.60 in the quarter mile.
"Machine Tech in Oceanside takes care of the engine. Monty Woodard is the owner down there, and he set up the fuel injection on the car and gave me such a reliable piece," he said. "Cliff Whynaught does the transmission, and he's probably done half of the cars at the track in Barona and at the old Carlsbad Raceway. Harold Meziere helped me build the chassis and I did the body myself with Roy Sommers helping me stretch and shape it with the longer nose. Even some of the people we race with at the track came over and helped build the car. We're ham and egg kind of people, and the only reason we get to race is because of the people who help us keep that car running. Without all of them, we couldn't do this."
The car was born from a Mark Williams kit for a funny car chassis. Chatterton says that he didn't have much experience with the blueprints that were delivered in a cardboard tube, and that was where Meziere stepped in.
"Harold taught me how to take the picture on the paper and make it real, make it life-size," recalled Chatterton. "We made that thing, and he had me make it perfect. He was a big influence on how to make it safe and legal, and Harold made sure that the chassis is so good that there are no issues when we go to tech. It really is perfect."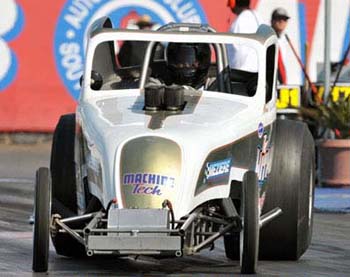 Chatterton III at Bakersfiels
Photo by Auto Imagery, Inc.
The car has a 125-inch wheel base, and it's all rigid with no suspension. The engine is a 406 small block Chevy with Crower mechanical fuel injection, and it makes 620 horsepower on the dyno. Chatterton runs a Turbo 400 3 speed, it has an all-aluminum Mark Williams rear end, and the Mickey Thompson tires on the back are 32 x 16 - 15.
"It has gone 114 in the 60 foot, it hits 100 in about 3 1/2 seconds, and it pretty much always goes straight," said Chatterton.
The competency and effective pairing of the car and driver were immediately evident; in 2005, the first year he raced the Fiat, Chatterton won the track championship at Barona Drag Strip and earned the right to compete in the Race of Champions at the Summit ET Finals in Phoenix, where he was runner-up.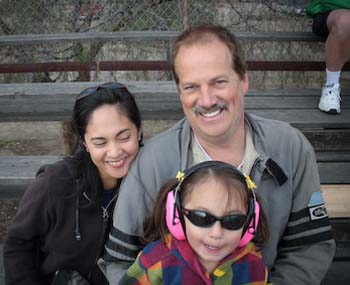 At the track with his wife
Rachelle and daughter Theresa
Chatterton has raced and won in PSCA events; he was the winner in the 2009 and 2010 PSCA Finals in Fontana. He has also driven the car in the Goodguys Series and finished in the top three in the NHRA's Heritage Series in his first season.
"We do fairly good in the nostalgia drags because it's kind of a natural car for that deal," said Chatterton. "Right now, we're getting ready for the March Meet. That is my focus, and it's the race that means the most to me. We were No. 1 qualifier at the 50th running of the March Meet, and that was pretty cool. We went to the semis last year, and it seems like every year we've gotten a little closer to a win. I'm hoping that this is our year."
The affection for racing was passed down through Chatterton's family; his father, George Jr., used to haul his five sons to the dragstrip twice a week in the family station wagon with the racecar on an open trailer - every week. George Jr. raced a '32 Ford coupe and won quite a few trophies, and he also raced a AA/Gas front engine dragster that he touted as one of quickest gasoline-powered dragsters in 1969 with a 6.96 at 203 mph best. But when duel engines dragsters came onto the scene, they edged out George Jr.'s rail and he began building street rods.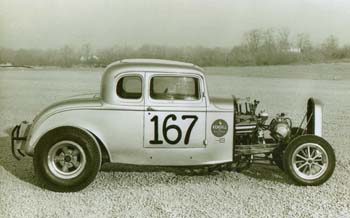 The triumphant 32 Ford Coupe
driven by Chatterton's father, George II.
According to Chatterton, racing left the family for a little while until he started racing in 1999. He bought a 10-second '68 Camaro and raced like crazy at Carlsbad Raceway, a historic drag strip that, sadly, shuttered its doors in 2004. In 2001, Chatterton was the Outlaw Bracket champion there in non-electronics, and for a little while he also drove a '33 Willys Sedan Delivery, which he called "a pretty wild car." The Willys has since gone to greener pastures after being crashed by another driver at last year's March Meet.
"How the Fiat came about was that I looked down the lane one day and saw about 20 other Camaros and I thought, I need something different," said Chatterton. "The Camaro ran 10-flat at 133 mph, and we wanted to go a little faster. There were only two ways to get there: either lose some weight off the car or spend a lot of money on an engine. That engine is the common thread that has been in all my cars, and it's all I can afford, so we said okay, let's lose the luggage. I remembered from when we were kids, those Fiats were pretty cool.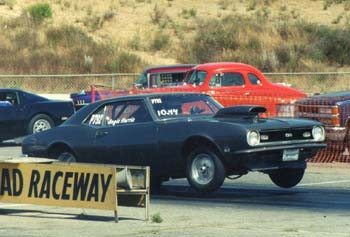 Chatterton's '68 Camaro
at Carlsbad Raceway.
"The Camaro weighed probably 2,800 pounds, and this car weighs 1,600 and with me in it, 1,850. We went from 10 seconds to 8.50 seconds without doing anything to the motor. If you ever tried to spend money making a car go a second and a half faster, that's probably 10 grand. When that breaks, it's another 10 grand. My thought was, I can't afford to do the set-up for that much, and then if it broke that would be the end of it. We'd be done."
Chatterton now has a grand time hauling The Hitman to the races on an open trailer, just like his dad George Jr. toted his own racecars back in the 1960s. Chatterton says he learned a lot from his dad about how to run his program, and that's why he opted for an open trailer.
"It just seems like the way it should be," said Chatterton. "What I also noticed was that dad had a lot of friends. Whenever anyone had a problem, the friends would say, let's fix that car. Rachelle and the family always go to the track with me, and the family part of it is really neat. The people we race with have families, too, and our kids get to see each other at the track. We have a lot of fun racing, but if we lose, it's still fun because we get to hang out with our friends.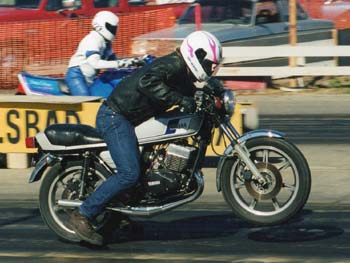 The Southern California-based racer
has also competed on two wheels.
He rode his '78 Yamaha at Carlsbad Raceway.
This year the Chattertons will be spending plenty of time at the track as they intend to run the full Summit Series and shoot for a championship. As Chatterton says, "We like to run for Championships."
And what a lucky guy to get to run for the big money in such a cool car. He knows it, though.
"My 10-second Camaro required more attention than this one does," he said." It's a joy to drive, it's fun, it's exciting, and it's absolutely everything you'd ever want in a race car."




NHRA: 10 Most Recent Entries [ top ]

Apr 19- HOUSTON - Friday Schedule
Apr 19- Tige Boats Named Presenting Sponsor of E3 Spark Plugs NHRA Pro Mod Drag Racing Series Portion of NHRA SpringNationals
Apr 19- HOUSTON - Previous Success, Early Win has Funny Car's Courtney Force Excited
Apr 18- Haney Headed for NHRA Pro Mod with Summit Racing on His Side
Apr 18- HOUSTON - Richie Crampton Enjoying Early-Season Success Heading to 31st Annual NHRA SpringNationals
Apr 18- 2018 Mustang Cobra Jet Celebrates 50th Anniversary of Racing Legend with Quickest
Apr 18- New Ford Mustang Funny Car Scheduled to Debut In 2019 NHRA Mello Yello Season Opener
Apr 16- HOUSTON - Fact Sheet
Apr 16- HOUSTON - After Early-Season Mishap Funny Car's Jonnie Lindberg Looks to Get On Track