Fri, 21 Jan 2011, 01:06 PM



Perseverance Pays Off



By Bob Frey


Photo copyright 2011 Auto Imagery, Inc.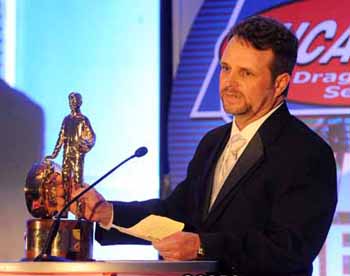 David Tatum III at the
Lucas Oil Championship banquet.
It's no secret that a lot of racers begin each season with the intention of winning a divisional title, the national championship or both. It's also no secret that by the end of May, or even earlier, a good percentage of those racers are already out of contention, if not mathematically at least realistically. And it's no secret that the way the points are calculated in the Lucas Oil classes you can sometimes go to the last two races of the year with a bunch of drivers still alive for the championship, and you can also go deep into the season without having a clear picture of who the top contenders are. Now that may be the scenario in a lot of years but it wasn't the case in 2010, at least not in one class. In Super Gas, one driver put a bunch of points on the board early in the year and then just sat back and waited to see how his competition would do. They did well, some making a late season charge, but in the end the 690 points that this driver put on the board were just too many for anyone to overcome, and that included a couple of very good racers like Mike Ferderer, Val Torres, who both scored over 600 points but were far behind the leader. Rock Haas, Michael Miller and Tommy Phillips also had shots late in the year to catch or pass the leader but they really needed to win a lot of rounds in Las Vegas (the last divisional race) and Pomona (the last national race) if they wanted to win it all. David Tatum III has been racing for a long time but he never had a year like 2010, a year when he scored 690 points and won the Super Gas World Championship by a bunch. A "bunch," by the way, is eighty-seven points, David's margin over Mike Ferderer, and that's the most points a driver has won the Super Gas championship by since Danny DiVita beat Mike Mazza by 107 points in 1983. Also for the record, points were scored differently in '83, but take my word for it, the margin, adjusted for today's scoring, was 107. Anyway you look at it or score it 2010 was a career year for David Tatum III.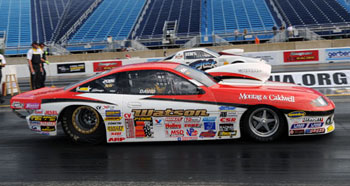 David Tatum III
David Tatum carries on the namesake of his father and grandfather and he carries on the racing tradition that was started by his father. "My dad used to race and he'd take me to the track and I'd watch him from the tower. I guess you could say that he gave me the sickness. I always knew that I wanted to race." And while the elder Tatum competed in Super Stock and Modified Eliminators, the "III" has always been a bracket racer. "I'd love to run some class cars one day," David said. "But right now I've got my hands full with the car I have." That car, a 2005 Chevrolet Cavalier, is owned by David's good friend, David Watson. "I used to see him at the races and then we began talking one day and he suggested that I take his car to Indy. Well, one thing led to another and I did and I made it down to the quarter-finals before losing." David didn't drive the car for another calendar year until Mr. Watson suggested another trip to Indy. "That's the year that I won Indy," David said. "It was a great day." He came close to winning Indy again this year but was beaten by Shawn Langdon in the final round. "I really thought I had that one," he said. "Shawn's a good racer but I really feel that I let that one get away. If I could have won that and the All Star race it would have been a great year." As it is, 2010 wasn't too bad for the man who has been racing for over twenty years.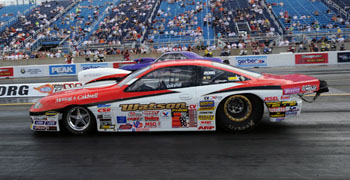 David Tatum's career as a driver began in 1987 when he took a Camaro that he drove on the street and went to the races. "It was a nice car, with a 350 engine and I did a lot of bracket racing with it." From there, David changed cars almost as often as the leaves change colors in his home town of Palmetto, Georgia. "Yeah, it seemed like I'd get a new car every year in those days." Then he got a car from his good friend and mentor, David Simmons. "Between David and my dad I learned a lot and they gave me a really good foundation for racing." That car must have been special because David kept it for a number of years and he had some good seasons with it. As proof of that he finished in the top ten nationally four times and won a couple of Division 2 championships. Still, that big prize, the national championship, continued to elude him. "I have to admit that it's something I thought about a lot. I wanted to win it before I retired or died." He also admitted to the fact that he thought he was a better racer than the results showed. "It always seemed that I lost the close races, the ones that could go either way for a thousandth of a second here or there." Even in his championship year David had one of those races. "It was at the Sportsnationals in Columbus," he said. "I remember after the race reading about it in National DRAGSTER. They said that I had the second best package of the event, but the only trouble was that I lost to the guy who had the best package. It just seems to go that way sometimes." That came in round four, a round which David said has given him a lot of trouble over the years. "I went .005 on the tree and ran 9.913 and Billy Smith was .007 on the line and ran a perfect 9.900. I lose a lot of those and they always seem to come in the fourth round."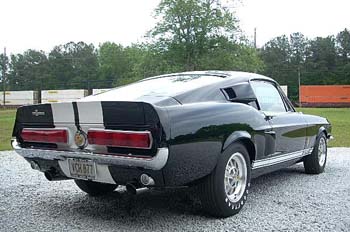 Here is a Mustang that Tatum has restored.
As good as 2010 was for David he may lay low in 2011. "I have always raced hard for a year and then scaled back a bit the next year. I run a business where I restore classic cars. It's a one-man business so when I'm gone the work isn't getting done." He went on to say that it will be tough not to go to the early Division 2 races and the Gatornationals, but he plans to stick to his schedule. "If I go and do well at those races I'll get caught up in the excitement again and I'll be on the road a lot. I have some work that has to be done so, right now, I plan to stay home."
David Tatum's run for the championship just proves that persistence and perseverance do pay off. He's been racing for over twenty years and has had good years, but nothing to rival what he did last season. "It's a dream come true and a season that was better than I imagined. Although I do have to tell you, at the beginning of the season I told Mr. Watson to make some plans for Pomona because we were going to run for the championship." Maybe he should tell Mr. Watson to do it again this year, after all, he has a good car, a lot of experience and a championship to his credit and that's a tough combination to beat.




NHRA: 10 Most Recent Entries [ top ]

Mar 22- LAS VEGAS 1 - Defending Funny Car Winner Tommy Johnson Jr. Excited for Four-Wide Racing
Mar 22- NHRA Northwest Nationals Tickets on Sale Now
Mar 21- LAS VEGAS 1 - Fact Sheet
Mar 21- LAS VEGAS 1 - Event Preview
Mar 20- Strong Stable of Contending Pro Stock Racers Vie for Final Starting Position for K&N Horsepower Challenge
Mar 20- GAINESVILLE - Special Awards
Mar 20- GAINESVILLE - Lucas Oil Drag Racing Series Wrap Up
Mar 19- GAINESVILLE - Sunday Video
Mar 18- GAINESVILLE - Pro Mod Sunday Wrap Up
Mar 18- GAINESVILLE - Sunday Wrap Up