Mon, 10 Jan 2011, 02:18 PM



Champs in the Land of the Leaders



By Kelly Wade


Photo copyright 2011 Rich Carlson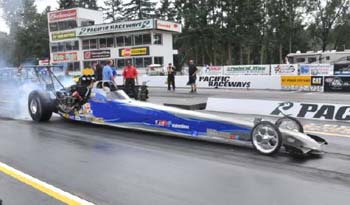 Mike Austin
Racing in the NHRA Northwest division was pretty thrilling this season, and in a couple of categories, the title chasers made it incredibly close. After the last car went down the track, the winners were crowned: Mike Austin (Top Alcohol Dragster), Brian Hough (Top Alcohol Funny Car), Aaron Strong (Competition Eliminator), Craig Olson (Top Sportsman), and Brian Phillips (Top Dragster).
After finishing 9th in the division last season, Austin, of Medford, Ore., greatly improved his program and made an impressive showing in final rounds, winning in four of five appearances and making it very difficult for defending Top Alcohol Dragster champion Shawn Cowie to keep up despite his own remarkable run. The chase was fun to watch, as Cowie piloted his rail to the final round at eight events and made his way to the winner's circle three times.
As an interesting sidenote, each driver also won one national event: Austin reigned at Maple Grove Raceway in Reading, and Cowie was triumphant at The Strip at Las Vegas Motor Speedway in the spring.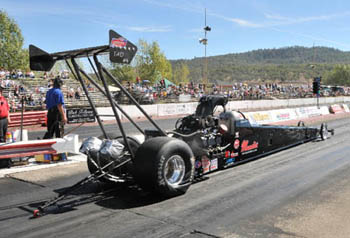 Shawn Cowie
Austin began racing before competition in his own division would begin, traveling south to the Division 7 event in Tucson where he was unable to produce much for his troubles. Cowie, not to be left behind, was also in Tucson and went to his first final round of the season to garner an early edge. Both then attended another Division 7 meet, this time in Fallon, Nev., where they met in the final round and Austin got the win light. The eventual title winner spent the next five events racing in the division while Cowie mixed it up some, heading to Sonoma after the Northwest points meet at Woodburn Dragstrip and then making his way to Earlville, Iowa, following the Seattle final at Pacific Raceways.
The two were neck and neck all season, allowing Joey Severance to get a foot in the door briefly with the Woodburn title and then a runner-up in Medford, Ore., at Champion Raceway.
As the season wound down, Austin barely made noise in Medford while Cowie won the event, and so a trip out of town was in order. Austin towed his program up and over to the Division 1 meet at Atco Raceway in New Jersey and it paid off when he got the win. Cowie made his way back to Las Vegas for the Pacific Division race with hopes of a repeat of his national event win earlier that year, but he exited in the second round. Austin won the division with 404 points to Cowie's 383.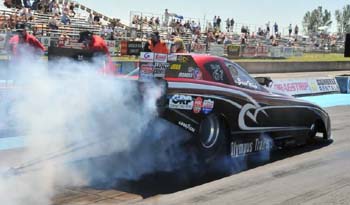 Brian Hough
Hough earned the Northwest Division's Top Alcohol Funny Car championship title for the fifth consecutive year and was almost perfect in final rounds, racing to victory four times in five appearances. The Junction City, Oregon-based ace qualified No. 1 at the Mission Raceway event that was delayed by a bunch due to the familiar wrath of Mother Nature and beat John Evanchuk. Hough, again low qualifier, defeated Jeff Ashwell in the Woodburn final round and was runner-up to Clint Thompson, who was quickest in qualifying, in at Spokane, Washington's Spokane County Raceway.
In Seattle, Hough stopped West Covina, Calif., racer Steve Gasparelli, and at the season closer in Medford, the soon-to-be champ only had to stage his car when Shane Westerfield was a no-show in the final. Hough tallied a lofty 404 points towards the championship, while Thompson had a notably quick car and finished second with 246 marks. Ashwell was No. 3 with 204.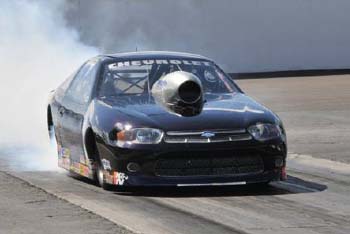 Aaron Strong
Former Comp Eliminator champ Jeff Lane put together a solid season in the division, including driving his B/SMA Cobalt to victory over Northwest standout Rob Harrison in the division opener and reeling in another title later in the season in Spokane. Trouble is, a lot of guys were making good decisions and had great cars in the Northwest, relegating Lane to fourth place when it was all said and done.
Strong, in his F/A Cavalier, matched Lane's pair of trophies with back-to-back wins in Seattle and Medford after a very consistent run of single-round races and was christened the Division 6 Comp champion with 306 points - just one tiny point ahead of Puyallaup, Washington's Brandon Huhtala whose season was highlighted by the gold in Woodburn and a runner-up to Strong in Seattle. Harrison was oh-so-close behind in the No. 3 spot with one win in three final rounds.
There was plenty of out-of-division racing going on as the hitters fought tooth and nail to end in the limelight. The Las Vegas points meet was the decider. Strong went out fairly early and watched as Huhtala and defending Division 6 champion Doug Lambeck gave it their best, and when both were done in the third round, the championship went to Auburn, Wash., racer Strong. Patrick Byron was fifth in the division with Lambeck finishing sixth.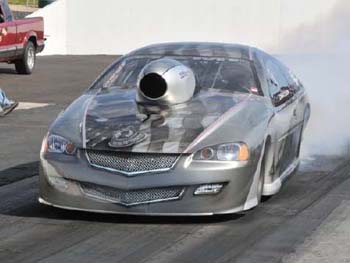 Craig Olson
While Top Sportsman second place finisher Michael Strickland ventured out to eight events this season and No. 3 guy Spencer Martin pushed out to nine, Camano Island, Washington's Olson won the division with a total of six efforts to claim his best five. The season was off to a respectable start for Olson with a semifinals performance in Boise at Firebird Raceway, and in Seattle he scored points for a final round visit next to the event winner hailing from Fort St. John, B.C., Darryn O'Connor.
O'Connor made big waves as the only driver in the category to repeat wins in the division; he was also victorious at Mission Raceway Park. Notably, the two events won by O'Connor were the only two he and his '04 Cavalier competed in last season.
Following the race at Pacific Raceways, Olson stepped out of the division and traveled to Noble, Okla., where he was unsuccessful in terms of round wins. To claim the crown, he knew he needed to keep going and so headed west to The Strip at Las Vegas Motor Speedway. The travel was worth it when Olson won three rounds in his '07 Stratus and brought in enough points to finish the hunt. Martin was in Vegas as well but bowed out in the third round and saw his title hopes evaporate.
Barry Daniluk looked ready to pose a serious threat when he won the season opener in Boise, and he closed out the year in the No. 4 position, while Daryl Hemley consistently won rounds to earn the last spot in the top five. Last season's Northwest champion, Randy Johnson, took the title in Spokane to finish sixth in the division.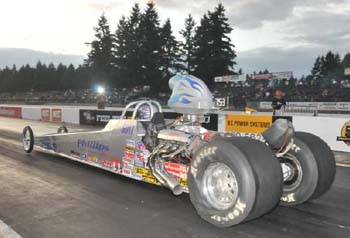 Brian Phillips
In the Top Dragster chase, Phillips, of Prosser, Wash., steadily marched through the season, picking up round wins here and there until Seattle when he burst onto the scene with a final round victory over Scott Taylor. He tallied points for another couple of rounds at the Division 7 meet in Bakersfield, Calif., and it was all he would need. Marc Heritage and Phillips would both take to the track at the Pacific Division Las Vegas meet to try to capture quickly dwindling available points, but neither were successful, and Phillips was crowned the champion with 288 points to his challenger's 269 that was good for theNo. 2 position.
No. 3 finisher Mike Henderson entered the Northwest season already with an advantage due to an out-of-division final round earned at Tucson, Arizona's Southwestern Int'l Raceway. Dan Lafferty of Wendell, Idaho, was first to visit a Division 6 winner's circle when he piloted his dragster to victory in the first event in Boise and the only event he would compete in as a Top Dragster competitor all year, and at the second points meet of the season, held at Mission Raceway Park, John Chitwood, of St. Helens, Ore., defeated Heritage in the final round to earn his moment in the spotlight. Heritage would finish the season as the only driver in the top five to reach two final rounds; he also was runner-up in Medford. Randy Pressel's victory in Spokane set the Colton, Ore., resident in fourth place as the season drew to a close.
The Northwest Division championship stories will be continued in this space soon.

Division Six Top Alcohol Dragster Top Ten Point Standings
Pos Driver                    Points Events
1   Mike Austin                 404   8 
2   Shawn Cowie                 383   9 
3   Joey Severance              247   6 
4   Donald St.Arnaud            118   4 
5   Dale Carlson                107   3 
6   Bill Edwards Jr.             86   3 
7   Leo Grocock                  32   1 
7   Brandon Johnson              32   1 
7   Gregg Lawrence               32   1 
7   Greg Sereda                  32   1 

Division Six Top Alcohol Funny Car Top Ten Point Standings
Pos Driver                    Points Events
1   Brian Hough                 404   7 
2   Clint Thompson              246   6 
3   Jeff Ashwell                204   5 
4   Sean Bellemeur              128   4 
5   John Evanchuk                64   1 
6   Larry Miner                  43   1 
6   Ken Webster                  43   2 
8   Dave Germain                 42   2 
9   Jim Peters                   32   1 
9   Nathan Sitko                 32   1 

Division Six Competition Eliminator Top Ten Point Standings
Pos Driver                    Points Events
1   Aaron Strong                306   8 
2   Brandon Huhtala             305   8 
3   Rob Harrison                297   8 
4   Jeff Lane                   284   7 
5   Patrick Byron               254   8 
6   Doug Lambeck                230   8 
7   Casey Plaizier              209   5 
8   Adam Bowdish                208   5 
9   Bob Marshall                177   4 
10  Dale Giroux                 148   3 

Division Six Top Sportsman Top Ten Point Standings
Pos Driver                    Points Events
1   Craig Olson                 281   6 
2   Michael Strickland          271   8 
3   Spencer Martin              263   9 
4   Barry Daniluk               259   6 
5   Daryl Hemley                253   7 
6   Randy Johnson               230   6 
7   Jake Neibauer               198   5 
8   Darryn O'Connor             190   2 
9   Frank Nelson                185   5 
10  Andy Cawte                  173   5 

Division Six Top Dragster Top Ten Point Standings
Pos Driver                    Points Events
1   Brian Phillips              288   8 
2   Marc Heritage               269   8 
3   Mike Henderson              267   8 
4   Randy Pressel               246   5 
4   John Chitwood               246   5 
6   Moe Trujillo                236   10 
7   Tom Koenen                  235   9 
8   Craig Olson                 226   6 
9   Greg Carlile                225   5 
10  Jeff Evans                  217   5 





NHRA: 10 Most Recent Entries [ top ]

Apr 18- Haney Headed for NHRA Pro Mod with Summit Racing on His Side
Apr 18- HOUSTON - Richie Crampton Enjoying Early-Season Success Heading to 31st Annual NHRA SpringNationals
Apr 18- 2018 Mustang Cobra Jet Celebrates 50th Anniversary of Racing Legend with Quickest
Apr 18- New Ford Mustang Funny Car Scheduled to Debut In 2019 NHRA Mello Yello Season Opener
Apr 16- HOUSTON - Fact Sheet
Apr 16- HOUSTON - After Early-Season Mishap Funny Car's Jonnie Lindberg Looks to Get On Track