Fri, 31 Dec 2010, 09:16 AM



It's A Mental, Fiscal and Mechanical Thing



By Bob Frey


Photo copyright 2010 Auto Imagery, Inc.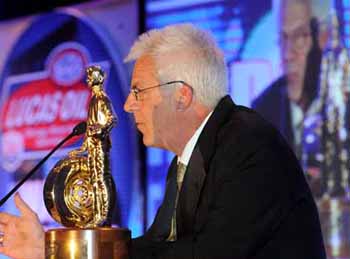 Al Ackerman
Competition Eliminator has been part of the NHRA scene for as long as Top Fuel. In truth, it has been around even longer. There have been 688 races that included Top Fuel and 690 that have featured Competition Eliminator. Most people are familiar with the great stars of the dragster class, with names like Garlits, Amato, Schumacher, Dixon and others being household names among drag racing fans. Those same fans, however, may be hard pressed to name some of the early greats who visited the winner's circle as a Comp Eliminator champ. In that group are such stars as Tony Nancy, Pete Shadinger, Chico Breschini, Don Enriquez, George Montgomery and so many more. Among the contemporary winners are Larry Pritchett, David Nickens, Todd Patterson and David Rampy to name just a very few. If you win in Comp you have accomplished a lot in this sport, and while a lot of those who I just mentioned won races not all of them won the national championship. To do that you have to have a good car, a good driver, a great team and, some will say, a little luck. The 2010 Lucas Oil World Champion in Competition Eliminator had all of those ingredients as he put together one of the best years in class history.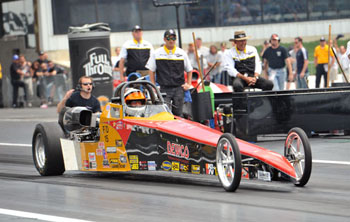 Al Ackerman
Al Ackerman, from Saddle Brook, NJ, is the 2010 champion and he did it in style. His 717 points are second only to the very impressive 718 that Bruno Massel put up last year, and his margin of victory, 127 points, is the largest in the history of the class. And all of that success comes from a car that only has four cylinders and 176 cubic inches. "I've been running in the F/ED class since about 1995," Al said. "I've had this car since 2005." When asked why he chose this particular combination he added," It was really for financial reasons. When I came back to racing, after taking a few years off, I wanted to race but I didn't have a lot to put into the car, so I found the least expensive way to get into Comp." He has made that decision and that investment pay off handsomely. In 2010 Al had a season that most racers just dream about. "To be honest I never thought we would win the championship. I always hoped we would and I always thought we could, but you know, it's not easy to win a championship in any class, especially Comp." Al said that the little idiosyncrasies of Comp are what make it so exciting and challenging. "There's a lot of luck involved, like who you end up racing, how the ladder breaks out, who hit their index before you race them and things like that."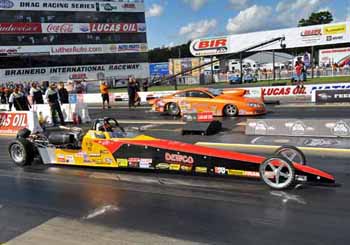 Ackerman vs. Lou Ficco Jr.
in Brainerd final.
That "index" thing is something that Al had on his mind when he mapped out his schedule for 2010. "It's tough to race when you have a fast car," he said. "You go to those 'mind-shaft' tracks with great conditions and you're more worried about hitting the index than you are winning the race. So we started later this year than usual and went to some tracks where we thought it would be hot and humid and it worked out." Among those tracks were the divisional race in Cordova and the national event in Brainerd. "When we won the Cordova race it really gave us some momentum," he said. "It gave us some points on the divisional level and renewed our confidence. And then when we went and won Brainerd we knew that we had a shot at winning it all."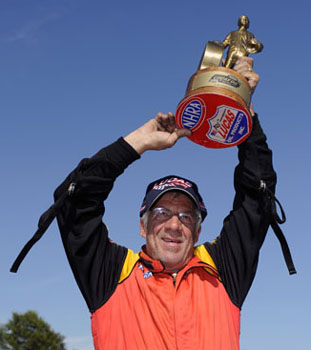 Ackerman celebrates Indy win.
For a man who has raced as long as Al has, and he goes back to some of the early days at Island Dragway where he raced against some of the top drivers in the sport, there has to be some turning point, some moment during the year that made the difference between just racing and winning. "I've been asked about that a lot," Al said. "And it has to be the articles in National DRAGSTER. Bruce Deveau writes a column called 'The Racer's Mind,' and in it he talks about different things and different approaches that people take toward everything, racing, life, you name it. I read several of his articles and he talked about the mental approach to racing. How if you put a lot of pressure on yourself it can hurt your performance, and if you relax a bit, well, you can do better." After reading that Al says that he went to the races with a completely different attitude. "I went to the track and said I'm going to have fun and enjoy myself. If we qualify that's good, if we win a round that's good. But if we don't, we still enjoy the experience. Now I don't know if that was the single reason why we won but I will tell you that it made a difference."
Ackerman vs. Bruno Massel
in Indy final.
Once he had the mental part of it down all Al had to do was concentrate on the track and not make any mistakes. "We were pretty fortunate to have the car running well this year and limit our mechanical troubles. I got a pretty good handle on the clutch set-up this year and that really helped, too." Stringing together back-to-back national event wins in Brainerd and Indy didn't hurt, either. At Brainerd, working with an all volunteer crew, Al beat a very good field that included Lou Ficco in the final round. Then, in Indy, the most grueling of all races for Competition Eliminator teams, Al made it through the sixty-four car minefield only to find the reigning World Champion, Bruno Massel, waiting for him, and when the champ fouled out it paved the way for Al to get all the points he would need to win the Lucas Oil crown.
Once he had competed at the maximum number of races allowed for points, Al decided to go West and race in Las Vegas and Pomona. "We didn't do real well at either of those races," he said. "In fact, we broke both times. But by then I knew we had the points to win it and I just wanted to have fun. Plus, my sons and my family all got to come out and see us race and that was the biggest thrill of all." Now that's saying a lot for a guy who just won the World Championship, but it's also keeping everything in its proper perspective, and as Al says, that's the key to a wining combination, both on and off the track.




NHRA: 10 Most Recent Entries [ top ]

May 21- TOPEKA - Pro Mod Championship Points
May 21- TOPEKA - Monday Video
May 21- TOPEKA - Monday Pro Mod Wrap Up
May 21- TOPEKA - Monday Wrap Up
May 21- TOPEKA - Championship Points
May 21- TOPEKA - Summary of Eliminations in Top Fuel
May 21- TOPEKA - Summary of Eliminations in Funny Car
May 21- TOPEKA - Summary of Eliminations in Pro Stock
May 21- TOPEKA - Summary of Eliminations in Pro Modified
May 21- TOPEKA - Summary of Eliminations in Top Alcohol Funny Car