Tue, 28 Dec 2010, 11:06 PM



It's Been A Quiet Month



By Bob Frey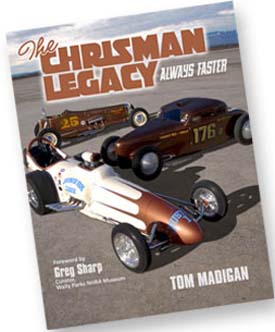 The Chrisman Legacy
I may have mentioned this before, and if I did I apologize, but it's been kind of a quiet off-season so far. There have only been a few rumors, there hasn't been much movement among teams (at least not officially) and not a lot of new names coming into the
Full Throttle
series for 2011. Of course this year is a little different, or next year depending on how you want to look at it, because of the late starting date for the new drag racing season. The Winternationals won't kick off until February 24, 2011 and that's still fifty-seven days away from now, or for the mathematically challenged out there, almost two full months, and that's a long time..I assume that a lot of the deals that are pending, driver's decisions that have to be made, new cars that have to be built and crew chiefs that have to be assigned, will all start falling into place any day now. It better, because while fifty-seven days sounds like a long time to the fans, it's nothing when you have to prepare a team for the grueling schedule that lies ahead.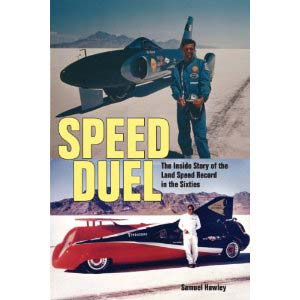 Speed Duel
Since I, like so many others, have had some time on my hands, that is until the snow storm that hit the East Coast today caused me to spend a lot of time outdoors shoveling, snow (not quality time outside, mind you), I have been able to catch up on little reading and it's been very enjoyable. I know last week I mentioned that I was getting a copy of the new book, "
The Chrisman Legacy
," as a present for Christmas. Not a surprise, of course, after forty-two years of marriage there aren't a lot of surprise gifts, but I was really looking forward to it. Well, now that I have it I have to say that I am not disappointed. I got one of the limited edition "Winner's Circle" volumes that is signed by
Art Chrisman
,
Tom Madigan
, the author, and
Ed Justice Jr.
who saw the project through to its completion. For those of us who love the early days of the sport, and the true pioneers like the Chrisman family, this book is a "must have." It's well done, beautifully illustrated and contains a lot of historical information. I recommend it to any racing fan, drag racing or otherwise....I also was given another book, one called
"Speed Duel,"
that has to do with the "inside story of the land speed record in the sixties." It's all about the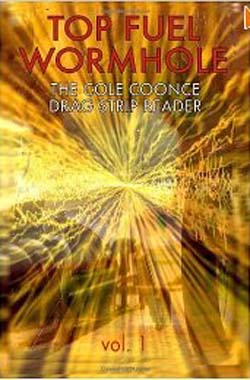 Top Fuel Wormhole
quest for the breaking the speed barriers on the salt flats and it centers on the battles between
Art Arfons
and
Craig Breedlove.
I haven't finished it yet, but from what I have seen it looks like it should be a fun read, too....Of course I still highly suggest you pick up a copy of
Cole Coonce's
book,
"Top Fuel Wormhole"
if you want some really fun reading...And, while I mentioning books, I would like to thank
Joe Hilger
,
the former head of
Mopar Performance,
for hooking me up with a new book titled,
"Proving Ground."
Sub-titled, "A History of Dodge, Chrysler, and Plymouth Racing," it is basically a look at the history of Mopar's involvement (or Chrysler Corporation's involvement) with motor racing. And even though it has a NASCAR picture on the cover, there are lots of great drag racing photos, stories and historical moments featured throughout the book. For a guy or girl who loves drag racing, and really loves those classic, big, honkin' Hemi cars, this book is perfect. In addition to the classic Hemi cars that you would expect to see a book of this type, drag racing fans will be glad to note that there are also pictures of
Bucky Hess, Charlie Westcott Jr.
and a few others participating in the Hemi-Shootouts at Indy. Cool, huh?
Jim Schild
is the author and you can find it right now on
Amazon.com
. Hey, there's bound to be some more snow if you live in the East or rain if you live out West, so do what I did and be prepared. When winters socks it to you, sit back and enjoy a good book on racing.
I don't know how many official test session have been planned or will be planned yet for the new year but I do understand that there will be one held at
Palm Beach International Raceway
the first weekend in February. In fact, if everything I hear is correct, there will be several major teams testing and they are even going to open the track to the public on one night for an evening session. That should be fun and it may be all the reason I need to go to
Florida
in
January or February (as if you really need a reason to go to
Florida
when it's snowing up north). More details about the event should be popping up soon and as soon as they are official we'll pass them on to you...
The Strip at Las Vega Motor Speedway
has on its schedule a "Nitro Blast Off" and "Pro Stock Showdown."
The events, which are scheduled to take place February 18-20, along with a PSCA show, will be the last major test weekend for
the Winternationals. That, by the way, is the same weekend that
Firebird Raceway
will be hosting the Division 7
Lucas Oil Drag Racing
event, the first of the 2011 season out West. As of this time there is no test session planned at Firebird for the pro cars, and if they don't make a last minute change to that, which I don't think they will, it will be the first time in twenty years that the teams did not begin the year with a few days in
Arizona
.
Speaking of testing and new, the two combined earlier this month when Spencer Massey, the new driver of the FRAM Top Fuel car from the Don Schumacher camp, made a couple of good passes in Florida. Testing and getting acclimated to the new car, team and crew, Massey blasted down the PBIR track in 3.797 seconds at 324.67 miles per hour. Those numbers represent one of Spencer's quickest runs and his it was fastest in a dragster. "It was great to get behind the wheel again," he said. I'm sure he added about how neat it is to drive for the "Don,"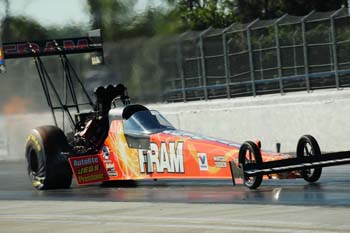 Spencer Massey testing at PBIR
Photo by Roger Richards
after all, if it's part of the Schumacher camp you know that it's going to be a championship-caliber car and team. The fact that Don and his teams select Palm Beach International Raceway as a test location, and so will
Alan Johnson's
team early next year, indicates that it is a good facility, well prepared and has a good safety record. The fact that Spencer ran so well so soon would indicate that the orange car should be a real factor in 2011, just like it was last year. Speaking of which, if
Cory McClenathan,
who drove that FRAM car last year, is not at Pomona it will be just the second time in the last twenty years that Cory has not opened the season racing a Top Fuel car. He sat out most of the 2001 season but, other than that, has been a fixture at the Winternationals since his team made their debut in 1991. I know things change, but it just won't be the same without Cory racing at
Pomona
. In '91 Cory made the field in the tenth spot but broke in round one against
Eddie Hill
. Since that time Cory made it to a couple of finals in 2003 and 2008 but was never able to win at the season's first race.
Did you know
that Cory made eight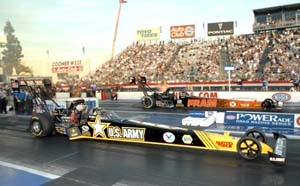 Schumacher vs. McClenathan
in '08 Winternationals final.
Photo by Auto Imagery, Inc.
final rounds last year and that's the same amount as
Tony Schumacher?
Cory has been very good for the sport over the past two decades and I'd love to see him get a ride for 2011. Of course, like a lot of others I would also like to see him win a championship before he retires, but even if he doesn't, he has had a very good career, one that a lot of other drivers would love to have.
Did you know
that before he began his Top Fuel career Cory raced at one Winternationals in the alky dragster class? He did that in 1990 when he qualified fourth and beat
Rodney Flournoy
and
Roger Primm
before losing to the eventual race winner,
Blaine Johnson
.
2011 will be NHRA's 60th year and I'm sure they're going to have a lot of activities going on throughout the season to promote that fact. I know that Pomona and the Winternationals will kick off the celebration and a tribute to Don "The Snake" Prudhomme is already on the agenda. Did you know that Don won the Winternationals five times? He won the race in 1965 in Top Fuel and then took the Funny Car crown in four consecutive years, from 1975 through 1978. Only John Force with his five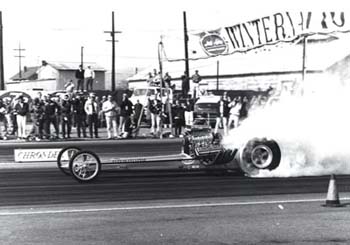 Don "The Snake" Prudhomme at
'65 Winternationals.
Photo by NHRA
wins at the first race of the year has had more success in a Funny Car than the "Snake." But as good as he was in a Funny Car, and he was good, that 1965 win came over one of the best groups of dragsters ever assembled at
Pomona
.
Did you know
that among the top qualifiers that year were
Art
Malone, Don Garlits, Connie Kalitta
and
Danny Ongais
?
Rick Stewart
, NHRA's starter,
Tom McEwen
and
Tommy Ivo
were others in the star-studded field that also included the sixteenth qualifier,
James Warren
. Wow, talk about a loaded field of cars.
Did you know
that James Warren actually made a little bit of history at that event? That's because he qualified and failed to qualify at the same race. He drove the team's
Chevrolet-powered machine, a car that didn't make the field, and then took their Chrysler-powered dragster and grabbed the sixteenth spot. Now how many guys can say that they have ever qualified and not qualified at the same event in the same class? In another little oddity, even though this was a battle between the quickest sixteen cars, it still turned out to be a five-round race. Now just how did that happen? Well, in the second round there was a malfunction on the starting line so both drivers in the contested run were advanced to the next round. Ironically, one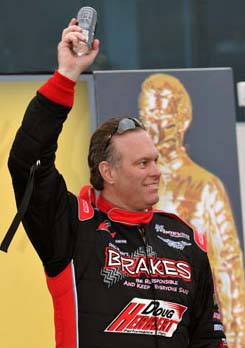 Doug Herbert
Photo by Auto Imagery, Inc.
of those two drivers was Rick Stewart, the man who now oversees the starting line at
Pomona
and all of the other national event tracks. Like I often say, what are the odds?...
Anyway, the "Snake" made his way to the final round where he met
Bill Alexander
, and in 7.76 seconds it was all over, Don had the win and a legacy was born....I'm sure Don will be treated like royalty at Pomona, and rightfully so. He has had as much to do with the success of the sport and the success of that track as anyone that I can think of.
In all of the excitement surrounding the holidays I forgot to take a moment to congratulate Doug Herbert and his B.R.A.K.E.S. program. It seems that folks outside of the drag racing world have realized how much good Doug's program is doing since he has been nominated for the United Nations NGO Positive Peace Award in the professional sports team/athlete category. Since the tragedy a few years ago where Doug lost both of his sons in a car accident, Doug has spent a lot of time, money and effort to build awareness for safe driving among teenagers. It's a great program that has already trained over 1,700 teens and it has had a positive impact on all of them. Nice going, Doug, and in addition to your safety program I hope we see you at the races in 2011..The old expression goes, "nobody ever remembers who came in second," and that's probably true. For example, do you remember who the second Top Fuel driver was to go over 300 miles per hour? Well, since it's in this paragraph there's a good chance that it's Doug Herbert. Doug went 301.60 at the Winternationals in 1993 almost a full year after Kenny Bernstein broke the 300 mph barrier at Gainesville in March of '92. I'm sure Mike Dunn would remember that since he was in the other lane when Doug made the run in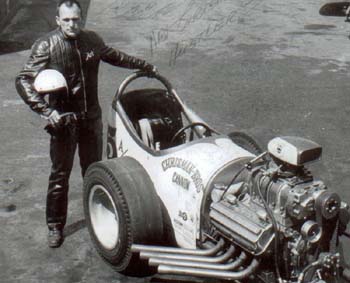 Art Chrisman
the first round of the Winternationals, and when Kenny Bernstein and Doug both advanced to the semi-finals at Pomona that year it set up the first meeting in NHRA history between two drivers who had run over 300 miles per hour..And for a little extra credit, do you remember who was the last person and the only woman to be in that
Slick 50 300 MPH Club
? Would you believe that it was
Rachelle Splatt?
Last week I mentioned that Art Chrisman was having a few health issues. Well, the latest update from my pal, Mike English, is that Art is out of the hospital after a nine day stay, and that he is doing much better. Mike told me that he got the news from Art's son, Mike, and we're all glad to hear that the senior Mr. Chrisman is making progress. Did you know that Art was one of the first drivers to go down the Pomona track when it opened in the early 1950's? And he did it with that famous "25 Car" that he and Lloyd had built. Get well, Art.




NHRA: 10 Most Recent Entries [ top ]

May 27- BOWLING GREEN - Competition Eliminator Final, Round 5 Eliminations
May 27- BOWLING GREEN - Super Stock Final, Round 7 Eliminations
May 27- BOWLING GREEN - Stock Eliminator Final, Round 7 Eliminations
May 27- BOWLING GREEN - Top Sportsman presented by RacingRVs.com Final, Round 5 Eliminations
May 27- BOWLING GREEN - Top Dragster presented by RacingRVs.com Final, Round 5 Eliminations
May 27- BOWLING GREEN - Super Comp Final, Round 6 Eliminations
May 27- BOWLING GREEN - Super Gas Final, Round 6 Eliminations
May 27- BOWLING GREEN - Super Street Final, Round 6 Eliminations
May 27- BOWLING GREEN - Sportsman Motorcycle Final, Round 4 Eliminations
May 27- BOWLING GREEN - Competition Eliminator Round 4 Eliminations