Mon, 27 Dec 2010, 06:08 PM



Thanks to the Lucas Oil Racers for Another Great Year



By Bob Frey


Photo copyright 2010 Auto Imagery, Inc.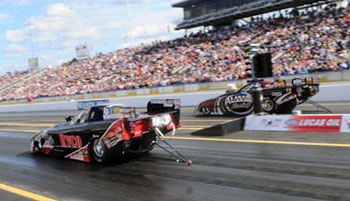 Ferro vs. Manzo
at Gainesville.
As you all know, old habits die hard. For years we (I) always referred to racers as "professional" and "sportsman." Those in the Top Fuel, Funny Car, Pro Stock Car and Pro Stock Motorcycle classes were called pros and all the other classes were known as sportsman racers. The motorcycles only became a full-fledged professional class, officially, in 1987 when they got a series sponsor and started running for a real national championship. Prior to that, they were run at a variety of races in a variety of forms that included Top Fuel, Pro Stock and even Funny Bike classes. And, for a few years the Top Alcohol Dragster and Funny Cars were referred to as "Federal Mogul" cars when that company sponsored the classes. Then along came the Pro Mod cars who were treated like the bikes were in their formative years. In fact, they were also treated like the original Funny Cars were back in the late 1960's. Anyway, this all leads me to a point that I made once or twice during the season and that is this. The NHRA now has three distinct racing groups, the Full Throttle drag racers, the Lucas Oil racers and the Get Screened American racers. None are (or should be) referred to as professional or sportsman classes. It's just like NASCAR with their Sprint series, Nationwide series and the Camping World Truck series. Or at least it should be. So with that in mind, and behind me for now, I'd like to point out a few, a very few, of the highlights from the NHRA Lucas Oil racers in 2010. Keep in mind the total number of runs by these racers in a year is staggering, so I'm bound to miss a lot (most) of the highlights from the year, so if your favorite isn't in here, please understand. Please!!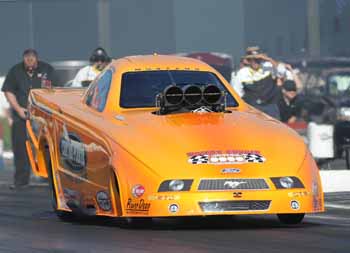 Tony Bartone at Pomona 2.
I would have to start with the strong season that the two top winners in the series had, Bill Reichert and Frank Manzo. As I mentioned right after the Lucas Oil awards presentation, Bill has put himself into a very select group with his fifth consecutive title and Frank, well, he's Frank. With fourteen national championships to his credit Mr. Manzo is just one behind that John Force guy for the most titles in NHRA history. Anyway you look at it, that's pretty good company. But while Bill and Frank took home the big hardware this year, they did get serious challenges from two guys who had career years in 2010. Chris Demke, driving for Jerry Maddern, won three national events in 2010 and had a shot at the championship until the last day of the year. Mickey Ferro, who put up numbers that would have been good enough to win a championship in a lot of other seasons, won twenty-nine rounds at national events this year and that's very impressive. Equally impressive was the 5.49 run that he made at Gainesville against Frank. The only problem was that Frank was going 5.47 in his lane. Still, for Mickey and his partner Anthony Terenzio, they had a fabulous year and they should be proud of everything they accomplished. Ditto for Chris, Jerry and the Peen Rite team....As good a year as Frank had he actually lost ground in one department. Beginning the 2010 season Frank had nine of the ten quickest runs in the class. Only Bob Tasca's 5.451 at Gainesville in 2007 was better than anything Frank had run. Well, at the end of the 2010 season, Frank has eight of the ten quickest runs in the class. That's because Tony Bartone, in Rick Jackson's car, stunned everyone with a 5.449 - 266.00 mph blast at the last race of the season. That's quicker and faster than anyone in the history of TAFC, including Frank. When you can make a statement like that you should be very proud of what you, your car and your team did.Looking at what Tony, Frank, Mickey and the others did in 2010 my first prediction for the new year is that we will see a 5.3-second run in the alky Funny Car class next year. Clip that out and put it on your refrigerator.
Brian Fitzpatrick
Al Ackerman gets special mention for the year he had in Competition Eliminator. I believe I had earlier stated that Al had the most points in Comp history, but he actually had the second most. Bruno Massel put up 718 last year and Al tallied 717 this year. Like Demke, 2010 was a "break-out" year for Al who has been racing for a long while and has always been competitive, but he never had a year like he did in 2010, but then, who has?...Two other Comp drivers made my "Best Of" list this year and they did it at the same track but they did it ten months apart. To start the season, Brian Fitzpatrick brought his little H/D to Pomona and quickly grabbed the top spot with a stunning 6.223. That, for the Comp junkies out there, was .777 under his national index. It was also one of the most spectacular runs in Comp history, at least in my mind. When you consider that he was driving a turbocharged six-cylinder car, that 6.223 is simply amazing. At that same race John Mihovetz was the number two qualifier with a 6.505 and that was .765 under his index. But it was at Pomona in November that John really got everyone's attention. At the last race of the season John cranked out an other-worldly 6.333 at over 231 mph. For the record that was .937 under his index. Neither Brian nor John won the races where they set those big numbers but their performances earn a spot in the Comp Hall of Fame nonetheless. At least I think they do. Congratulations to both. Remember, Bruno won the championship in '09 with a turbo car so maybe, just maybe, they are the wave of the future in Competition Eliminator.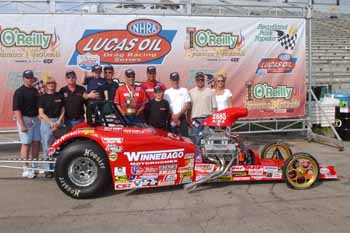 Rampy celebrates '03 win.
It seems that not a year goes by that David Rampy doesn't do something extraordinary and 2010 was no exception. While he didn't win the championship or finish in the top ten, both of which are news worthy when talking about David, he did manage to win three national events which brought his total to 74 for his great career. That, by the way, puts him sixth on the all-time NHRA win list and he's just one behind Pat Austin. But that's not the only thing he did this year. When David beat Lou Ficco in the finals at Topeka it marked the eighth time that he had won the Heartland Park Topeka event. For any driver to win one national event eight times is special, but to beat the guys David had in Kansas makes it even more special. Over the years his wins have come against Lou, Dan Fletcher, Thomas Schmidt, Al Weiss, Doug Engels, Larry Mayes, Jeg Coughlin and Todd Patterson. That's a very good list of drivers to beat anytime let alone in the finals at the same event over the years. David is one of the truly nice people in the sport and he works hard at what he does, and with the help of Barry Davis he is, truly, one of the great drag racers of all time. Just for the record, he has also been runner-up at that event four times including in 1993 when he lost to Larry Morgan, not in Comp but in Pro Stock.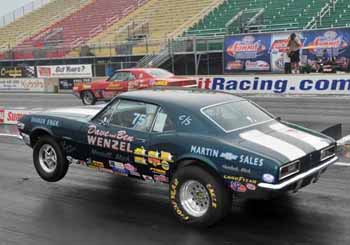 Ben Wenzel vs. David Rampy
in Norwalk final.
Any mention of the year in the Lucas Oil ranks would not be complete without a mention of the Stock Eliminator Champion at Norwalk and that would be one Mr. Benton Wenzel. I'm sure you know the story, he won the 1967 U.S. Nationals in a Chevrolet Camaro that he had just purchased. He then went almost forty-three years before winning another event and he did it in the same car that he won with in '67. I have the pleasure of saying that I witnessed both of those races, and I don't think there is a person in the sport, maybe even including the guy he beat in the final round at Norwalk, who wasn't happy to see Ben win. And in case you've forgotten, the guy in the other lane just happened to be David Rampy. Now I ask you, how cool is that? By the way, I had occasion to be going through the entry list for the 1963 Nationals the other day and I saw Ben's name there, too. He was driving a 1961 Chevrolet and I wonder if he still has that car.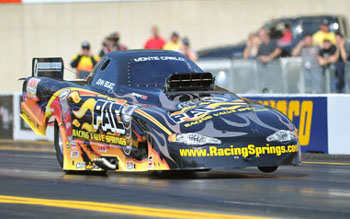 John Bojec at Reading.
I also had a couple of drivers on my "Most Improved" list this year. In the for-what-it's worth category (as most of my stuff is) I included the aforementioned Chris Demke on that rather short list along with John Bojec. John, who competes in the Top Alcohol Funny Car class, had a wonderful season that included his first national event win at Maple Grove. That came shortly after a devastating DQ at Indy where he came up a few pounds short at the scales after his semi-final round win over Tony Bartone. John shook that off and had a great run in Pennsylvania where he beat Steve Harker to get the win. All year long John had been making steady gains in performance and it all paid off at the Grove. Oh yeah, I almost forgot that John also ran a career best numbers this year, a 5.571 at Indy and a 258.07 pass in Chicago.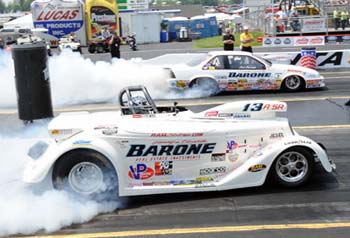 Vinny Barone vs. Kevin Robb
at Atlanta.
One of the more colorful racers in Competition Eliminator history has to be Vinny Barone. Vinny, who won the World Championship in 1986, has been a fixture at the NHRA races for over two decades. In the past he has been a national championship driver, and in 1995, a national championship owner when Sal Biondo drove for him. But you'd be hard pressed, with all that Vinny "Bad to the Bone" Barone has done, to find a more successful year than 2010. Along with Sal Biondo, Anthony Bertozzi and Kevin Robb who all drove for Vinny this year, they had a record that will be hard to match, even for Mr. Barone. As a driver, Vinny won the Atlanta race for the second time in the last five years when he beat none other than Al Ackerman in the finals. He also made it to the final in Pomona where he lost to Dan Fletcher. Hey, a lot of guys have lost to Dan, but just getting to the final round at one of the NHRA's top events is quite an accomplishment. Vinny was also the runner-up at the Division 1 race at Lebanon Valley. Sal, meanwhile, won Gainesville in Super Stock and he won Englishtown in Comp. He almost pulled off the ever-popular "double-up" in E'town when he also went to the final round in Super Stock. Throw in four finals at divisional races, including a win in Las Vegas, and Sal and Vinny had a very good year together. Anthony was runner-up at Englishtown in Comp (to Sal) while Kevin got into the picture with a final round showing in Comp at Atco. I may have missed one or two, but take my word for it, Vinny fielded some very good cars, had some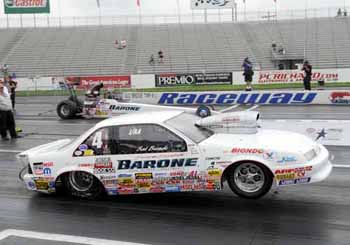 Sal Biondo vs. Anthony Bertozzi
in the Englishtown final.
great drivers and had a year that was good even by Vinny's high standards. But no matter what he does on the track, Vinny, the fierce competitor that he is, will tell you that nothing makes him smile like knowing that his daughter, Elizabeth, is happy. I know that because when Vinny won Atlanta and when the engine busted in the other Comp car at that same race (and that can be very costly), Vinny's only thoughts after the race were about Elizabeth. "As long as she's healthy I'm happy," he said. Hey, maybe Vinny isn't that tough after all. Congrats to him and his entourage and I can't wait to see how they line up in 2011.
One last word, and I know that I just did a story on him a few weeks ago, but I have to mention Jeff Hefler. To win two division titles and to bring a pair of cars to Pomona for the Summit E/T finals is quite an accomplishment. But when he almost "doubled" in Pomona, well, that was one of the great driving jobs of the year. Jeff did win in the Sportsman class and just lost to Butch Weinreich in the Pro final. Still, to get so close against some of the best drivers in the country has to earn him a special mention from me. And Jeff Lopez, who was the only Lucas Oil racer to win two classes at a divisional race this year, also deserves a tip of the cap. Jeff won both Super Comp and Super Gas at the Noble, Oklahoma race to put his name of a short list of drivers who have won twice at the same event. Way to go, Jeff.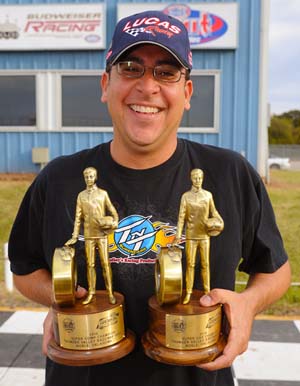 Jeff Lopez
I know there were a lot of other great accomplishments in 2010, like Dan Fletcher's five wins, Tony Mandella's first (and second) win, Marco Abruzzi winning in St. Louis, Steve Benoit's third silver anniversary race win in Dallas and Mike Ferderer's fourteenth top ten finish, but these stand out in my mind. To all of the men and women who compete in the Lucas Oil series, and to all the friends and family that support them, thanks for giving us another great year of racing action. And while the start of the Full Throttle series may still be sixty-two days away, the Lucas Oil season starts in a mere forty-nine days. I can't wait.
Oh yes, there is one more thing (or did I say that already?). I want to thank Forest and Charlotte Lucas for all they do to help the racers across the country. They all can't tell Forrest and Charlotte personally, but they all do appreciate everything the Lucas family does, and I know that because they tell me. The series is strong and better because of them, so for all the racers who will be shooting for a Lucas Oil World Championship next year, thanks to Lucas Oil for all you do.




NHRA: 10 Most Recent Entries [ top ]

Apr 24- CHARLOTTE 1 - Steve Torrence Enjoying Four-Wide Success Heading to NGK Spark Plugs NHRA Four-Wide Nationals
Apr 24- CHARLOTTE 1 - Fact Sheet
Apr 24- Kalitta Motorsports Welcomes NASCAR Stars to the SealMaster Track Walk in Charlotte
Apr 24- zMAX Dragway Celebrates 10th Anniversary
Apr 24- CHARLOTTE 1 - NGK Spark Plugs NHRA Four-Wide Nationals Brings 40,000 Horsepower Thrill Show to zMAX Dragway
Apr 23- HOUSTON - Lucas Oil Drag Racing Series Wrap Up The NHRA Lucas Oil Drag Racing Series Wrap Up
Apr 23- CHARLOTTE 1 - J.R. Todd Aiming for Two Four-Wide Racing Wins in 2018
Apr 23- Mid America Dragway Joins NHRA Member Track Network
Apr 23- HOUSTON - Special Awards
Apr 23- HOUSTON - Sunday Video