Wed, 22 Dec 2010, 04:54 PM



Troxel Adds Full Pro Mod Schedule to 22-race Funny Car Slate



Courtesy of Rob Geiger


Photo copyright 2010 Auto Imagery, Inc.





DULUTH, Ga. --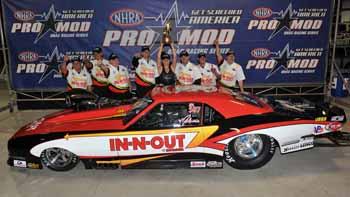 Melanie Troxel and crew
celebrate Charlotte win.
It looks like Melanie Troxel isn't going to have to savor her NHRA Get Screened America Pro Mod Series victory in Charlotte after all as R2B2 Racing team owner Roger Burgess announced Wednesday she's going to have at least one more season to collect wins.
Troxel said that despite doubts toward the end of the 2010 season, she will indeed add a full 10-race Pro Mod schedule to her 2011 driving duties, which include a full season in the In-N-Out Burger Funny Car in the NHRA Full Throttle Series
"We never closed the door on the idea," Troxel said. "The thought was I would just focus on Funny Car because we're running a full schedule.
"This past season when we first put our schedule together there were only two races where I would be racing both cars. Then we added a bunch of Funny Car races and it just ended up where I pulled double duty a lot. It turns out it wasn't a big deal for my physically or mentally; I just felt kinda bad at times because I wasn't there for every warm-up or debrief."
She said the opportunity to work with her R2B2 Racing Pro Mod crew again was an opportunity she didn't want to pass up, even if the logistics may get hectic.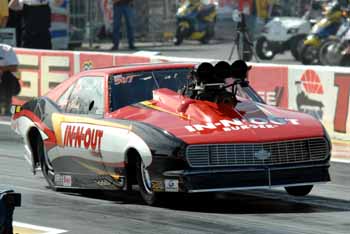 Melanie Troxel
"One thing I really enjoyed was working with Al Billes," she said of her decorated Pro Mod crew chief. "When we started kicking around the idea of running Pro Mod again in 2011, we talked about the fact I might not be there all the time to do all the things a driver normally does because I might be needed in the Funny Car pit.
"I asked him if it would be a big deal if I occasionally just showed up in the staging lanes, jumped in the car, and made a pass. He put that to rest right away and that helped me make the decision. It won't be every time, but when the schedule does get out of whack, Al and the guys said they'd cover me, no problem."
Troxel will be racing the same 1968 Camaro she ended the season with, but in 2011 it will run with R2B2 Racing colors. She made a hard charge at the end of the season in that hot rod and finished fifth in points. Now said she's looking forward to making a big run at the championship.
"It's a class I really enjoy," Troxel said. "The fact we finished the year on such a strong note also played into this decision. Al is a master with the blown cars and he's really got the tune-up down. It's going to be fun."
As part of her Pro Mod duties in 2010, Troxel raced in three FIA events in Europe. She said that like to door to racing Pro Mods in 2011, another European adventure might still be open, too.
"You never know. I'm certainly game for anything," Troxel said. "We had a great time over there and I feel like we made some friends on that tour. As of right now, nothing is set, but nothing was set last year up until about two weeks before the first FIA race and we ended up putting it together, so like I said, you never know."
The Get Screened America Pro Mod Drag Racing Series starts at the March 11-13 with the Tire Kingdom Gatornationals in Gainesville, Fla.




NHRA: 10 Most Recent Entries [ top ]

May 24- BOWLING GREEN - Edmond Richardson Still Finds Major Thrill Racing at JEGS NHRA SPORTSnationals
May 24- NHRA Expands Leadership Team with Two Executive Hires and Two Promotions
May 24- TOPEKA - Lucas Oil Drag Racing Series Wrap Up
May 24- TOPEKA - Special Awards
May 21- TOPEKA - Pro Mod Championship Points
May 21- TOPEKA - Monday Video
May 21- TOPEKA - Monday Pro Mod Wrap Up
May 21- TOPEKA - Monday Wrap Up
May 21- TOPEKA - Championship Points
May 21- TOPEKA - Summary of Eliminations in Top Fuel