Tue, 21 Dec 2010, 05:14 PM



Hitters of the North Central Division



By Kelly Wade


Photo copyright 2010 Auto Imagery, Inc.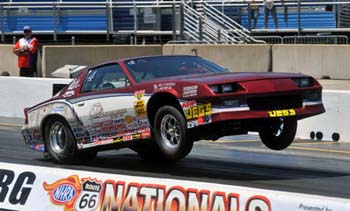 Brad Zaskowski
As the Division 3 competition whittled down, a couple of former Jr. Drag Racing League standouts made serious plays for respective titles in their categories, a reigning champ continued to exude supremacy, and one racer who had been chasing No. 1 and come close on several occasions finally sealed the deal. The 2010 season concluded with division championships awarded to Super Stock's Brad Zaskowski, Stock racer Edmond Richardson, Super Comp driver Steve Mikus, Super Gas competitor Rock Haas, and Super Street's Joey Shipp.
After finishing second in the division for two consecutive seasons, Zaskowski finally made his way to the top of the pack and held on, earning the first North Central championship title of his career. The season-opener was a promising debut for Zaskowski, of Belmont, Mich., who shifted his GT/G '87 Camaro to the semifinals at Summit Racing Equipment Motorsports Park in Norwalk, where Jeremy Duncan, of Charlestown, Ind., took the win over Tom Sheehan.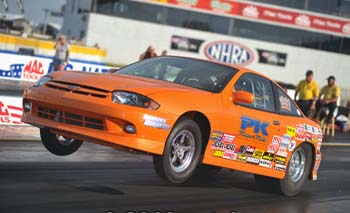 Andy Kronenbitter
Momentum took a tiny hiatus in Indy for the eventual division victor, and Frankie Morris knocked out the quick SS/HA '69 Camaro driven by Jeff Dona in the title round. But Zaskowski's program was switched back on at Route 66 Raceway, and he earned points for a runner-up next to event winner Ryan Haag, the Memphis, Indiana-based racer who instilled a little early-season grief in the division when he went on to reach another money round at the following event, held at Mid-Michigan Motorplex, a race won by SS/BA '10 Mustang pilot Charley Downing.
In Columbus, Zaskowski got the nod in the trophy stand-off when former Jr. drag racer Andy Kronenbitter wheeled his GT/BA '05 Cavalier off the starting line eight-thousandths too quick, and looking to build his points lead, Zaskowski then headed out of division to the West Central race at Cordova Dragway Park, where he bowed out in the quarterfinals. He finished up his countable points at Bowling Green, where he racked up three round-wins. Overall, Zaskowski finished third in the national points chase.
Kronenbitter, looking to finish large in his first season driving a big car, traveled to Georgia and competed at Atlanta Dragway and Silver Dollar Raceway. Atlanta paid off big with an important win, but his season concluded at Silver Dollar when he was unable to make it out of the first round, assuring Zaskowski a handsome decoration for the trophy case with his Division 3 capture.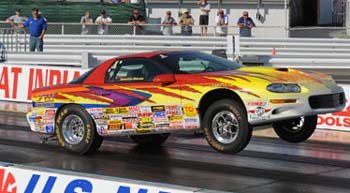 Edmond Richardson
Stock winner Richardson effectively protected his title with a final total of 416 points that was 75 marks ahead of second place David Walther, with Tommy Mattingly IV third on 331 marks and former national champion Randy Wilkes fourth, one point behind Mattingly. A third-place finish in the nation was also in the cards for the division titlist.
Four-time national champion Richardson, also owner and operator of the Edmond Richardson School of Drag Racing, jumped with both feet into the year, despite missing the first event in the region. David Walther, who ultimately was second in North Central competition, was 105 points up on Richardson early on the basis of a win in Norwalk, but the gap was quickly shortened when Richardson won at the Lucas Oil race at O'Reilly Raceway Park at Indianapolis.
Richardson followed the success with a trip to the quarterfinals at Route 66 Raceway and a runner-up in Columbus in his C/SA '99 Camaro. In his fourth and final race on his home turf, Greenbrier, Tenn., driver Richardson went straight to the winner's circle at Beech Bend Raceway in Bowling Green after defeating Walther in an incredibly close final that produced a .0008 margin of victory. Though he competed at four more events outside of the division, Richardson had all the points needed to score the gold.
Notably, Mattingly recorded back-to-back home division wins, in Joliet and Stanton, Mich., to make a strong case mid-season.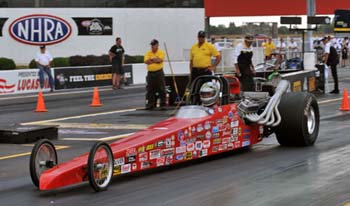 Steve Mikus
The division's Super Comp award was earned by Mikus on the basis of a pair of final rounds, a couple of trips to the quarterfinals, and two round wins, all spread out between home and out-of-division races. He had plenty of competition en route to scoring the championship, including Richardson, who eventually finished second in the category, just as he did last year.
Richardson was a semifinalist in Columbus and won in Atlanta, and he also went late in the rounds in Bowling Green and at the LODRS event in Noble, Okla. He took a final shot at nabbing the championship in Las Vegas, but neither Mikus nor Richardson garnered so much as a round win, and the chase was officially over with 372 points in Mikus' column and 351 on Richardson's side.
The Division 1 meet at Atco, N.J., was likely the most pivotal for the group of still-eligible racers. Mikus was within reach by a few, including fourth place Troy Coughlin Jr., who earlier in the season became a third-generation Mac Tools U.S. Nationals winner. Coughlin needed a semifinals or better finish to stay alive and was unable to follow through, and eventual third-place finisher Tony Elrod, who won the division race in Indy early in the season, was out without a round win as well. Mikus, of Ashley, Mich., came through with a strong final-round performance and 94 points that made a difference when it was time to tally season-earnings.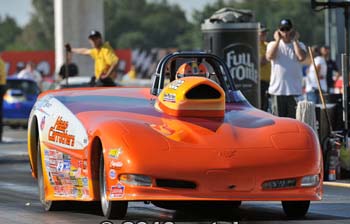 Rock Haas
The Super Gas race could not have been much tighter, and when it was all said and done, Haas got the decision by one point; his 363 points bested Rusty Cook's 362. Haas, who finished fourth in the national standings, accumulated decent marks early in the season, going three rounds at the opener in Norwalk and then posting a semifinals finish in Indianapolis.
A rough time in Joliet was followed by a significant victory at Mid-Michigan Motorplex for the Whitelake, Mich., racer, who sent fellow Division 3 competitor Richard Kurth away without a trophy at the conclusion of their final-round meeting. Haas made another big surge when he drove his '05 Corvette to a runner-up in Bowling Green.
Cook matched Haas' points in the season-opener and stayed in the game with a runner-up at Joliet, and though he picked up a few more round wins as the events rolled on, the highlight of his North Central ascension was winning in Atlanta. Cook finished off with a couple of round wins at Silver Dollar Raceway, but came up just short.
Third place Larry Bernshausen wasn't far behind and consistently added points for rounds to his scorecard throughout the season, heading twice to the semifinals and once to the quarters. Fourth place Steve Hoyt was runner-up at both Indy and Columbus, and Billy Smith, fifth at season's end, won the first race of the year at Norwalk.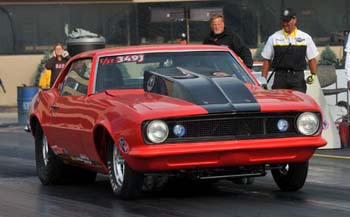 Joey Shipp
Super Street racer Shipp was ousted in the money round by sister Randi Lyn at Norwalk, but family bragging rights were in his possession when the season concluded with 375 points taking him to the division title. Shipp, of Whiteland, Ind., had competition from Ohio City, Ohio's Rudy Matthews and finished just 22 points in the lead.
Following the runner-up in Norwalk, Shipp stalled in Indy and Joliet but picked up again at Mid-Michigan Motorplex, ending the weekend by driving his '68 Camaro to the semifinals. Meanwhile, Matthews took a sizable bite of the available points with a win at the Indy Lucas Oil race, and Ray Miller II, from Mansfield, Ohio, picked up a few points of his own as runner-up at the event.
Matthews held the lead for a spell and added to his marks with a final-round finish at the first Lucas Oil race in Columbus and another runner-up at Bowling Green, but former Jr. Dragster Eastern Conference Finals winner Shipp raced past his challenger in the last two events he contested, going to the final at the second Columbus race and the semifinals out-of-division at Silver Dollar Raceway.
Miller continued to accumulate marks, edging into the quarterfinals and the semifinals respectively at the Columbus and Bowling Green meets, but was unable to make large enough gains to have a serious shot at the division crown in the waning hours of the season. Gary Horstmann's win in Earlville, Iowa, put him on the radar, and he finished fourth in the North Central Division.

Division Three Super Stock Top Ten Point Standings
Pos Driver             Points Events 
1   Brad Zaskowski       395   8 
2   Andy Kronenbitter    331   8 
3   Ryan Haag            320   8 
4   Jeremy Duncan        307   8 
5   Charley Downing      298   6 
6   Larry Hodge          288   5 
7   Jeff Dona            277   6 
8   Allen Wade           264   9 
9   Gary Tompa           255   8 
10  Ricky Decker         232   6 

Division Three Stock Top Ten Point Standings
Pos Driver                Points Events 
1   Edmond Richardson Jr.  416    8 
2   David Walther          341    7 
3   Tommy Mattingly IV     331    7 
4   Randy Wilkes           330    7 
5   Mitch Truman           275    6 
6   Mike Morgan            265    6 
7   Tim Gillespie          254    6 
8   Patrick Downing        245    5 
9   Craig Marshall         236    4 
10  Ben Wenzel Sr          233    6 

Division Three Super Comp Top Ten Point Standings
Pos Driver              Points Events 
1 Steve Mikus             372   10 
2 Edmond Richardson Jr.   351   8 
3 Tony Elrod              317   7 
4 Troy Coughlin Jr.       307   7 
5 Greg Kamplain           288   6 
6 TJ Schippling           284   7 
7 Rusty Cook              278   8 
8 Pat Mc Creery           276   6 
9 Leo Zynda III           266   5 
10 Michael Shelton        265   6 

Division Three Super Gas Top Ten Point Standings
Pos Driver             Points Events 
1   Rock Haas            363   8 
2   Rusty Cook           362   8 
3   Larry Bernshausen    350   8 
4   Steve Hoyt           340   8 
5   Billy Smith          319   6 
6   Richard Kurth        317   7 
7   Ray Connolly         286   6 
8   Alan Bush            276   6 
9   Larry Roedel         265   7 
10  Brina Splingaire     253   8 

Division Three Super Street Top Ten Point Standings
Pos Driver             Points Events 
1   Joey Shipp           375   8 
2   Rudy Matthews        353   8 
3   Raymond Miller II    309   7 
4   Gary Horstmann       308   5 
5   Randi Lyn Shipp      287   7 
6   Scotty Rienschield   277   7 
7   Craig Meyer          276   8 
8   Dan Carter           265   6 
9   Joseph Fuesting      255   8 
10  Rick Shipp Sr.       246   6 





NHRA: 10 Most Recent Entries [ top ]

Jun 18- BRISTOL - Lucas Oil Drag Racing Series Wrap Up
Jun 18- Mark Oswald Named 2018 Legend of Thunder Valley
Jun 18- BRISTOL - Sunday Pro Mod Wrap Up
Jun 18- BRISTOL - Special Awards
Jun 18- BRISTOL - Pro Mod Championship Points
Jun 18- BRISTOL - Sunday Video
Jun 18- BRISTOL - Championship Points
Jun 18- BRISTOL - Sunday Wrap Up
Jun 18- BRISTOL - Summary of Eliminations in Factory Stock Showdown
Jun 18- BRISTOL - Summary of Eliminations in Super Gas