Sat, 18 Dec 2010, 02:54 PM



Victorious in Division 3



By Kelly Wade


Photo copyright 2010 Auto Imagery, Inc.





The North Central produced a set of division champions led by a very familiar face: Bill Reichert, who has been the national champion in the Top Alcohol Dragster category for the past five seasons. Joining Reichert in roles as newly christened - or re-christened - Division 3 titlists were Brent Henry (Top Alcohol Funny Car), Brian Browell (Competition Eliminator), John Scali (Top Sportsman), and James Monroe (Top Dragster), among others.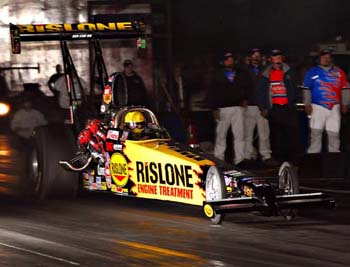 Bill Reichert
Photo by BME Photography/Chip Bralley
En route to sewing up the national championship, Reichert made haste in pursuing the division crown. After leaving the North Central opener at Summit Racing Equipment Motorsports Park with a single round-win in hand, Reichert went to the next two events and made a statement, bringing home the trophy from both Indianapolis and the North East Division's Maple Grove Raceway.
He fell off a bit in Joliet at Route 66 Raceway but righted the ship in Columbus and managed another event win, and then rounded out his Division 3 play by notching a win in Bowling Green, Ky. Two events later, at the South East Division's Atlanta Raceway event, Reichert put another win on his scorecard, and the division title was in hand.
Marty Thacker tried his darndest and produced three runner-up finishes and a victory in Atlanta, but his final count was 320 marks to Reichert's triumphant 425.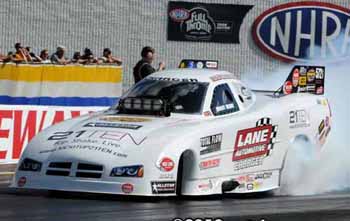 Brent Henry
Henry was remarkable in his Top Alcohol Funny Car debut, finishing first in the division in his first shot and ending up just outside of the top 10 in the nation driving for long time NHRA campaigners Frank and Dan Parker. His final tally of 299 marks tied Andy Bohl, but better performance within the division gave Henry the nod.
The first North Central race, at Norwalk, was awarded to Division 1 ace Frank Manzo, with Hales Corners, Wis., driver Raymond Drew taking runner-up. Henry won his first round match and Bohl didn't fare well, bowing out without seeing a win light. The two came head-to-head at their next race, at O'Reilly Raceway Park at Indianapolis, with Bohl taking the victory over Henry. The race for the title was on.
Bohl was runner-up at Route 66 Raceway, and Henry struggled with a lone round advancement, but in Columbus, the old switcheroo came into play and Henry, who match raced his A/Altered before stepping into alcohol Funny Car, went to the final round - falling to Brockton, Mass., pilot Paul Gill - after Bohl tucked away a round win and then couldn't capitalize.
Bohl picked up a couple of rounds and a few more points at the next two events, and Drew kept his hopes alive with back-to-back runner-ups, while Henry stayed home, waiting for Bowling Green. The event proved to be a success for Henry, who logged his first victory in his first season and effectively closed the door on the title. Bohl went on to runner-up in Earlville, Iowa, and made an attempt to pick up more points in Noble, Okla., but it wasn't meant to be.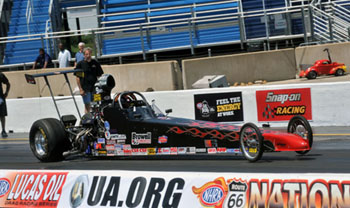 Brian Browell
Browell's division title was accompanied by a top 10 finish in the nation; he was fifth in the standings between the 2009 season's world champion Bruno Massel (tied for third with Frank Aragona Jr.), and sixth place Sal Biondo.
His season started slow, but the Lafayette, Ind., driver kicked it into high gear mid-year, wheeling his dragster to a win at Mid-Michigan Motorplex over defending division champ Steve Ambrose. From there, Browell was on a roll, posting a final-round finish at the next two events in Columbus and Bowling Green before taking the important out-of-division win in Atlanta.
No. 2 finisher Ray Vierheller III was runner-up at Indy and went on to win at Joliet, but the rest of the season - three more events - amounted to early exits and an 87 point deficit to Browell's winning 390 marks. The highlight of Ambrose's season was a final-round performance in Michigan next to Browell, preceded by a trip to the semifinals in Joliet. Ambrose finished third in the North Central standings.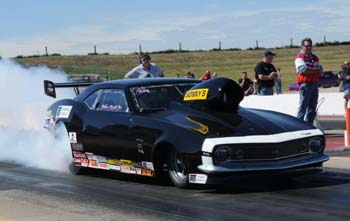 John Scali
Photo by Barry Bergeron, Eagle Eye Photography
In the division's Top Sportsman category, final rounds were spread amongst a large group, but at the end of the day, Chicago racer John Scali had more wins in his '67 Camaro than anyone else to exchange for a division title. Scali began his season at the race at O'Reilly Raceway Park at Indianapolis, and the round he won there wasn't necessary in his final points tally. In his second event, at Joliet, he beat Jerry Albert for the event title and was on his way, picking up a couple of rounds in Stanton, Mich., and then going to the semifinals in Columbus.
After missing it at the out-of-region event in Cordova, Ill., and then again at Bowling Green, Scali was back on his game in Iowa, scoring the Earlville title. He rounded out the season by going a couple of rounds at the second Columbus event and then finishing early in an inconsequential effort in Louisville, Ky.
Warren, Ohio's Marco Abruzzi was Scali's closest competition at the very end, finishing second, just 20 points back. Abruzzi had a pair of round wins, a couple of semifinals, a runner-up to Thad Martin in Indianapolis, and a win at the first event in Columbus to pad his points. Third place Glenn Butcher, of Doylestown, Ohio, highlighted his season with the Mid-Michigan Motorplex title.
The Spitzer Race Cars Top Dragster championship was awarded to Bloomington, Indiana's Monroe on a tiebreaker; both he and Pro Stock competitor Dave Connolly posted identical points totals at the end of the season, but Monroe had a better scorecard within the division.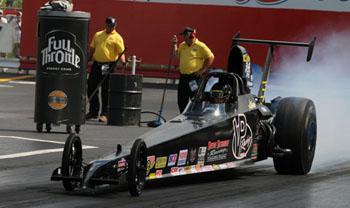 James Monroe
Elyria, Ohio, driver Connolly started strong, roping in a victory over multi-category driver Abruzzi at the first event in the division after posting a runner-up at Belle Rose. After a non-effective effort at the next race at Joliet's Route 66 Raceway where Monroe recorded his first victory of the season, Connolly answered with a trip to the winner's circle at Mid-Michigan Motorplex as Monroe pocketed a pair of round-wins.
The tables turned again in Columbus, and Monroe got the last win-light of the weekend in the category with Connolly leaving without much to show, and as the season slowed to a halt, the two rivals toted their dragsters to Bowling Green and the division closer in Columbus, battling to the final hour for the gold. Monroe went two rounds at each of the last two events, and Connolly was a semifinalist in Bowling Green and then won a round at Columbus, falling just short of stealing the No. 1 spot from his closest competitor.
Phillip Oakley, of Owensboro, Ky., notched an Atlanta Dragway win and finished fourth, and Jeffrey Brown was the head of the class at the last event at Columbus, bringing home the win and finishing up his game with 248 points. John Coughlin clocked out with 292 marks for third place and Lynn Ellison ended the season fifth in the division with 260 marks.
More Division 3 champions will be spotlighted in the near future.

Division Three Top Alcohol Dragster Top Ten Point Standings
Pos Driver          Points Events 
1   Bill Reichert     425   9 
2   Marty Thacker     320   7 
3   Ken Perry         236   5 
4   Brandon Booher    171   6 
5   Dave Hirata       160   6 
6   Brian Mans         96   3 
6   Scott Moore        96   3 
8   Jerry Powell II    62   4 
9   Brandon Greco      52   3 
9   Dave Hill          52   3 

Division Three Top Alcohol Funny Car Top Ten Point Standings
Pos Driver          Points Events 
1 Brent Henry         299   5 
2 Andrew Bohl         299   8 
3 Raymond Drew        278   6 
4 Paul Gill           235   7 
5 John Bojec          160   5 
6 Fred Hagen          107   3 
7 Tony Bogolo          96   3 
8 Don Devault          74   3 
9 Cassandra Simonton   72   5 
10 Robert Atchison     52   3 

Division Three Competition Eliminator Top Ten Point Standings
Pos Driver             Points Events  
1   Brian Browell        390   8 
2   Ray Vierheller III   303   8 
3   Steve Ambrose        293   8 
4   Chad Voges           281   5 
5   Robert Bailey        271   6 
6   Jerry Arnold         260   6 
7   Mike Farrell         259   5 
8   Greg Kamplain        249   6 
9   Rick Brown           248   7 
10  John Coughlin        227   7 

Division Three Top Sportsman Top Ten Point Standings
Pos Driver             Points Events 
1   John Scali           357   9 
2   Marco Abruzzi        337   7 
3   Glenn Butcher        293   8 
4   Thad Martin          271   7 
5   Belva Brinegar Jr.   260   6 
5   Jerry Albert         260   7 
7   Tim Molnar           249   5 
8   Robert Mandell Jr.   230   4 
9   Chris Nyerges        227   7 
10  Jeff Sexton          217   8 

Division Three Top Dragster Top Ten Point Standings
Pos Driver             Points Events 
1   James Monroe         368   7 
2   Dave Connolly        368   8 
3   John Coughlin        292   8 
4   Phillip Oakley       281   8 
5   Lynn Ellison         260   6 
5   Walter Sullivan      260   7 
7   Jeffrey Brown        248   6 
8   Dean McIivain        238   7 
8   Ricky Adkins         238   7 
8   Mark Harmon          238   7 





NHRA: 10 Most Recent Entries [ top ]

May 21- TOPEKA - Pro Mod Championship Points
May 21- TOPEKA - Monday Video
May 21- TOPEKA - Monday Pro Mod Wrap Up
May 21- TOPEKA - Monday Wrap Up
May 21- TOPEKA - Championship Points
May 21- TOPEKA - Summary of Eliminations in Top Fuel
May 21- TOPEKA - Summary of Eliminations in Funny Car
May 21- TOPEKA - Summary of Eliminations in Pro Stock
May 21- TOPEKA - Summary of Eliminations in Pro Modified
May 21- TOPEKA - Summary of Eliminations in Top Alcohol Funny Car