Fri, 17 Dec 2010, 03:50 PM



It's Just Another Bracket Race



By Bob Frey


Photo copyright 2010 Auto Imagery, Inc.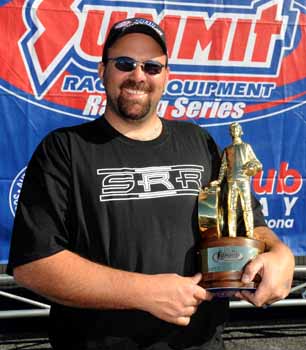 Shorty Rader
A lot of the racers who compete at tracks across the country these days do so on an almost regular basis. There are, after all, hundreds of tracks, big and small, and chances are that one of them is having a race every day of the year. For races in the northern part of the country the racing season is generally confined to the months between April and November. Down South, meanwhile, they race all year long. There are even tracks that have big races on Thanksgiving, New Year's Day and just about any other holiday during the season. Ok, so there aren't a lot of tracks that are open on Christmas, but other than that if you want to find a race, you can. For those racers who do it for a living there's always the lure of the big bucks. For those who like winning a "Wally," there's always an NHRA race, divisional or national, on almost every weekend. And for some, who like to combine the two, there's the Summit Racing E/T Series and the national championship at Pomona. Shorty Rader, not his given name but a name that he has had as long as he can remember, combined the best of both worlds this year when he won the Super Pro national championship. And as excited as he was, and believe me he was excited, Shorty said that the key to his success was treating it like it was just another bracket race.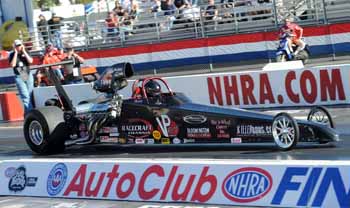 Shorty Rader
Shorty Rader, who is 6'3'' tall, and who is not related to the Rader family that used to run National Trail Raceway in Columbus, has been drag racing for about fifteen years and his win at Pomona is the biggest of his career. "I race a lot in Super Pro and some of the big money bracket races and I do it mostly on eighth-mile tracks around home." His home track for the 2010 season was Lyons Raceway Park in Lyons, Indiana. "It's a new track that's only been around for a couple of years," Shorty said. "I'm very lucky where I live. We have a good track real close to my home and about five or six tracks within an hour's drive. And if you want to drive about two hours you'll find about nine or ten tracks." And while a lot of those tracks run the traditional quarter-mile distance, Shorty says that most of his racing is done on the eighth-mile. "You know, I don't think I raced a quarter-mile more than once or twice in the last couple of years." Since the Summit Racing Finals are contested on the 1,320, Shorty did take a trip to Indianapolis before he headed west. "I went to Raceway Park for a tune and test session. I made two runs that were within a couple thousandths of a second of each other and I was happy." So happy that he packed up, went home and then headed west. "I had some good friends who came out with me and a lot of family members. It was a great time." The trip took Shorty and his team about thirty-three hours to drive while some members of his team and cheering section got to fly. "My wife, two of my sons and some friends all came with us. There was a whole slew of us. My dad, who is with me almost every time I race, didn't make the trip because he just doesn't like to travel that far." Dad, or Jim as he is called, raced himself back in the late '60's and early '70's and he is proud of what his son did in California. "If you go to any track and ask where 'Jim Rader' is they'll send you to my dad," Shorty said. "He added that the trip home was nice because he got to spend a lot of time with "Wally." I've come close to winning a "Wally" before, but have never been able to do it so this is nice." For the record, Shorty now has two Wally's since he won one for winning the Division 3 championship, the race that earned him the right to go to Pomona. "I kept getting closer," he said. "One year I made it to the final thirty-two cars, the next year to the final sixteen, then eight until I finally won it."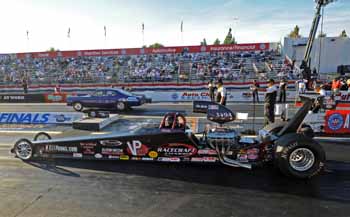 Rader vs. Joe Brown
Once in California it wasn't all business for Shorty. "We did get to meet some of the other racers and I actually got to be buddies with Phil Owens." Phil, by the way, is who Shorty raced in the final round. "He had some engine troubles in his last time run and some of my crew and I went over and helped him put his car back together before eliminations." That was the last time that the two would talk until they met in the final round. "It worked out well for him because he had the bye in round one, so he could check out his engine." For his part Shorty had his own very interesting first round. "I was running a guy who was three seconds slower than I was. When I let the trans-brake go I thought I was slow, so I bumped the button down and came up perfect." That's a lot of racer-speak for, "I thought I was going to be late on the tree so I changed the delay and got a .000 reaction time." And all of that went through Shorty's head in just a few seconds. "Hey, when you're racing someone who is three seconds slower than you are three seconds is like three hours in real time." I can't argue with that or the results. A second round win over Shawn Herbst, the Division 6 champ, put Shorty in the final round against Owens, but that second round also had a little suspense. "I was in the left lane and when I looked at the tree the sun blinded me. I had to use my visor as a shade. It was strange." Then, when the race was postponed until Monday, Shorty got a call from some of his friends that wanted to know how big the crowd was. "I told them I honestly didn't know. Once I made the turn to get on the track all I saw was the track and the tree." See, like he said, it's just another bracket race.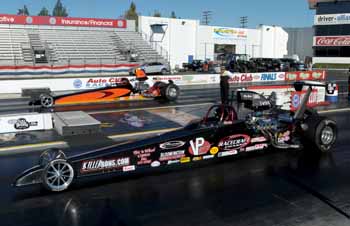 Rader vs. Phillip Owens
in the Championship final.
For the final round Shorty dialed a 7.62 for the third consecutive round, and when he had a .011 reaction time and ran 7.621 he picked up his first "Wally." "The whole experience was great, just wonderful, and I hope I get to do it again. The folks at Summit run a great operation and they treated us all like champions." Even the delay (because of the Sunday curfew in Pomona) didn't bother him. "I don't know if it helped or hurt, but it did give me a lot of time to go over every possible scenario for the final." The way it turned out, I would have to say that it helped, and Shorty Rader is the 2010 Summit Racing Series Super Pro National Champion. And even though he took the low-keyed approach to it, believe me, even Shorty knows that wining this race is much more than just another bracket race. "It's certainly the biggest win that I've had," he said.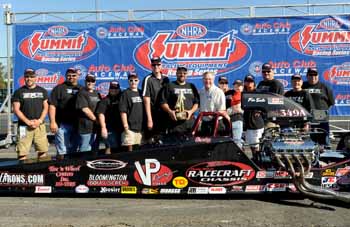 Rader and crew celebrate Championship.
Shorty has a lot of people to thank including Danny Nelson and Eddie Simmons from Racecraft Chassis, VP Fuels Midwest, James Monroe at KillerRons.com, Al and the guys at Freedom Racing Engines in Brownsburg, Indiana, Dave at Tire and Wheel Center in Bloomington, Indiana and Vanhorn Tint and Accessories in Bloomington. "I would also like to thank my friends and family that have helped me along the way including my dad and stepmother, Jim and Judy, my mom, Connie, brother, Kevin and of course my wife Sheila and kids Brodey and Carson. Also thanks to good friends Brad and Leslie Robinson, the 'guys' who went to Pomona with me Troy Wilson, Todd Johnson and Toby Rinnert." He added a special thanks to Summit for all of the things they do. "If it weren't for them this whole thing wouldn't happen."




NHRA: 10 Most Recent Entries [ top ]

Jun 25- NORWALK - Summit Series National Championship Drawing Held in Norwalk
Jun 25- NORWALK - Pro Mod Championship Points
Jun 25- NORWALK - Special Awards
Jun 24- NORWALK - Sunday Video
Jun 24- NORWALK - Sunday Pro Mod Wrap Up
Jun 24- NORWALK - Super Stock Final, Round 6 Eliminations
Jun 24- NORWALK - Sunday Wrap Up
Jun 24- NORWALK - Championship Points
Jun 24- NORWALK - Bonus Points
Jun 24- NORWALK - Summary of Eliminations in Funny Car