Fri, 17 Dec 2010, 02:28 PM



Spencer Massey Can't Wait to Begin 2011 Season



Courtesy of Mike Geylin



First Tests for DSR in Fram/Prestone Dragster Go Well



WEST PALM BEACH, Fla. --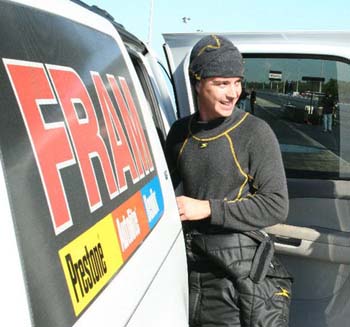 Spencer Massey
A successful first test session - including his fastest 1,000-foot run - has new Don Schumacher Racing driver Spencer Massey eager to begin the 2011 NHRA Full Throttle season in the Prestone/Fram Top Fuel dragster.
"That was great," said the 28-year-old Texan who signed with DSR shortly after the 2010 season ended. "Ever since I signed on to drive the Prestone/Fram dragster, I have been anxious to get into the car and make a run.
"Obviously, getting down the track as quickly as we did was great. Everything felt good, even when the car would shake, I could keep it in the groove."
The highlight of the weekend's work in at Palm Beach International Raceway were two highly competitive laps: a 3.797-second pass at 324.67 miles per hour - Massey's best - and another at 3.820@320.06 mph.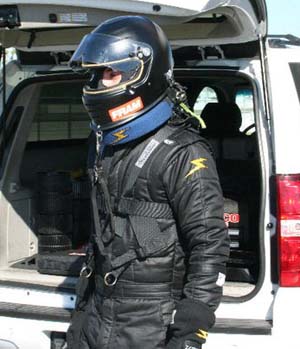 Spencer Massey
According to co-crew chief Todd Okuhara, "I am very happy with the testing and happy with the car. The kid was a natural behind the wheel; we expect great things this season!"
"I'm just looking forward to racing again," added Massey. "I'm very excited to drive for Don Schumacher, who does everything to give his drivers the chance to win a championship, and I'm honored to represent legendary names in the automotive world like Fram, Prestone and Autolite."
Massey last raced in 2009, winning two national events (Joliet and the second Las Vegas race) on his way to the Southern California Auto Club Road to the Future (rookie-of-the-year) Award. Despite his success he lost his ride and sat out the 2010 campaign.
"It was frustrating not racing this past year," he said. "But that's all behind me - I just see great things ahead with this team."
Massey can be followed via http://www.facebook.com/pages/Spencer-Massey/108646835868930 or www.twitter.com/spencmassey.




NHRA: 10 Most Recent Entries [ top ]

May 21- TOPEKA - Pro Mod Championship Points
May 21- TOPEKA - Monday Video
May 21- TOPEKA - Monday Pro Mod Wrap Up
May 21- TOPEKA - Monday Wrap Up
May 21- TOPEKA - Championship Points
May 21- TOPEKA - Summary of Eliminations in Top Fuel
May 21- TOPEKA - Summary of Eliminations in Funny Car
May 21- TOPEKA - Summary of Eliminations in Pro Stock
May 21- TOPEKA - Summary of Eliminations in Pro Modified
May 21- TOPEKA - Summary of Eliminations in Top Alcohol Funny Car